(Drum Roll Please!)
According to our random drawing, the lucky winner is…Gail Denlinger! (Comment posted on March 15, 2012 at 6:40 am.)
Gail, if you would please email me at [email protected] with your mailing address, we will get this Bible in your hands as soon as possible. Congratulations, Sister! Y'all check back next week for another fun giveaway. Have a wonderful weekend!
Update: Comments are now closed. Ladies, y'all are SO incredibly fun. And might I add serious about your Bibles and Bible translations. Praise the Lord! Check back tomorrow morning for the fun announcement of our lucky winner! And while I have your attention, our Siesta Mama actually gets up to speak at the conference for the first time in about 2 1/2 hours (It's already Friday there). Your prayers would be so appreciated! See you in the morning!
Good Wednesday afternoon, Siestas!
By now you may have seen on twitter (if you're a twitter user) that Beth and Amanda made it safely to Sydney! Jet lag is no joke there because in case you were wondering, Australia is 16 hours ahead of us. I kept joking that they were flying into the future. Whoa! You honestly would not waste a prayer on them as Beth and the team prepares to minister to the folks attending the Colour Conference. They are so pumped, but it doesn't come without sacrifice and a lot of work. If you've not already been praying, start praying now because since they're almost a day ahead of us, the conference begins sooner than later!
Anyway, we didn't want the blog to suffer while our Siesta Mama was gone, so I'm here to do our first fun giveaway! (Yes, we're doing another one next week. I know you're pumped!)
I don't know about you, but I love getting a new Bible.
In fact, just this past Sunday at church I was thinking it was time to put my old one aside and start searching for a new one. True story. I don't know how much longer it will actually survive as it is literally falling apart (I don't say that because I'm so spiritual, but more so to prove to you how old it is) and I don't feel like digging out the duct tape to repair this one. (You know you've done it before, too!) Since I'm a creature of habit, I tend to stick with the same study Bible time after time, but I'm feeling kind of rogue and might venture out this time into the land of the unknown.
As much as I love getting a new Bible, there is a certain degree of separation that is hard to part from my old Bible. We've been through a lot. And I love looking back at all I've underlined and marked up. But I suppose a new season calls for a new Bible.
Anyway, I know you're probably wondering why I'm going on and on about my Bible, and maybe I've convinced you that you need a new one to, to which I'll say you've landed in the right place!
We have a really fun giveaway that I think you'll like.
Recently our sweet Beth received a Life Essentials Study Bible ("The First Multi-Media Study Bible") with her name engraved on the front. For those who are curious, the translation is the Holman Christian Standard Bible (HCSB). Here's the deal, if our Siesta Mama hadn't just purchased a new Bible for herself just prior to receiving this one, she would have kept it for herself. It was such a kind gesture from the publisher, but she really wanted to gift it to one our Siestas!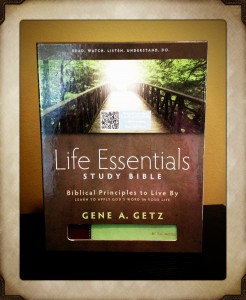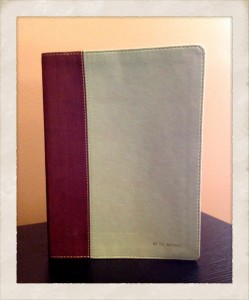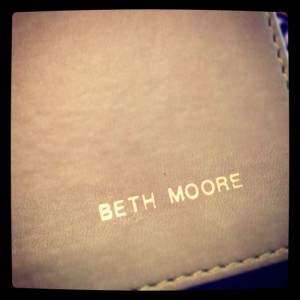 Besides this being a study Bible, it has some other really neat tools that I've personally been playing with to make myself familiar with it the past few days.
With our technology changing and updating as quickly as newborn babies change outfits everyday, it's no shock to me that this Bible has a new addition to it that can be used with your smart phone.
If you look at the front cover (pictured above), and inside the Bible (there's a little peek below), you'll see a bar code looking symbol. That nifty little symbol we refer to as a QR code. If you own a smart phone, you can download a free QR Reader app, and then all you do is use that application to scan the bar code to find out more information about that particular item. All throughout this Bible are hundreds of QR codes that take you to a website to find out more information about that particular scripture. How fun is that? You certainly don't need a smart phone to win this Bible, but that's just a little bonus for those of you that do own one.
So, who is interested? Listen, if it weren't for you, Siestas, I would have already claimed it for myself.
Here's how it will work:
1) Leave a comment with your first and last name. If you don't leave both, you won't be eligible for the drawing!
2) For fun, if you're into this kind of thing, go ahead and tell us in brief your favorite Bible. Shout out to all the Precious Moment's Bible owners out there! I'm pretty sure I still have that one stowed away somewhere safe. What joy!
Ready? Set? Sound off in the comments! We'll leave the comments open until 3:30 on Thursday afternoon (CST) and then we'll do a random drawing and post the winner at the top of this post later that day. That means you will have a little over 24 hours to enter, so be on the lookout to see if your name appears!
Although I don't want to assume everyone is on spring break, I would imagine most of you are, so if that's the case, we so hope you're enjoying every minute of it. And if you don't get that luxury, I'm praying the Lord delights you where you're at and gives you an extra dose of rest.
We love y'all!