Ladies! I think a Friday afternoon deserves a celebration. We've almost made it through the entire work week! Woo hoo! We can see the light at the end of the tunnel. This is always the hardest part of the giveaway because we'd love to gift all 3,911 of you, but alas, we cannot, which I guess is what makes a giveaway so fun. With that said, join me in celebrating our SIX beloved winners for this fabulous giveaway. Believe me when I say we here at the office are coveting each of the gifts and almost threw a fit when we realized we couldn't enter the giveaway ourselves. We love fun stuff like this just as much as you do!
So, without further ado, congratulations to…
Grand Prize Winner: Cara Koski
Second Prize Winner: Ansley DuRant
Gift number 3: Victoria Gelberg
Gift number 4: Kim Tipton
Gift number 5: Anne Dailey
Gift number 6: Leslie Wood
If y'all would please email me (Lindsee) at [email protected] with your mailing address we willl get these prizes to you ASAP. We love y'all so very, very much. Thanks for playing along. Hope you each have a beautiful, fall weekend!
DEAR SIESTAS! THE MERE THOUGHT OF YOU IS MAKING ME GO ALL-CAPSY.
It has been FOREVER and then some but I have been thinking about you. I know I haven't been in this here blog-space much recently but I can assure you that I'm still at LPM. My days are full since I'm working and going to school part-time. AGAIN. Yes, again. Somehow even when I vow to walk away for good, I end up right back in the classroom in some capacity. This time around I'm working slowly on a M.A. in Biblical Languages at Houston Baptist University. When I'm not researching something for a project at LPM, I'm taking a Greek class in the Septuagint and a Hebrew readings class in the Joseph narrative. Oh, and how could I forget to mention Winston Jeffrey Fitzpatrick?! A little over a year ago Colin brought home a baby rottweiler and our life has never been the same since (even when I desperately want it to be!). Winnie is SO, SO bad but we love him madly.
Here is W posing in my dining room. Or demanding a filet mignon cooked over medium, I'm not really sure.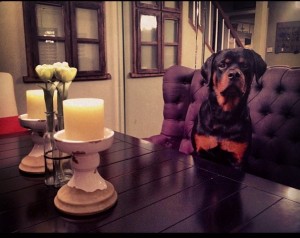 Here he is again furious about having to wear his birthday hat: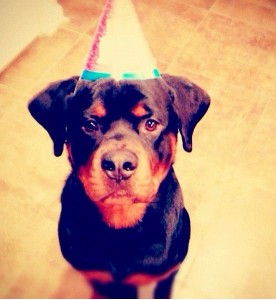 But really, enough about us.
I want to talk about YOU and a fall giveaway we are doing because we love you and appreciate you.
Now, I should mention at this point that if you are one of those people who is SO OVER all the talk about pumpkin-flavored anything, then you will want to run for your life.
RUN FOR YOUR LIFE.
Do I have a faithful fall remnant?
This weekend we had our first legit "cold-front" here in Houston. It was even down in the forties one night. Glory be! The crisp cold air in my lungs got to me in the best way possible and, of all things, I wanted to cook. There's just something about fall that always brings me back to the kitchen. Nothing better than listening to a little Norah Jones or The Civil Wars with the windows cracked open, cool breeze dancing through the house, while a chili or stew simmers on the stove. I thought just maybe fall might do the same for some of you so the grand prize winner will get a red Le Creuset signature round dutch oven (red not orange like the one on the box).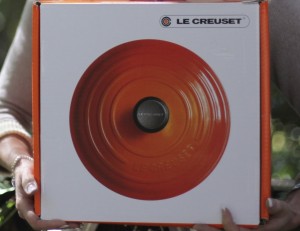 I love it passionately and do not want to let it go. I even enjoy posing with the beloved dutch oven: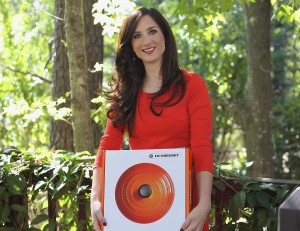 The second prize to be claimed is a $100 gift card to Pottery Barn because, let's be honest, Pottery Barn during the fall season is heaven on earth: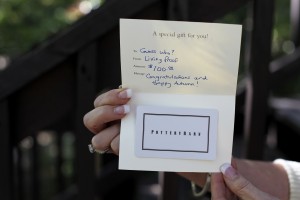 Gift number 3 includes an amazing decorative pillow, fall flower arrangement, and Hill Country Home candle.
Gift number 4 includes a fun little clutch from Anthro, a scarf, several pairs of boot socks, and some gorgeous MAC makeup in fallish colors.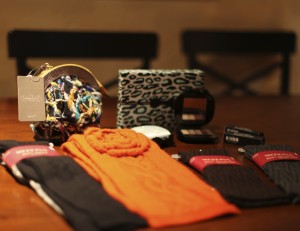 Here is Lindsee modeling the scarf. Love her and she can work a scarf better than anyone I know: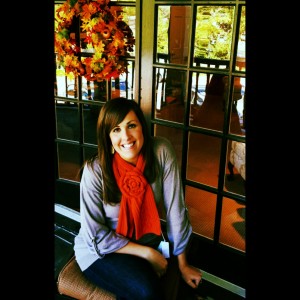 This MAC stuff is tough to photograph but fantastic (includes three eye shadow kits and two lipsticks in shades of Russian Red and Viva Glam III).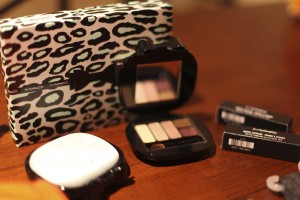 Gift number 5 has a bunch of fun stuff: Cook's Illustrated Fall Entertaining magazine, kitchen towels, mulling spices, Hill Country Home candle (again this is one of my faves!), autumn cupcake decorating set, beautiful engraved silver dish, Trader Joe's Pumpkin bread mix, and more.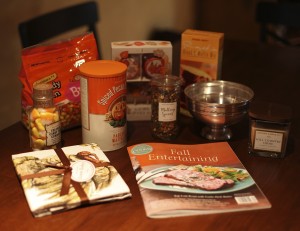 Gift number 6 comes with a fun autumn welcome mat, potpourri, decorative kitchen towel, and my favorite ever mulled apple cider candle. DIVINE.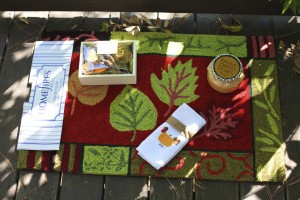 Here is Mom sorting out all the gifts. Isn't she cute?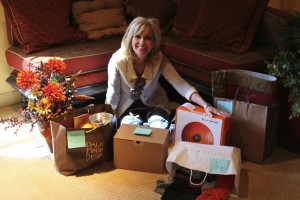 So dear friend, for a chance to win one of the six prizes, please leave a comment with your first and last name and tell us something you love about fall.
We love you so much,
Melissa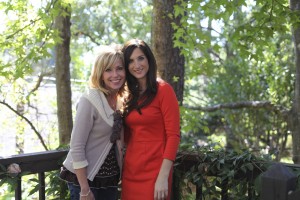 (Lindsee not pictured here ONLY because she was out of the office when we snapped this photo)