Ladies! Y'all are so fun. I just need you to know that when it comes to breaking out all things Christmas, most agree to wait until after Thanksgiving. (Again, no judgement to those that decorate in September. Huge grin.) But, without further ado, here are our 20 pie winners that won completely at random, thanks to random.org. (Also, you'll see a number by a name, that is the number of your comment which helps identify the winner if there isn't a first and last name!)
Drum roll please….
14 – Melissa Embry
20 – Mary Lou
36 – Margee
43 – Joanne Swanson
44 – Robin Ballew
73 – Debbie Whitman
110 – Pam T.
222 – Linda Bennett
268 – Amanda C.
305 – Bernadette
335 – Shannon
505 – Tammy Wong
529 – Caroline
589 – Robbie
661 – Landa
734 – Kathy
737 – Tonya Leiva
832 – Ellen Yopp
930 – Sister Lynn
986 – Michele Oates
Congrats, ladies! You'll be getting an email from me ASAP so that I can get your mailing address! We are so pumped for you. Goodness awaits you, for sure!
*Comments are now closed, ladies! We'll be back soon with our 20 winners!
I'm not sure if you've ever picked up a clue that we are serious about two things around here: Jesus and food.
Man does live on bread, just not bread alone. (I wish you could see the big grin on my face.)
Just last week the Holiday Feast started around the LPM office. A little early if you ask me, but ready or not, we're about to be bombarded with all manner of treats, and you won't here one peep or complaint from our lips. There comes a time at LPM when I get serious about my workout regimen, and that's always around Christmas and Thanksgiving, but regardless if I hit the pavement or not for a quick jog, I certainly enjoy every last bite of deliciousness around here.
When I say the feast started early, what I mean is a sweet friend of the ministry, who also happens to do all of our printing for Tuesday night Bible study (which starts in a little over eight weeks here…egads!), sent us one of our all time favorite pies.
What kind of pie, you might ask? The Brazos Pecan Pie that comes presented in the most fabulous wooden box from Goode Company. Goode Co. is a chain of all sorts of restaurants ranging from hamburgers and seafood, but they're mainly known for their BBQ, and rightfully so. And they happen to make the world's most delicious Pecan Pie.
"A decadent balance of sweet and savory" is how they sum it up on their website. Perfection if you ask me!
When I say we devoured the pie last week, I mean that in every sense of the word.
Allow me to share a visual with you.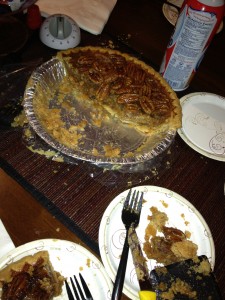 Devoured. (And, for the record, this picture is as is, no filter.)
We may or may not have topped it off with a little whip crème.
If only we'd of had a little Blue Bell Vanilla Ice Cream lying around.
(Y'all, I'm salivating right now.)
Last year for Thanksgiving, LPM graciously gifted each staff member with a pie and when I walked in with that little wooden box to my house, you would have thought I walked in with a little Blue Tiffany's box with diamonds inside. My family knew what the treat they were in for.
(Random Side Note: A couple years ago, my dad made a Mandolin out of said box. It's true. I'm still impressed.)
Here is a picture of my pie from last year. It was too pretty not to photograph! This is what you'll be receiving, for real. And believe me, it tastes as good as it looks!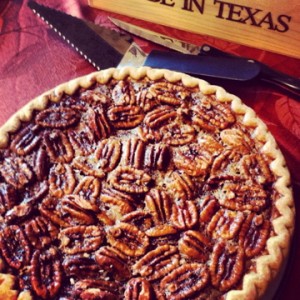 Because the pie is something we all love so much, we decided for the Thanksgiving holiday to share the love with you (and your Thanksgiving table), our Siestas. It feels like the perfect giveaway, does it not?
If we could gift one to everybody, you know we would, but we're going to give away TWENTY pies! Woohoo!
If you feel so inclined, I have one question for you: I respect those of you who pull out Christmas long before Thanksgiving rolls around, by I personally can only deal with one holiday at a time. I'm all for listening to Christmas music the day of Thanksgiving while decorating the day after. It just feels like a natural progression to me. Plus, there's something to be said about Thanksgiving and just slowing down to enjoy the day without the hustle and bustle of shopping and wrapping presents.
When the pendulum swings, which side do you land on?
No judgment to those of you that put up your Christmas tree in September. To you I say, to each its own.
Okay, ready, set, let's here from you! Your name and email address would be so helpful.
I'll leave comments open for a little over 24 hours and close them tomorrow (Tuesday) at noon.
We're SO thankful for you, Siestas. We thank God for you AND we get excited when we talk about you, which is every single day!
Happy Monday!