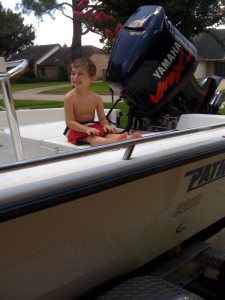 What are you girls up to this weekend? It's a big Jackson and Annabeth weekend for my man and me. Amanda and Curtis are celebrating their anniversary away till Sunday so we are officially ON in every way. And mighty happy about it. AB's already down for a nap and Jackson has been helping Paw Paw clean the boat. This was something Amanda and Melissa loved to do when they were little, too. The difference was, the girls didn't want to actually go fishing in it but mark my word. Little man does. If I've heard, "Paw Paw, when I'm a bigger boy…" once, I've heard it a thousand times. He melts my heart. I guess Bibby's going to have to break down and go fishing when that time comes. I don't think I can bear to take my eyes off of him in real fishing water. We'll see. Jesus could come back by then. Keith just asked if he could take Jackson with him to the boat store to pick up some supplies. Would you believe I have never let the boy out of my sight when I've had him in all this time?? What a danged control freak. Keith put up with me saying, "But can you promise me you won't let go of him for one single second?" so I guess I'm going to have to give it up. I have butterflies. What an idiot.
I love how so many of us who have been around Siestaville a good long time really have made some true, flesh and blood sister-friends, especially if we've attended some of the events. Georgia Jan is one of mine. Same age. Kids same age. Grandkids same age. Been married forever. (None of those are prerequisites for friends but it just throws us years forward into a relationship.) Both love Jesus. Over our happy heads in women's ministry. Flawed but trying. Anyway, she'll have her grandboy Zeke this afternoon and we wish like mad we could have them together. They are exactly the same age and they'd have such a big time.
Do tell! Anybody else made a real friend on here? This would be such a fun time to hear about it. If you haven't had the time or opportunity, just tell me what you're up to this weekend. Chat a while, Siestas.
I sure love you guys.