Good Monday Morning, My Dearest Siestas!
I hope you had a great and God-filled weekend. I cannot express to you how much I loved watching your interaction with one another in response to Friday's post. It was one of the most rewarding moments of my, how shall I say?, blog life. I am so honored that God would allow AJ, Melissa and me to be a part of this community of sisters. May He find much joy in what takes place here.
I had a very busy weekend doing one of my favorite things. Jackson and Annabeth stayed with my man and me from Friday morning till Sunday noon while CJ and AJ had an anniversary weekend away. We played, sang, danced, watched movies, read books, and ate snacks for meals for the better part of three days. Wedged in there tightly, we got a little sleep. The kids are super active but so good. AJ and CJ are terrific parents. Both children are affectionate and appreciative and surprisingly polite for their young ages. That's saying a lot these days. When I went to bed last night, I replayed our sweetest or most memorable moments. I could hardly go to sleep for thinking about them. I took a few pictures with my I-phone which means poor in quality but rich in love.
Jackson is just like his mommy in that he loves to swim. I knew Keith would be gone all day Saturday and I'd be on my own with them so I chickened out of taking them to a public pool. Too many people. Jackson has had two summers of swim lessons but I still wanted him in plain sight at all times and where I never had to take my hands off Annabeth. I asked my dear friend and coworker, Sabrina, if I could bring them to her house because she has a really fun pool in her backyard and she was gracious enough to welcome us.
AB has serious Bibby-itis right now but after about an hour she let Sabrina's daughter, Kelli, hold her in the water and I got to play with Jackson. This is us. He splits my heart in two.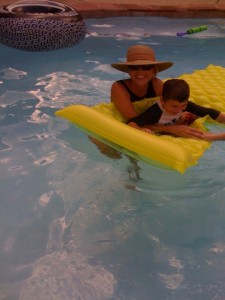 This is all four of us – Jackson, Annabeth, Kelli, and me – before we called it a day. I do not know what I would've done without Kelli. She spent every minute out there with us. I've known her and her older sister, Hayli, since they were little girls and they are God-nieces to me. I'm blessed to be called "Aunt Beth" by them.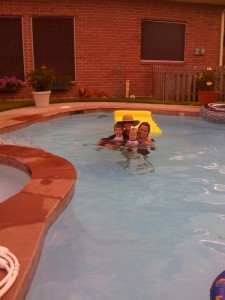 When Sunday morning rolled around, I knew the big question was upon me. Was I woman enough to get both of those kids to church? And ON TIME??? Some of you saw this picture on Twitter. (Yes, I Twitter now because AJ set me up for my birthday – @BethmooreLPM. I'm limiting myself to two tweets or less a day. If I start misbehaving with it or getting addicted to it, I'm firing myself from it.) I can't resist showing the picture here as well. This was how AB woke up: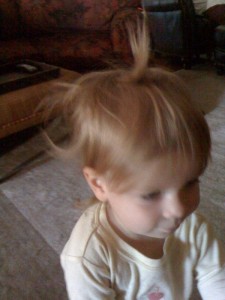 Killed me. By the way, she is a clone of her mother right now. When she was an infant, she looked just like Jackson who looks just like CJ but the older she gets, the more she looks like AJ when she was her age. Anyway, despite the hair malfunction, we did make it to church, bathed, dressed, ON TIME and with all our shoes on. BUT, for the first time in my entire memory, I forgot my Bible. Hahahahahahahahaha. I had to use one of the complimentary copies in the pew. I took no small amount of flack. I even gave it to myself with great glee. If you can't laugh at yourself, then nobody seems funny.
OK, enough of the weekend recap. TOMORROW IS OUR BIG DAY!! SSBS (Siesta Summer Bible Study) III launches with our first Tuesday gathering. I will give you instructions for our roll call tomorrow. You will also have your regular video-greeting plus written instructions for your group discussion in case you have trouble with the video. Bar some kind of technical problem, you will always find it posted early in the AM for those of you who want to meet mid-morning or over lunch. If you can't rally a small group, you are welcome to go solo but our hope is that you have some Godly fellowship and accountability this summer. As well, you can meet on any day during the week, but our aim is for as many of us as possible to meet on Tuesdays. Within 24 hours of meeting, we are asking a designated person from your group to write a comment to that post with a brief summary of your time together. This is the accountability part. You'll understand more about it tomorrow.
I just wanted to give you a heads-up that it's time to begin! You do not need to do anything in preparation for tomorrow's gatherings in your small groups. No homework is due. You'll get your assignment for the first two weeks tomorrow.
This is so exciting, Ladies! Let's get ourselves in some Scriptures!
Your mama loves you.