As you will clearly see and loudly hear on the following video, Jackson, Annabeth and I were in the middle of Camp Bibby when it was time to tape my little video greeting for Summer Bible Study Gathering 2. SO, I brought the kids with me. Lindsee and I decided it would be sillier and better to just give you the unedited, woefully unrehearsed version of the taping. So, here you have it. Since I promised in the video to add a few pictures from our week, you'll find those at the bottom of this post right after your discussion questions. So glad you're participating! Thank you for coming along!
Siesta Summer Bible Study Session 2 – COTD from LPV on Vimeo.
In case you have trouble viewing the video greeting, here are the discussion points for your small group and for your comment content to this post:
1. From p.46, middle of the page: Did 1 Thessalonians 2:8 stir up a story of your own about a way you have shared not only the Gospel but also your very self because someone had become so dear to you? If so, please share a portion of it with us.
2. From p.50, in the margin toward the bottom of the page: Isaiah 38:15 records words from the pen of Hezekiah that poignantly describe bitterness: "I walk along slowly all my years because of the bitterness of my soul." I suggest in the lesson that bitterness makes our souls heavy and our feet like anchors and it ages us far beyond our years. Share something of the impact bitterness has had in your own life and, if God has delivered you from it, testify.
3. From p.51, mid page: Share a time when you experienced some form of persecution because of your belief in Jesus. This topic will only grow more relevant in a culture increasingly hostile to Christianity. We're going to have to learn to expect it, deal with it, and not shrink back in our faith because of it. Our tendency will be to return insult for insult but Christ has called us instead to bless when we are cursed. (1 Peter 3:9) Nothing about it will be easy. We'll have to be deliberate to be victorious.
Do Weeks Three and Four of your homework for our next gathering. If you are watching the optional video teaching sessions through LifeWay, watch Session 3 right away before you begin Week Three homework then, after Week Three homework is complete, watch Session 4. Follow up Session 4 with Week Four homework. Click here to access all of the teaching sessions. 
Week  Three Memory Verse:
"For now we live, if you are standing fast in the Lord." 1 Thessalonians 3:8
Week Four Memory Verse:
"For the Lord Himself will descend from heaven with a cry of command, with the voice of an archangel, and with the sound of the trumpet of God. And the dead in Christ will rise first." 1 Thessalonians 4:16
I love you guys so much! May God reveal Himself unmistakably and personally to you throughout these 8 weeks! I am honored beyond words to serve you. You can drop off here and say goodbye or, for those of you who like this kind of thing, you can scroll on down for a few pictures from last week's Camp Bibby:
At the Aquarium in Houston. The whole complex was a total blast and God gave us perfect weather. We could easily have had a 3-digit temperature that day but it was dryer and cooler than a normal June day in our warm city.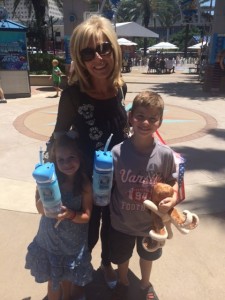 My boy and me on the Ferris Wheel that looks right on downtown Houston: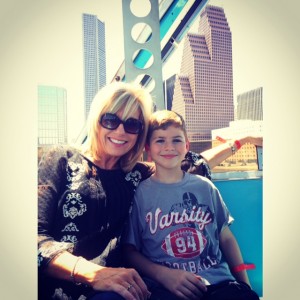 Annabeth and Aunt Melissa (AB's present obsession) on that same Ferris Wheel: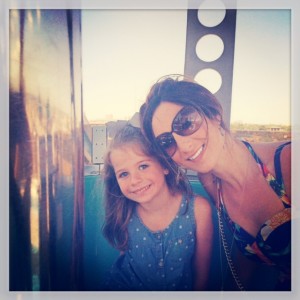 I love the above picture because Melissa looked so similar to Annabeth at that same age. Needless to say, Annabeth is the spitting image of her mother but her hair is much darker than Amanda's was. Amanda stayed very blond through her young childhood. Below is the actual picture I promised in the video where all of us froze trying to figure out what creature Annabeth said we'd petted. She was right though and here's the proof! Stingray-bonding with Aunt Melissa: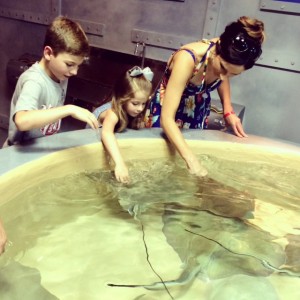 This picture is from the restaurant in the Aquarium. Our table was right next to it. We were all mesmerized by watching the fish in the enormous tank but Annabeth was totally lost in a world all her own. I'm sure she was Ariel swimming right among the fish in the ocean of her imagination.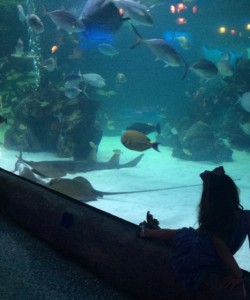 This was our boating day on Lake Conroe about an hour from our home. We took Keith's boat and he taught both kids how to steer it right at his side. It was so much fun. We took the boat all the way to the other side of the lake and docked it at a pier and ate at Papa's Burgers right on the water. It was a magical day for the children. That modest sized lake would have seemed as large as the Gulf of Mexico through their young eyes.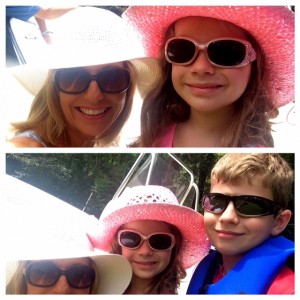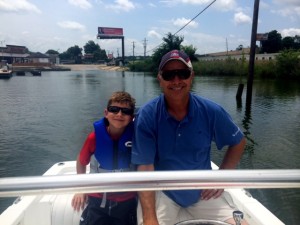 Thank you for humoring me! I love them so much it hurts.
Happy homework and I'll talk to you very soon!!!