Hey, you guys! I bet you can guess what my head's down under right now.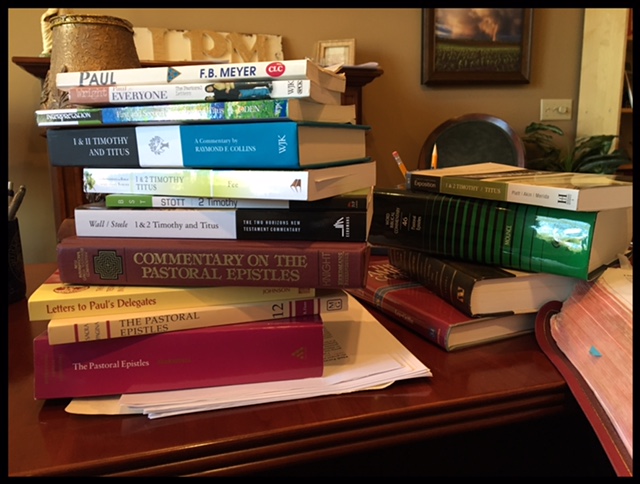 Oh, man. It's a ton of work but I love it so so much. Researching then writing in-depth Bible study curriculum is still my happy place. I've never gotten over it. Every few days I get a tweet from somebody who has just started or finished A Woman's Heart: God's Dwelling Place and I think, often with a lump in my throat, what an invasive virus I caught from that very first journey. There in the pages of Exodus and in the detailed construction of that Old Testament Tabernacle and then in all that flipping to the New Testament to see it fulfilled, I fell so in love with Jesus and the Scriptures that I knew I'd study them in pursuit of Him for the rest of my days. Gah, I love it. I know so many of you do, too. The divine brilliance and beauty of the Bible still slays this woman right here.
The series I'm working on right now is on 2nd Timothy and will carry the title Entrusted. It will hit the shelves in September of 2016 so it won't be a long wait at all. You will be so glad to know that Melissa is jumping in on this one with 2 articles a week like she did in the James series Mercy Triumphs. She also has a huge stack of resource books for her part of the study but the difference is, neither you nor I can read most of the titles of her books. I mostly point at her resources and say, "Man, that must be a real nail-biter." But, boy, do I love what she does with them.
We won't complete the written part of the series until June but the taping for the six sessions I'm teaching takes place next week on Tuesday, Wednesday and Thursday. I cannot beg your prayers loudly enough. Please ask God to pour out His Spirit on every part of the taping and on every participant and upon me as I serve and teach. WE WANT JESUS. We are seeking such a powerful and fresh work of His Spirit in this series. We're looking for an Ephesians 3:20. Please intercede for us!
One of the concepts we will develop throughout the series is the profound connectedness between generations so poignantly illustrated in the relationship of Paul and Timothy. Our effectiveness for the sake of the gospel dramatically increases when our journeys overlap and our spiritual gifts converge and we learn with one another and from one another. We will be challenged to become vastly more deliberate in equipping and encouraging one another, on cheering one another on, and helping each other navigate difficulties and get back to our feet when we've been thrown on our backs. These things are invaluable in the journey of faith. They can be the difference between us staying the course and quitting.
Needless to say, our biggest objective will be to thoroughly study the verses of 2nd Timothy, deliberating on each exhortation and taking note of the process of connectedness between Paul and his son in the faith. But as an older woman who gets a huge charge out of seeing what Jesus is doing in fellow servants my age and watching Him raise up mighty servants in younger generations, I'll also be weaving in whatever I have to give from my own experiences and my own journey where it seems appropriate. Things I learned the hard way. What's been hardest and what's been the most gloriously rewarding. Lord help me, there's so much I don't know and much I did wrong and much I can't offer but, what I have, I want to give to this study. This is where you come in if you're willing. I don't just want to share aimlessly. I'd love to know what you wish I'd address.
So, here's what I'd like for you to do. Think about what you wish you and I could talk about if we could grab a Starbucks together. Form it into a clear question – just one – and present it in a succinct blog comment to this post. You might even tell me very briefly why you're asking. (For instance, I'm a 22 year old who feels called to…) Your question can be about walking with God in general or about leadership in particular or about teaching or communicating or about navigating ministry or family. What would you, a person of faith, ask of a woman of faith who's been around the bend a few times? Anything's game if it's genuine and I'll consider questions from brothers in Christ, too, if any feel like pitching one my way. I will carefully go through your questions and answer as many of them as I can through the process of teaching and writing this study.
If you read the comments and see that someone has already asked your question, tell me that you wanted to ask the same one. That will make it stand out in my selection. I'd love to be able to mention your first name and the city you call home when I share your question and my response if that's okay but, if you'd rather I pose the question anonymously in the series, just say so and I'll gladly do that.
Sound like something you'd like to take part in? I'd be so grateful! I want to serve. NOT JUST TALK. I want to know what you'd find most helpful from a woman of my sort, whatever that weird sort may be. This blog community proved absolutely invaluable in the Esther series (The Red Book!) and in So Long Insecurity through the surveys I offered to fit those themes. Your input would be solid gold in this one.
I'm so grateful for your help! Honored to serve you. Please pray for me as I prepare for next week's taping! Bless you today!
Beth