Ok, Sisters, your replies to the previous post have inspired me to pen this one. As I read through your comments to our walk through the woods, I was stricken with a fresh sense of awe over the lovely grace of God to tie our lives together in Christ from so many different locations. We are a clickstream from a spider web in thousands of ways but this screen can also become a coloring book of connect-the-dots for people who love Jesus. Last night when I did Bibby's Secret Closet with Annabeth and Jackson, I gave Annabeth one of those CraZArt Spiral Art sets. You know what I'm talking about: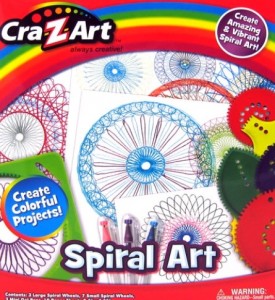 Since I talked in the previous post about where I live, lots of your comments referenced your own surroundings. By the time I'd noted the locations of the first six, I practically had a lump in my throat. The gift I gave Annabeth last night popped right back into my mind. Your comments swirled the page like geographical Spiral Art, and of the sacred kind, bright and multicolored. Just take a look at a smattering of them and behold a glimpse of you. Each of these sentences are copied and pasted from comments to the last post that took us on a walk through the country.
I live in Guelph, Ontario, Canada and we are just waiting for Spring.
I'm here in the Mid Atlantic on the shores of the Delmarva Peninsula where the winter won't loosen its grip and we still have snow on the ground when we should be about ready to cut grass for the first time this season.

Next time, let's do a walk in New Zealand!!

I have been out enjoying our Spring weather too because before we know it we will be trapped indoors with the air conditioning here in Az. (Arizona)

We are still waiting for it here in Ohio—it snowed yesterday!

My family has the privilege of owning a cabin in the NC mountains and it's a little slice of heaven on earth. (North Carolina)

Wave surges are shockingly high – my fair Island will be swallowed up in the storm surges. So thank you for the glimpse of Hope in Spring.. -6 C wind chill feels like -29 just in case we thought we might like to put our face outside tonight…  (I loved this one because I don't have a clue where it is but it's a "fair island" and COLD. Thank you, Iris! You took me there through your words without my even knowing where I'd gone!)

I love long walks in the country, but being from Illinois, I don't quite have the same scenery you have (and might I say in a whining voice…I also don't have your TexMex), especially those slithering things (except the black snakes).

l appreciated, being a California girl, all the references to various snakes, and remember the "rattlers" we used to see all the time…now living in Costa Rica, snakes have taken on a whole new meaning: we have some deadly AND aggressive snakes here, not shy, like the rattlers, but snakes that will actually "hunt you down."

Living on the Portage River for nine years in MI, I experienced lovely spiritual moments: our giant blue heron flying low down the river, a white mother swan swimming down stream with a baby swan on her back, a shy deer family eating apples from under our apple tree. precious moments I'll treasure now that we are living in the desert in AZ. (She goes on to identify Fountain Hills, AZ)

Thanks for the refreshment…still feels like winter in PA…longest winter ever! (Pennsylvania)
Your back woods look alot like mine up here in Central Saskatchewan – except for the fact that we're still layered in a few feet of snow.

Loved taking this walk with you! I love your wild woods! They remind me of the woods around here in TN. (Tennessee)

AHHH where were those boots last night? We had a black snake on our porch and here in my neck of the woods in Uganda…
Come on, somebody! Give the Lord some praise! Is that gorgeous, or what??
So here's what I want you to do if you feel like participating. Leave a comment telling us where you live and, if you don't mind, add a description heavy on adjectives so we can picture ourselves there with you. I am looking so forward to this!
I'm so blessed to serve you, Sisters. The beauty of sisterhood in Christ is a work of divine art.  I kept thinking that last week at the Colour Conference in Sydney because my friend, Bobbie Houston, has been so phenomenally used by God to gather a sisterhood of servants around the world to aid the poor, the oppressed, and the abused. We are a part of the same sisterhood because we are also in Christ and called to do some good in this weary world.
What an honor to seek Him with you. Unity is not about lining up on 100 points of doctrine. It's about faith in the Lord Jesus Christ, the holy Son of God, born of a virgin, crucified for our sins, raised from the dead, and returning to take His Throne. If that's what you believe, you're blood to me. I think sometimes the stuff of unity is all the sweeter to Christ – not when we already see eye-to-eye on all our doctrine but – when we don't. Sometimes just agreeing that Jesus Christ is Lord is bond enough. When we only agree to love people and walk with people just like us, that's tantamount to making our goal to become more like ourselves. Ick. Somebody else can have that. I'm trying to figure out how to forget myself, not make a mirror out of every woman of God I see. I want people to sharpen me, to cheer me onward when I'm discouraged or harassed, to make me think, and to keep me growing. A mirror can only make me more like me.  Give this girl a seat by the window and let her capture the features of Christ gathered from the faces of many.
OK, rescue us all before I get sappier. Let's hear about your locations!