I started this post out by typing, "Good Monday morning, ladies!", but then I realized it was Martin Luther King day, so instead I'll say, "Happy Martin Luther King day, friends!"
I imagine many of you are at home enjoying some snuggles with your little ones who are out of school, or maybe you're a teacher who is loving spending a Monday at home as opposed to at school, or maybe, just maybe, you're like those of us at Living Proof and you made the typical drive to work this morning. Either way, I hope your morning has started out peacefully and wonderfully! A few weeks ago our fearless leader reminded us that working is not a curse! Working is a good thing. So if you're fighting thoughts of envy today, remember it's a blessing to be working. Work with some excellence today, despite the way you feel!
Anyway, I completely sidetracked. Typical.
We are in full Tuesday night Bible study mode around here! I promise we'll try not to wear you out talking about it, but I think it's safe to say it's high priority around here, and we joyfully get to serve. But, it got me thinking about you! I know for a fact many of you also started your Spring Bible study here recently and I'd love to hear what you're digging into this semester. Plus, posts like these always benefit the reader that is looking for a study to do but just needs an idea or two.
So, let's make our comments easy peasy. I'll start:
Name: Lindsee
City: Houston, TX
Bible Study: I am participating in the Tuesday night Bible study, Children of the Day, but I am also taking a group of high school girls through Believing God written by our Siesta Mama, Beth Moore. 
What are you most looking forward to? I am looking forward to watching these young girls learn the five statement pledge of faith and also being reminded of them myself. Praying we would all believe God for immeasurably more this year!
Your turn! No pressure to answer each of the questions, but it adds a little spice, doesn't it? However, for sure add the Bible study and who it's by so that if someone is interested in that particular study, they won't have any problem finding it!
Oh, and I couldn't log off without sharing a glorious picture with you all from Tuesday evening. I can take zero credit for this picture because someone actually texted it to me after Bible study that night, but I thought it was too fun not to share. Thank you for praying for our first evening! Praise God alone for a room full of ladies studying 1st and 2nd Thessalonians. You would not waste a prayer on our Beth as she concentrates on all things involving this study!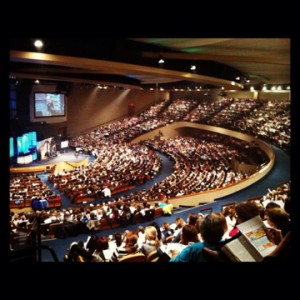 We love y'all so very much.