Update: The comments are now closed! I'll see you tomorrow morning as we reveal our TEN winners. Have a great day, ladies!
Siestas!
Happy middle-of-the-week to each of you!
It is a beautiful day here in Houston! It's almost perfect spring weather, which is a compete treat especially compared to the weather we've endured recently. It's either been really hot and humid (shocker!), or really nasty thunderstorms. In fact, yesterday was 100% chance of rain all day and it did just that. The best part about the rainy days at LPM are our shoes; three of us chose to trade in our typical work shoes for rain boots yesterday and it was a cute sight, if I do say so myself. We were giddy. Y'all, it really is the small things. I hope wherever you are, despite your weather or circumstances, you're able to find delight in something as small as rain boots, silly or small as they may seem.
Anyway, can you believe it's already been a week since our last giveaway? All of the sudden I realized today was the day to reveal our next fun giveaway so my fingers went to typing. It snuck up on me!
Do y'all remember (and I bet you do because it happened to be a pretty popular post and you also happen to have a sharp memory), when our Siesta Mama asked you to share with each other something really random that you love? That particular day she was gushing over her Bible atlas and felt the urgent need to share with you the joy it brings her. I distinctly remember her telling me she was posting a fun, random blog that day so that I could be watching for comments, and watch for comments I did! Y'all didn't just come through; y'all went above and beyond with over one thousand comments or something fun like that. We were really tickled! Needless to say, people are passionate about things they love.
To refresh your memory, here is a picture of the Bible atlas.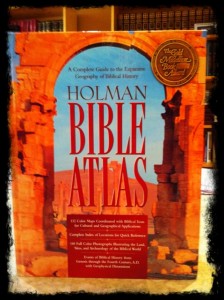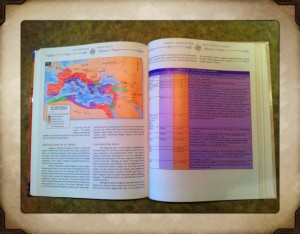 To make a really long story short (I know, I love words), B&H Publishing Group was really generous and sent us ten Holman Bible Atlases to give away on our blog, just like the one she gushed over! Y'all, how kind was that? So, today not just one, but ten of you will be receiving this amazing Bible atlas.
This is the box of atlases sitting in my office.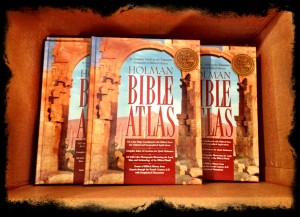 For a chance to win here is what you need to do:
1) Make sure your comment has your first and last name.
2) Please comment only one time to give everyone a fair chance.
3) For fun, and you don't have to do this to win, but it would be really fun to hear, if you could give away one book to anybody, what would it be?
4) Lastly, your comment on this post automatically enters you into this contest. So if you are not interested in winning a Bible atlas, please hold your comments until after the winner is selected. This will help us as we randomly select our winners. Thank you so much!
That's all ladies! We'll keep comments open for 24 hours and close the giveaway at 4:00 EST Thursday afternoon.
Also, like I've stated before, Australia is 16 hours ahead of Houston time, so when Beth and Amanda wake up it'll be time to start the second conference. I know for a fact Beth and the team would covet each of your prayers as they labor with joy to teach God's Word and share His gospel with this next group of ladies. If you've been following them on twitter, it's been obvious that God has blessed their time there. In fact, I saw that they got to feed kangaroos. How fun is that? I'm with you, though, I can't wait to hear and read all about it upon their return. Let's pray they end strong in Jesus name!
Alright, ladies, time to hear from you! Be sure to check back Friday morning as I reveal our winners!
Have a wonderful Wednesday!