Hey, Darling Things!
I'm working from home today and thought I'd take a little break and let my study-brain relax a minute and tune my heart into Siestaville. Let me tell you how proud I am of you for clocking in with the same general number of 2nd verses as you did your first verses. The hard part is not the start. It's pressing on all the way through the year to the finish. But, then, like all runners that make it across that beautiful line, we get to celebrate a huge victory that only comes to those who sweat it out. We give all praise and glory to our empowering, sustaining God and sit back for a reflective moment, take a deep breath, and feel His glorious good pleasure. Community will become more and more essential as we realize that, without making a public commitment and running the race beside a host of others in this Scripture memory marathon, we'll probably fizzle out. There is no doubt in my mind that we're more successful at this together than we are separately. It's God's way.
Yesterday was a really fun day at LPM. I already put this on Twitter but it took about a half a dozen of our staff members to put together additional shelves for the books Melissa has acquired since she last worked within the ministry office.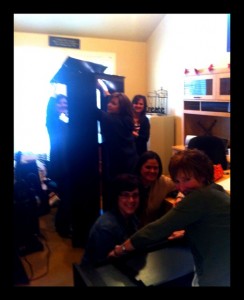 I have promised Melissa my library when God takes me Home, but if she keeps this up at this rate for the next fifteen years, she's going to pass me by and I'm going to leave mine to Curtis. (That threat won't mean much to you but it will get Melissa and her dear brother-in-law  sparring again over who gets the books which, in turn, gives me a great laugh.) Amanda has been promised other things like what sits on my left hand. But I might spite them all and live a really long time…with colored hair and firm foundations (and I don't mean the latter in the religious sense. Or the former for that matter. I cannot find hair color in the Scriptures unless I get to count head coverings which, to me, is not unreasonable. In that way and others like unto it, I am a very submissive woman).We'll see how that pans out. (The timing of my demise not my hair color.)
The other really cool thing we did yesterday at LPM was preview the movie Courageous. It's the new movie by the people that gave us "Face the Giants" and it comes out in September. (www.courageousthemovie.com) I will remind you guys about it when the release day gets closer but I can't wait till then to tell you about it. Sisters, it was so good. I don't want to give away the story line but I can't quit thinking about it. They have done such a magnificent job with it. We honestly laughed out loud and cried and cheered. I can hardly wait until it comes out. I think God has something far beyond good, solid family entertainment for this film. I've told you guys before that, after retiring from the Army, my daddy ran movie theaters so I love few things on this earth more than good movies and great popcorn. (Yes, we popped corn yesterday. And I ate mine with a Starbucks instead of a coke which was an odd pairing and one I might not venture to combine next time.) The primary message of Courageous is targeted to our men who we all know are also targeted by our very vicious enemy. I really believe I can tell you in advance that the guys in your life will love the movie. Mine will and he's not easy to please. Courageous scores very low on the cheese factor which we know drives most guys crazy about any form of Christian entertainment or encouragement. I dare say that we may be a tad cheesy in Siestaville but we try to keep our Velveeta loaded with jalapenos.
Lastly, I'll tell you that we started our January Bible study on Tuesday night with one of the best groups God has ever brought our way. We were flabbergasted. May He be greatly praised and glorified in that sweet sanctuary where He's met with some of His people so many times. We'll be talking on here about meeting on Tuesdays but we won't be talking on here about the material because I've established a gag order. Laughing. The on-site participants are previewing a (very little) bit of homework so that their experience will be richer but, for copyright's sake and for future publishing, we're going to keep it and the session materials low key. It's not that we're hiding something. It's that it's just a long way from being finished. I also don't want hype. Ick. Even well meaning hype from those who are sweetly biased. I just want to study Scripture as God presents it to us in His own good time and His own good way. I won't actually do the LifeWay taping for this series until late April when we do it with a studio audience and I'll still write through most of the summer. I am reluctant to keep bringing up the series on here because I don't want to build it all up in anybody's mind. A curriculum that speaks to one person can hit another person cold. How this turns out is all up to the Holy Spirit but what I can tell you in advance is that, God willing, we will do our best to know that brief Book of the Bible by the time we're done.  Whether anybody will actually "like" it or not is up for grabs. James isn't necessarily a party bus.
Well, I've had about as much of a break as I can afford today. You're on my mind every day and I pray for you often.
Oh, and this is one reason I got on here today! You know what we're doing to stay in the Word this early 2011 but what are each of you doing? (Besides memorizing!) Tell me what you're studying right now!
I love you guys.