Hey, Sweet Things! I'm sorry I'm not able to check in more often during this season! It's mostly just me on here with you these days and the balancing act of a heavy writing and work schedule with a very busy family imposes some sizable limitations. To say that we all miss AJ is a vast understatement! I'm still so proud of her for the decision she made on behalf of her family. It was the right thing but we surely do have a gap around Siestaville. Thankfully, I don't have a gap in my heart and home where she's concerned. We all live life in pretty close community. Her little family is unending delight to me. We have LOVED having Melissa and Colin back! Their apartment is just darling and we so hope they stick around a while. Something really fun happened last night. Melissa and I knew we were going to be out much later than usual because we were hosting guests after Bible study so she asked Colin if she could just spend the night at our house. She lives much further out than Keith and I do and, after dropping me off at my house, she would have been super late getting back to her apartment. Colin blessed her to do that then called back a little while later and said he'd just come, too. So he packed a bag and they both stayed at our house. That is one reason why we love him to no end. He is a family man to the bone. Hopefully Melissa will be able to say hi a little more often on here in the near future. We are keeping her hands full but she has a soft spot for Siestas. That's a fact.
I'm just sitting out on my back porch having a few minutes to myself. I've been throwing the ball to Star and watching her and Geli chase birds and reflecting on the last day or two. God brought us another astounding group of women last night. I have never seen a larger group with a smaller feel. What I mean by that is, they participate like they're all on the front row. If I ask them to repeat something, they do it LOUD. They stay right on point and they're happy to tell me if I miss a blank on their handout. (I love that. That means they're paying attention.) Honestly, I think this is one of my favorite Tuesday night groups ever. I know, I know. I say that a lot. I fall in love easy. But my worst nightmare is that I'd just keep "teaching" the same people the same thing year after year after year after year and nobody's heard a fresh word in five years but everybody's too fast asleep to realize it. O Lord, deliver us. This is one reason why we have to study under many teachers and why teachers have to serve different groups. Sometimes we need to shake it up. It's so easy to grow dull of hearing even a voice we dearly love. Sometimes all it takes is a break. Other times we need a change. Knowing the difference is critical.
I am so relieved and grateful to our merciful God that, for now, He's bringing numbers of people we've never seen before and even their presence there stirs up the ones who have been around a long time. I love the familiar ones and the new ones alike. My concern is that women be in the best environment for learning and living the Scriptures. When we've ceased hearing or changing, we need a new environment. I am also mindful that, as I beg Him to keep me fresh and thrilled in His Word, that He often uses difficulty to answer that prayer. About the time I'm feeling a little lifeless or dull, something happens to make those words jump off the page again. Most of my revivals come from survivals. I still need Him so much. I need His Word. I need His Presence. I  need His help. I need His deliverance. It's weird to realize that sometimes our desperation for Him is an answer to our very own prayers to love Him like nothing else. He is so faithful. I shake my head at the wonder of Him again today.
Last night we had a treat that many of us are still talking about today. Kari Jobe and her band led us in worship. Many of us were first introduced to her through "Revelation Song" and are familiar with her through the Gateway worship projects. She is tremendously gifted, blatantly anointed, and absolutely delightful. Amanda had the joy of hosting Lysa TerKeurst at Bible study last night and afterward for a quick bite while Melissa, Michelle, and I hosted Kari, her mom, her sister, her coworker and several lifelong friends. By the way, you guys, Lysa TerKeurt's book Made To Crave is flying off the shelves and into the hands of women who are being deeply effected by the power of Christ. It is one of two books I plan to read next. Made To Crave recently hit the NY Times Best Seller list and we praise God for drawing attention to this powerful message and messenger. I noticed that a number of you were reading it in your comments to the last post. We got to have Lysa at Bible study last night because she was in town for interviews all day today on our local contemporary Christian radio station, KSBJ. (89.3 FM – find it on line. You will love it.)
Here are a couple of pictures we snapped with our iPhones last night after dinner with Kari. We took several of the whole group with a regular camera but those haven't made it to me yet. Is she the cutest thing you've ever seen?? (Yes, single, but not presently interested in everybody fixing her up with their best single guy friend. It is a shame though, isn't it?) I was so glad that I changed my mind at the last minute and didn't wear my tutu. She might not be ready for us to dress alike yet. I am going to get me one of those headbands, however. Just think what a poof I could get going with one of those.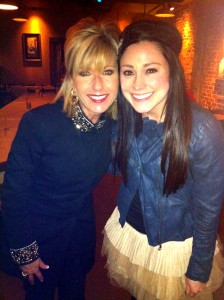 This is Kari with Michelle who did indeed wear her tutu. You just can't see it in this picture.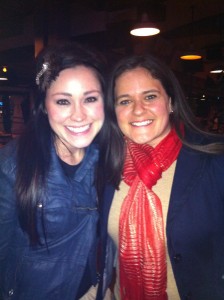 Well, my man is acting like he's hungry and I'm supposed to do something about it. I am especially taken with him right now so I'm going to hop off of here and tend to him.Keith and I ride a roller coaster…and it's sort of on the upside right now. Thank You, Lord. I don't know why but I'm laughing out loud.
I'm so happy to touch base with you today! I love you guys like crazy! You know what I'd like to hear this week? One thing God is teaching you right now. Just one. Do tell.
Your Mama loves you.