Hey, Darling Things! I have you on my mind because I've just seen 80+ of you this weekend backstage at Deeper Still. It made me wish for all of you. You really should see yourselves as a group. You are so adorable that you can't even believe it and you ranged from fourteen years old (yes, one of our active bloggers) to…well, old enough to be your Siesta Mama's mama. Many of you also really like each other which makes a mama especially happy. Seeing so many of you in one place was an overload of joy. What made it even more fun was having Melissa and Amanda jump into one of the group pictures right before Rich clicked the shot. Both the girls were with me for the weekend in Birmingham and all three of us worked our happy heads off. Melissa assisted me in Michelle's place so I don't have to tell you she stayed busy. She was a delightful companion. (Melissa has new highlights, by the way, and is dang near blond right now. It looks beautiful! But don't get used to it. Melissa gets bored easily and does something different every few months. About the time you start picturing her with light hair, she'll be brunette again. I have so much respect for that. As for me, my hair just keeps coming in blonder and blonder the older I get. I hope you bought that. Lord knows I bought it.)
Amanda helped host a dozen or so of your very favorite women bloggers – like Big Mama, Boo Mama, and Kelly from Kelly's Korner Blog – at the Deeper Still event who are connected through their participation with Compassion International on various blogger trips. Many of you will remember when Amanda and Melissa went on Compassion trips and blogged about their experiences and helped children find sponsors. They've each been in the last eighteen months. All the gifted bloggers gathering in Birmingham this weekend had done the same thing in recent years or months and some on the same trips with my girls. These kinds of trips make friends for life so it was a really happy reunion. We were so honored to have them at the event. Even our Compassion buddy, Shaun Groves, came to the last part of the conference. I bet he had an eye opener. Travis could have warned him. If a man needed to find a bathroom, he had to call upon the God of Moses to part the Sea of Estrogen. I'm pretty sure Shaun also endured the question and answer portion at the end which is notoriously unsuitable for mixed company. But that's another story. Let me simply say that our friend Kay Arthur will say absolutely ANYTHING if it's Biblical and, well, Priscilla and I can say a few things ourselves that we might not want our mama's to hear. Kelly Minter behaves best of all (although she's still really funny) and has a wisdom and way about her that I find almost irresistible. (Come to think of it, her mother actually was there. That's why she behaved so much better than we did.) I am crazy about all my team members. Kay is utterly amazing and I love Priscilla Shirer to pieces. I am just so happy to say that I hardly ever have to work with a soul I can't stand. Grin.
Oh, man, I soaked my daughters up like a thirsty sponge. I only get to bring them along on events a couple of times a year. The Living Proof Lives are way too all-consuming for me to be able to host family members properly but since there are multiple speakers at Deeper Still, it is not as demanding. I didn't say it's not as much work, mind you. Whew! We are beat-like-a-drum when it's over. And so are you, I bet. I just mean it's not as demanding on any one speaker. Not only were my girls there this weekend, tons of their buddies were at the event, too, and just about nothing makes me happier than to be with a whole batch of young women, especially if a few of them happen to belong to me. Melissa's dear friend from Atlanta, Heather Whittaker (also a Compassion blogger), drove over with her and we laughed our heads off with her. She's quirky like we are so we get along really well.
I also had another really special encounter. Finally, after all this time, I got to meet Angie Smith. So many of you love Angie and have followed her blog (one of my favorites ever) and read her fabulous book I Will Carry You. I feel like I've known her for years because I am so familiar with her and my daughters are so fond of her. (She and Melissa went to India together.) We'd just never come face to face.We found out she was in the same hotel and texted her to drop by and see us while we were getting ready. We'd have kept her all night if we could have. It was a really sweet time. And pretty funny – a plus for a woman who puts a high premium on funny. There were so many others I got to hug and chat with briefly and think how I wish I could know them well and hear all of their stories.  I keep thinking about two darling young women I met and took pictures with and loved instantly and as they waved goodbye, they said, "And, Beth, each of us weaned babies to be here this weekend!" They sort of patted their chests when they said it, grinning ear to ear, and I just died laughing. I could have flat-out (no pun intended) taken them home with me. Amanda and I got really tickled about it again on the airplane home. Only in women's ministry. I wouldn't trade it for the world.
I'm going to try not to get too sappy here but I just want to say again that I am glad to be a woman among women who want to be God's women. I marveled this weekend over how He ties our lives together. How much richer He's made our lives because we have each other. How we can laugh together, pray together, and cry together and sometimes without knowing each other's last names. Just in case it's been a while since you've heard it, you are valuable beyond human reasoning, you are gifted beyond mortal brilliance, and you are loved beyond replicating. No one can do for you what Jesus can. Let's resolve to be the excellent women He has called us to be. Let's stay in His Word. Let's stick together. Refuse to turn on each other or compete. Die daily to our own insatiable flesh and live life in the Spirit. And leave some margin for laughter.
And, you know what occurs to me as I reflect over the weekend? I didn't just get to be around some excellent women. I got to be around some of their excellent men. Men like Jerry Shirer. (You are such a good sport, Brother. Thank you for loving our girl so much. She is wild about you.) Men like David Platt (pastor of The Church at Brook Hills in Birmingham and author of Radical). I cannot tell you what it meant to me to spend a few minutes with him and Heather between sessions. He commissioned the entire group at the end of the conference and prayed for us. He and others like him were especially grateful for Kay's special charges to the wives during the Q&A.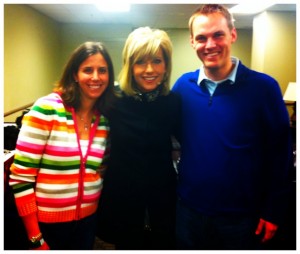 And, yes, men like Jon Acuff (Stuff Christians Like) but, Lord have mercy, there is no telling what he's going to say in his blog about nearly drowning in that tidal wave of Bible toting women. That man has three of the cutest girls in his life that I've just about ever seen. Jenny, I loved finally meeting you!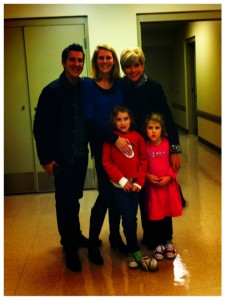 And I loved meeting Michelle. A hair stylist by trade. A Christ-seeker by heart. She was on our plane to Birmingham on Friday, determined to get a word from God all by herself at Deeper Still. Didn't know a soul going. Oh, Michelle, wherever you are out there, I so hope you got your word. I take that back. I know you did. He did not invite you there all by yourself on a date with Him then stand you up. He never leaves us at the altar. Whether you got your word in that huge auditorium of 14,000 or in your hotel room all by yourself, I know your God sought you out. He's just faithful that way.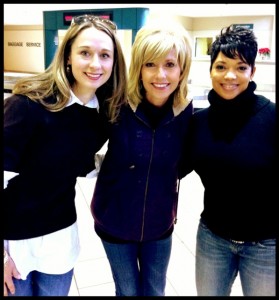 He loves you so much and wants you to know it.
PS. I do not know how I managed to get home from that event without a picture of Melissa on my I-phone! We were glued together the whole time! She's going to be getting back on here really soon. The Moore/Fitz/Jones girls love you guys.