I am about to do something I have loved like crazy on other blogs but never done on this one. I am about to take you on a house tour. More importantly, I'm about to introduce you to one of my favorite people on the planet and a hero of the faith in every sense of the word. I met Janice Meyer about 10 years ago when I was on Life Today with James and Betty Robison for the first time. She has worked for them for 30 years and, when she's not globetrotting for their missions' ministry, she floor directs on the set during tapings. I liked her immediately because she was warm-hearted and a ton of fun and we shared a connection through several of the Bible studies she had done. Then, through all the years of serving with James and Betty, we truly became good friends and faith-sisters. You bond with the person who stands guard over you in the bush in Africa while you try to talk yourself into being able to tinkle under a tree in a part of Angola where old land mines are believed to still be buried. That was a lot of words in one sentence but it was about as succinctly as I could put it.
Here she is, so you can picture her before I escort you through the front door of her house: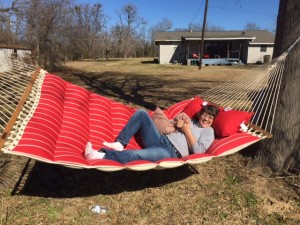 Janice is the international photographer for Life Today. (James and Betty's whole ministry is called Life Outreach International but, to keep from confusing you, I'll stick with the name of their television broadcast because that's what will be most familiar to you.)  She has been to 64 countries on behalf of their ministry and not to sight see. Two things drive her all over the globe: desperate need and full-on crisis. Because pictures say so much more than words, she goes to the most horrid conditions you can imagine so that viewers don't have to take their word for it when they say that people are suffering terribly on this planet and, jointly, we can help.
Here's the deal about Janice and one reason I want to introduce her to you. She has seen more suffering with her own eyes – more starvation, malnutrition, life-threatening thirst, sex trafficking, oppression, and corruption – than any person I have ever known in my life. And she has as much joy and delight and hope and faith and unwavering belief in the Scriptures as anyone you will ever encounter. At times, I don't know how she does it. The grace of God splashing over her is the only explanation because she has never grown hard-hearted and desensitized. She doesn't endure it because she's gotten used to it. There is no getting used to what Janice sees. She endures it because she is called by God to do it. She compiled this book from the multitude of pictures she's taken around the world and laced them with her very moving commentary. This sits in my den. (If you are interested in knowing more about this book, see janicemeyer.net.)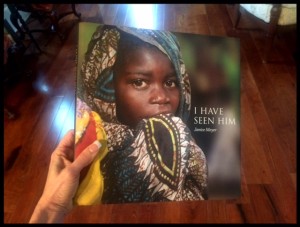 Here are two reasons why you who are active in this community can feel a particular connection to Janice. She's an active reader on our blog and she participates in our Scripture memory team. In fact, when I was there last weekend, this was one of the first things I got to see.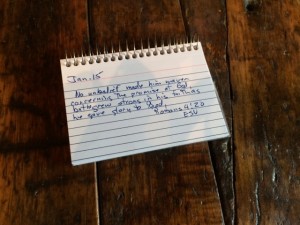 I stay with Janice when I am in the Dallas-Fort Worth area for a Life Today taping. No hotel on earth I'd rather stay in. She has a tiny little guest house out in her backyard and one thing I particularly love about being there is the good company that comes to my door. She is one of the few people I know as obsessed with dogs as I am. That Golden's name is Traveller. I have known him fur a long time.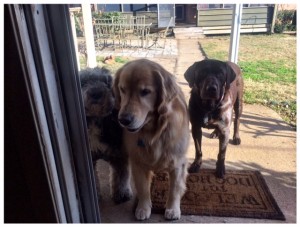 OK!!!!!!!!!!! Now, on to the house tour! I'm taking you to some spots around her house because she is so incredibly creative you are not going to believe it. And I might add, she accomplishes every bit of this on a very tight budget. This is a small, modest home and just about the cutest thing I've ever seen. Here are a few highlights: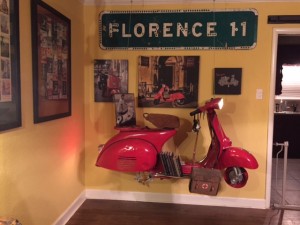 Surely you can tell but, just in case you can't, it is suspended from the ceiling. This Vespa was completely rusted and leaning up against the side of a building when she found it.  She sanded it down and put paint on it, fixed his lights and named him Rusty.
This tractor grille came from a farm equipment junkyard she could not pass up in Colorado. Who does this???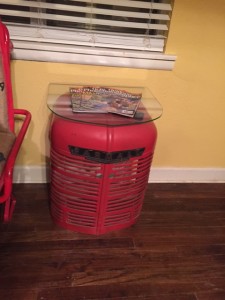 This is an old ski lift from Snowmass.
This wall was made from a stack of throw-away wood she happened on. She painted, cut, and arranged all the pieces herself.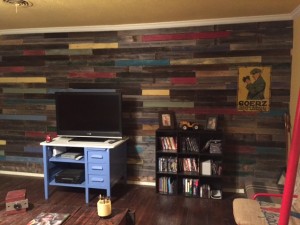 This piece may be my very favorite. She also found this in a farm-equipment junkyard and turned it into a table that sits between her couch and a chair in her den. Come on now.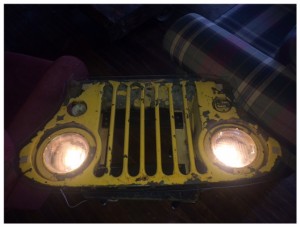 These are the drawers in her bedroom. Yep. A chicken coop.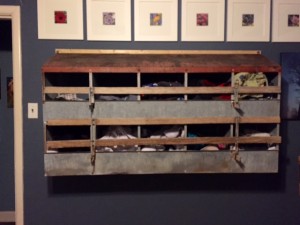 This is the bedroom in the tiny guest house. Please enlarge this picture and see that she hangs a chalkboard over the bed so that she can write welcome messages to her guests, complete with pictures of their loved ones she's printed out. Unbelievable. I have never known anyone – on ANY budget – with more hospitality.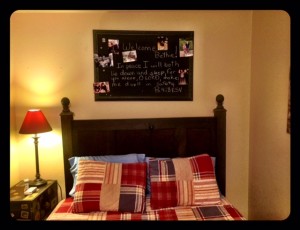 And lastly, a picture of Janice and me. Well. A close rendering. It really was taken at my house in the country. I so hope you guys enjoyed this! Now since I'm solo on the blog, I may be throwing all sorts of random posts at you. Every single one of them will come your way with a ton of love. Be encouraged today, my dear sisters! There are a whole lot of us out there who love Jesus! And we're blood kin. Know this day and then again tomorrow that you are not cast out into these cultural elements alone. We have mighty good company among us. Janice included.