Hey, you wonderful Siestas! GUESS WHAT I'M HOLDING IN MY HAND???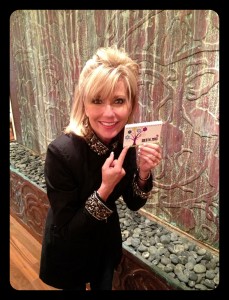 Need to see it closer up? Come on, now! Is this darling or what??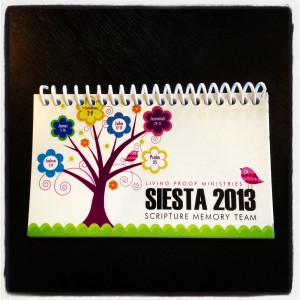 You ready to get busy on some Scripture memory in 2013? I AM! I AM! I can hardly wait! Our instructional post for our Siesta Scripture Memory Team (SSMT) will be published in mid December but, in order for most of you to have your spiral in your hands by the time we launch on January 1st, we need to start taking orders right away. Mind you, the official Siesta spirals are completely optional. You can easily pick up a generic spiral at any office supply or virtually any drug store chain. But having the same one is a ton of fun for those of us who like this kind thing! We use them all year to record our 2 verses a month then we bring them with us to the celebration in Houston in mid-January 2014 (egad!) as our ticket into the (free) event. And yes, any well-used Scripture memory spiral will serve the same purpose.
Our SSMT spirals are $4 each, plus a fairly nominal shipping and handling fee. You'll see that on the order form. We try to keep the price as low as we can and still cover costs. To order your SSMT spiral, visit the LPM website by clicking here. Please, please try to make your order before or by December 19th for delivery by January 1st. For those of you who don't get word about the spirals in time for January 1st, no worries. You'll still sign in on all the posts like everyone else and just fill in your verses the moment you get yours. Even if you don't make your order until January, you'll have it in your sweet hands before you've had time to get to your 3rd verse out of 24. No big deal!
If for some reason you have problems with the link, go to: www.lproof.org, then click on "Store" and under store click on "New Products". It is the third to last item under "New Products".
Here are a few questions I'm anticipating:
*Can I still get one of those cute spirals if I don't necessarily want to sign up for the accountability twice a month on the blog team? Yes, you certainly may. You are welcome to use it for anything you want but we so hope you'll write some Scriptures in it! That's what it's begging for. Smile.
*May I order more than one spiral? Yes. A number of you have already told me in advance that you've got daughters or sisters who are joining you this year on our Scripture memory team. You are welcome to order yours together if you live in the same town.I also like to use them for Christmas stocking stuffers for my daughters and special loves but shhhhhhh. I don't want them to know.
I am beside myself! It is everything I can do not to go ahead and start writing verses in mine. Now, to find the perfect pen! Just think what awaits us on this page right here…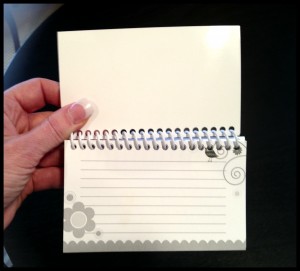 I love you guys so much. I am so blessed to journey with you in our pursuit of Christ. Nothing we've ever done on the blog has produced more fruit or seemed to incite more obvious favor from God than Siesta Scripture Memory Team. May it please Him more than ever in 2013!