A really good, lifelong friend of mine (Kim Gannon) emailed me this picture just for grins yesterday. (Her daughter, Shannon, is well into her college years if that tells you how old the picture is.) It not only made me laugh. It also made me smile, if you know what I mean. There's a difference between something making you laugh and something making you just-plain-old-smile. I thought it was kinda sweet. That's why I smiled. That's one very subtle way to bear the Name, isn't it? But, of course, now I'm wanting to laugh about it again. It's too bad you can't see the jeans underneath. I bet anything they came all the way to the waist where they were tightly cinched by a narrow band then did a very unflattering, pleated poof right around the tummy. They were hideous.That's my house, by the way. It's terrifying that I stood that close to an open flame with all that hairspray. My courage knew no end.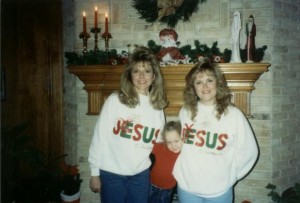 Do any of you older Siestas remember when we used to make these kinds of Christmas sweatshirts?? This one was amazingly understated compared to the others. (Kim made these for both of us as I recall.) Some of mine had so many 3-dimensional trinkets sown and glue-gunned onto them that I couldn't even wash them. I just stunk for Christmas. Surely some of you remember the applique days. They certainly were not limited to Christmas but they were overwhelmingly thematic. You know how we put out decorations on our doors and in our houses throughout the seasons of the year? This was a way of actually wearing them on your person.
You young women on here have no idea what your big sisters have been through.It's a wonder we don't have to take medication to talk about it.
So, here's a fun question: What do we (or you) wear today that you think we're going to mock and scorn ourselves for later??