Hey, Siestas! I just printed out Day 1 of Week 5 of the James manuscript (ultimately, there will be seven weeks of homework, God willing) and decided to take a few minutes before I dive into the next thing. Actually, I wish we could just sit and talk for a little while. I'm in a chatty mood. One day soon we're going to figure out how we can do some informal live streaming video and skype some of you guys on here. Wouldn't that be fun? I have one of my trusty coworkers looking into that right now and I'll keep you posted.
I'm working from home today because Keith is out for the day and two dogs are WAY too many to take to the office. Talk about mass pandemonium. Geli (Keith's bird dog) is big enough to jump the back fence at the office and, when I bring her inside, she decides that any toy Star picks up is exactly the one she's always wanted and barks her head off with that really jealous kind of yelp. So, I'm home today and getting to take a break right at my very own breakfast room table. (And dining room table and all-purpose visiting table and our only table.)
I wish you were sitting right across from me and, while we were taking our Bible study break, I'd fix you some of this, too.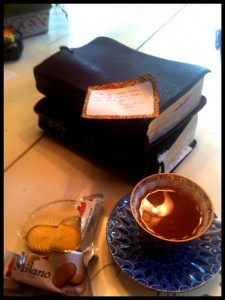 That's one of my favorite afternoon snacks. It's actually tea instead of coffee because it goes so well with the Milano Cookies. I dip them into the hot tea so the chocolate melts and then I hold it on my tongue until it disintegrates. Yum. That sounded so good that I'm stopping for another bite. Lord have mercy. I'm so glad He gave us tongues.
Amanda is the one who got me started on a spot of tea. (Just a small spot. Not a true devotee.) She never got into the coffee mania of renown with her sister, father, and me but we were ecstatic when she developed taste buds for hot tea while she and Curtis lived in northern England. She took to their very basic (cheap) variety and it's a good thing because it's easy to get here in the States. I keep a box of it in the cabinet at all times so she can have tea when she's over while Lis and I have coffee.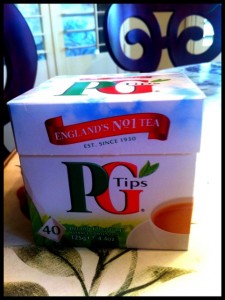 As I sit here sipping tea, these are a few of the thoughts rolling around in my bleached blond head…
How much I loved what I got to see earlier on a stroll by myself: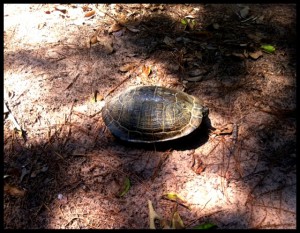 I totally dig turtles. They're such a mixture of hard and soft.
How I love looking at Star after she's been to the groomer. I took her today for her second hot-weather cut. Once I realized she wasn't going to be shamed by it (grin), I asked them to go a little shorter. She's just darling. Looks just like a puppy. I wish you could see her tail because they left it really fluffy. It looks so odd that I can't quit grinning at her. I keep telling her that I'm laughing with her and not at her but that's what my girls say to me and I know better.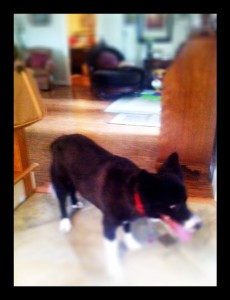 How fresh this verse is hitting me. It came up in my quiet time yesterday (out of the fifth week of "Brave") and I thought how much that one half-a-verse answers. Just think about it! Revel in a pure-dee NEVER, EVER! In a life of grays, give me some black and white! I took it to staff prayer time yesterday and we worked on memorizing it together.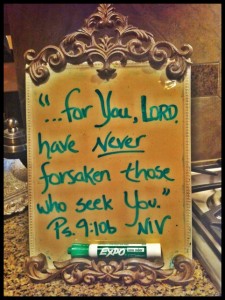 One by one we coworkers mentioned various concerns we had, all the way from personal to global issues, then we followed each one up by saying the verse together in unison. We truly felt the power of God fall on us. Then we played a goofy word game. On rare occasion, I feel just devious enough to see if I can bring out the friendly spirit of competition in my very godly staff members. I was feeling it yesterday. I had printed multiple copies of the verse out in a big font and in as many different colors as I had coworkers. I then cut out each word, threw them all in a bag, shook them up then, after our lesson, poured them out on the table in a big mess and said, "GO!" They had to choose a color (some shades were gleefully similar) and arrange each word of the verse in order. As I explained the objective and was just about to pour them out, one of them said in a frenzy, "Are we trying to see who can do it the fastest?" No, I said. But I wouldn't mind if you tried. And it was a free for all. Made me really laugh. It's a wonder they didn't draw blood. Love them so much.
Let's see what else has been going through this head…
How I cannot BELIEVE that we are going to see THIS SIGHT TONIGHT: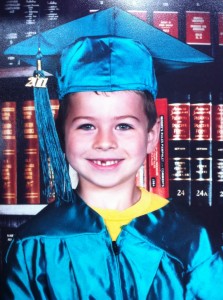 TOO MUCH!!!!!! Amanda has cried two dozen times and I've cried one dozen. Curtis is so proud he can't stand it but he'll bite his lip bloody trying not to join Amanda and I in our sappiness. Our man-child! We'll have a kindergarten student in three short months. Good grief. Somebody stop how fast this is going! He is one of the most wonderful things that has ever happened to this family. So full of life. So hilarious. So BIG in all his feelings and reactions. He left these by Melissa's old bed last week when he went to sleep at our house and I can't bring myself to move them one single inch.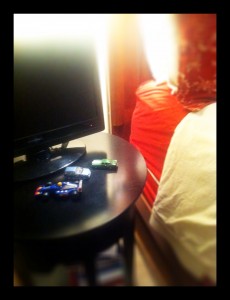 And, lastly, BUT FAR FROM THE LEAST, I am thinking about hopping on that plane and heading to Eden Prairie, Minnesota this weekend for Living Proof Live.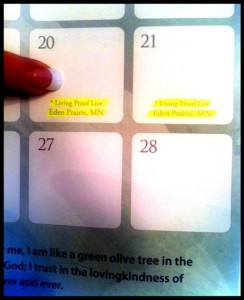 I am so excited about this one! (I know you're thinking "You say that every time," but somehow God stirs up a unique brand of anticipation in my heart for almost every single one. Sometimes it comes from pain. Sometimes from joy. Sometimes it comes from passion for a Word burning a hole through me but it always comes with a feeling toward that event in particular. Only Jesus can do that.) God began speaking to me about the subject matter a week or so ago and I've been trying to listen hard and wide. I'm sad to say that we won't have a ticket giveaway this week because this one blew our minds by selling out a while back. We're in a church this time so there's not the seating of an arena but it's still a whopping forty-three hundred women. Make no mistake. That is a big group! Anything past 200 gives me a serious case of butterflies and, if there are any men in the less-than-200, that gives them to me worse. Give me girls, Lord.) We are thrilled to be in a sanctuary and cannot wait to meet the group God is drawing. Any time an event sells out, we think, "Wooooo-EEEEEE!" (Hear that like Jed Clampett) "If God has stirred up that kind of expectation, He must be up to something! We don't want to miss Him for the world!" Well, OK. I'm probably the only one that actually says "woooo-eeeee" (well, Travis – AKA Jethro – does, too) but we all feel a blast of anticipation if that body of believers shows a heightened expectation of God in any discernible way. If they're especially excited, so are we!
Well, look what's gone and happened: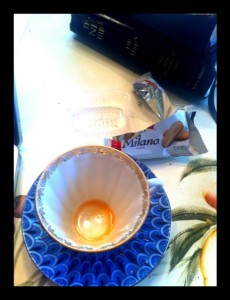 I guess break time is over but, man, you were good company while it lasted. I think of you everyday. I'm so proud of you guys for pursuing Jesus amid the train wrecks and derailments of life that I hardly know what to say. He is so worthy, Sisters. He is so worthy.
Keep turning your eyes to the skies…
"For You, Lord, have NEVER forsaken those who seek You."