Hey, my dear, dear Sisters. I thought about you so much while we had the privilege to serve in Washington State. We cherished every second we were there and God was so gracious and merciful to us. He could not have given us a more wonderful group of participants to kick off the 2011 Living Proof Live schedule. We lapped up every second with them. They were so full of praise and expectation for God to speak and so rowdy and fun. I would have brought every single one of them home with me to Texas if I could have.
I want you to know that you sowed very direct seed into that event. On Friday afternoon my notes were, for the most part, ready to go but I just sensed a desire to seek something more from God. I knew in my heart that it involved prayer so I got down on my knees again and prayed but I got back on my feet still not quite feeling the breakthrough that I was hoping for. The thought came to me, I believe by God Himself, to get on the blog and scroll through all the comments to the Tacoma Ticket Giveaway post and look for entries where Siestas had prayed specifically for the event. I hit a gold mine. I stopped at each one of them and actively agreed and received all that had been prayed. The breakthrough came! It was God's good pleasure to raise up seed-throwers from spots all over the United States and Canada to sow into the Tacoma LPL harvest. I can't express to you how deeply and profoundly it hit me. Sometimes I feel like I harass you guys half to death for prayer but we are so desperate for it. I knew this weekend that it is God's way. Profit sharing. Oh, how I pray that we might be able to believe God for a 2 Corinthians 4:15 work as we partner together:
All this is for your benefit, so that the grace that is reaching more and more people may cause thanksgiving to overflow to the glory of God.
I think God particularly blesses our seed sowing when we have no direct involvement at the event or gathering. No personal gain except the glorious nod of God. I'm actively praying for Priscilla Shirer's simulcast in several weeks even though I'll be in Fresno. I don't doubt she's praying for us, too. I can't wait to hear the report of all God is going to accomplish through that mighty servant of God as she teaches and as her brother, Anthony, leads worship. This is the will of God for us in Christ Jesus. One Lord. One Body. One Spirit. If the grace of God through Christ is "reaching more and more people," our thanksgiving overflows to the glory of God!
The group in Tacoma exceeded our expectations in so many ways. Their outpouring for Japan moved us so deeply. Our wonderful brothers and sisters from Samaritan's Purse were swamped. They were so overwhelmed at the break that we had to keep them open after the event and position them at exit doors They counted dollar bills all afternoon to the tune of $66,025.25. As soon as the horrific tragedy occurred, we asked Samaritan's Purse if our offering for that LPL could go specifically to relief for Japan and they complied joyfully and set up an immediate fund. (Any of you are welcome to get on their website and also contribute if you feel led and aren't already giving through another organization. No pressure. Just opportunity.) We are all stunned and heartbroken over the devastation in Japan. It's just incomprehensible. The images are more than I can wrap my mind around. May "the Lord, the Lord, the compassionate and gracious God, slow to anger and abounding in loyal love and faithfulness" show Himself in every possible and undeniable way. May one of those ways be the banding together of His Body around the world to be His hands and a healing balm within them. They need our help.
It's time for Siesta Scripture Memory Team Verse 6! Ready, Sisters?? Stay with it! I'll give you my sixth verse (it reminds me of you) then show you a small handful of pictures I took over the weekend on my iPhone.
Beth, Houston. My goal is that their hearts, having been knit together in love, may be encouraged, and that they may have all the riches of understanding of the knowledge of the mystery of God, namely Christ, in whom are hidden all the treasures of wisdom and knowledge. Colossians 2:2-3 The NET Bible
OK, here's some pictures from Tacoma if you want a peek before you chime in with your verse.
This was my one glimpse at The Mountain. We had rain most of the time and, mountain girl that I am, I just kept looking out of my hotel window for a glimpse of that famous sight. While I was studying, I felt a tugging at my heart and I jumped up in hopes that the clouds were lifting somewhat and sure enough, there that bad boy was. I was so happy, I cried.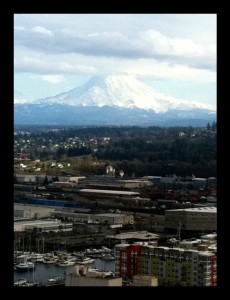 This was the sunrise the next morning. I was always an early riser as a kid and, now that I am an adult, I know it nearly drove my mother crazy because she'd have preferred her Folgers by herself. (This helps explain to you why I was a coffee drinker by the ripe old age of six.) My dad used to take up for me and say, "The early bird gets the worm!" Well, when I caught a glimpse of that sunrise in Tacoma Saturday morning and fifteen minutes later it was pouring down rain, I knew my Daddy was right.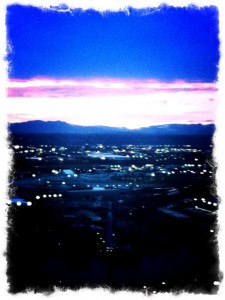 I can't believe I'm about to let this come out of my mouth but I had some of the best Mexican food on earth there in Tacoma. I was baffled. Someone had recommended "Masa" (on 6th Street) to us but Michelle and I looked at each other like, "Texans better not try it. We better leave that to the Tennesseans. They might not know better." But, after the event, we were about to have a meltdown for hot sauce and decided to cave to the pressure. It was so good I couldn't believe my own taste buds. We started with this unbelievable Bean and Queso dip then, because cheese enchiladas weren't on the menu, I decided to get Vegetable Fajitas. I've never tried them before but I've been with Travis and Angela when they've ordered them. (And I looked with contempt upon them.) They were unbelievably good. Really fresh – chunky and  grilled and topped with cheese. Side of rice and beans. Sara was our waitress and took such good care of us. She's expecting little Christos in a few months and we loved getting to talk to her. We saw a couple of tables of women from the LPL event, too, and so loved getting to hug their necks.
As if the Mexican Food wasn't good enough, there was a Stumptown coffee bar attached to it. Talk about the ultimate way to end a meal! I have become a fan of Stumptown through our dear Kelly Minter who considers it a friend that sticks closer than a brother. (My words, not hers.) Michelle has been ordering it for me for a year or so and it's what I grind and fix about twice a day in my office at LPM. Darla was our barista at the coffee bar in Tacoma and, as I live and breathe, the woman was an artist. Look at this crema. That is not whipped cream. That is how she finished off a Latte with plain-old low fat milk. UNBELIEVABLE. I was so impressed. I wanted to ask her how she dealt with her pride but she seemed astonishingly humble for such a craft. Almost like she didn't notice she was a rock star.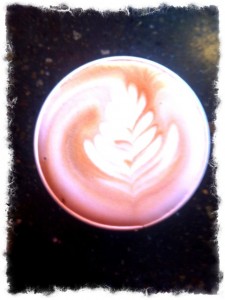 These were two of the most wonderful women we had at the Tacoma Dome. (Blood) sisters Roxana and Christine sat down nice and close to the front and gave God considerable glory in my earshot. They and their small group wore tiaras to the event so we were blessed to no end by every glimpse of them. That is, of course, Michelle in there with us.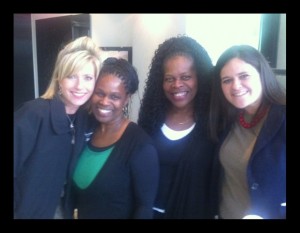 This last picture is of a group of really young women that were having coffee at the Starbucks we went to several hours after Stumptown. (No coffee for me that late. I'm saying that because I know somebody's going to get into my business. I got Blueberry water but I didn't want to. I drank four sips.) One of these darling things is getting married next week and had a little veil on. They were so cute we could hardly stand it. Just as they were getting up to leave, one of them looked over at me with wide eyes and asked if we were we.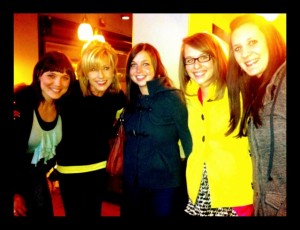 WHY DIDN'T YOU COME TO THE EVENT??? We asked.
Because we couldn't afford it!
Then I said: NEVER let me hear you say that again!
We do anything possible to get our college girls tickets to LPL's. For crying out loud, if somebody's broke, it doesn't matter what age they are, we try to get them tickets if they really want to go. LifeWay, too! They are tremendously tenderhearted and willing to do whatever they can to minister and disciple. Tons of tickets were given away to that event in Tacoma. You have no idea how much we'd like to do it for free.
This was my view from the airplane seat just as we were about to put our tray tables up and our seat backs forward for departure. I wanted you to see my cute rain boots peeking out from the bottom. I've had them for a couple of years and worn them about a thousand times but they were for such a time as Tacoma.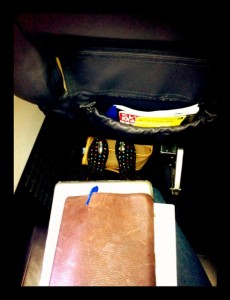 Well, I've rattled your ear off. You guys are important to me. I love you. I think of you everyday. Now, cough up your sixth verse!
Hold tight to Jesus in the ebb and flow of this temporal world. One sweet day this convulsing earth will be made new. The skies will tear open like a veil and every eye will see. Come quickly, Lord Jesus.