Greetings from the road, my dear Siestas! Well, to say that Keith Moore and I are having an adventure is our official understatement of the year. If you watched the SSBS wrap up (Tuesday's post), you know that Keith and I have done something highly uncharacteristic: pulled out of our driveway in a large rented RV and hit the road with little more than an atlas and two rather sizable hounds.
My coworker, Sabrina, was going over my August calendar with me about a month ago and said, "You have a week of vacation coming up and you should take it. Beth, the rest of us take actual vacations. Some of us even take three weeks a year. Where could I make you and Keith some reservations?"
So I began to think and think and talk it over with my man. Ever since my surgery, I just haven't been able to work my physical body into the ground like I used to. To tell you the truth, that's a gift from God. He probably never meant for us to work as hard as I have worked in the last twenty years. This time, I knew I wanted real time off. But where? Keith's spiritual gift is giving so I knew he'd give me any kind of vacation I wanted but there's one little factor that grossly limits our choices: we want our two little buddies with us.
That's when this wild idea hit us. My man has been trying to get me to do this RV thing for years but I couldn't quite picture, for instance, washing and drying my big hair in it. Believe it or not, that was one of my lesser worries. My greater worries are not suitable for public conversation but as you can clearly conclude, I decided to try my best to overcome personal obstacles. Novices that we are, we've had moments of questioning our sanity (like, for instance, at night when we can't actually sleep in it) but, overall (during daylight hours), we are having a blast! Keith will not let me drive but I am the world's best map-reader and a sight-seeing enthusiast so we make a great pair.
I will just give you a few highlights (or low lights depending on how much you appreciate trivia) because I can't stay on here very long. I'm only getting this opportunity because Keith hardly slept all night and has now finally fallen asleep and snoring loud enough, God love him, to rock the entire RV. I may need to take some Dramamine. (Did I spell that right?? Spell check is letting it pass but, for the life of me, I have never noticed the "drama" in Dramamine before. That I have not overdosed on it is a wonder.) Geli and Star are also staring a hole through me like, "Is this what we came here to do? Seriously? Just sit here in the RV? Do you know what kind of good smells there are out there right now??"
We drove over 10 hours on the very first day from Houston to Caprock Canyon State Park in north Texas. At half past midnight, we backed the RV into a space that, lo and behold, had a broken electrical outlet but we didn't realize that was the problem. We thought either our RV was malfunctioning or, more likely, we were inept. We blessed the other campers by sleeping (all 4 hours) with the generator going. But when we were able to drink enough coffee to peel our eyelids off our eyeballs, these were a few of the scenes around us: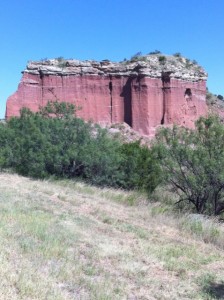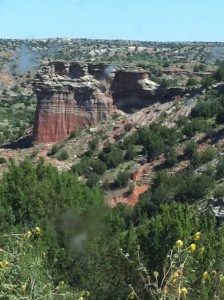 Can you believe that's in TEXAS??? Absolutely breathtaking. We loved it so much. Then, yesterday we got back on the road and spent all day spying gorgeous countryside on our way out of the Lone Star State and into New Mexico. Geli and Star were in dog heaven. They love traveling this way and, as I tweeted yesterday, they suggested we buy this thing when we get home and drive around Houston in it. Finally, we understand their needs, they said. This was the scene behind us much of the day: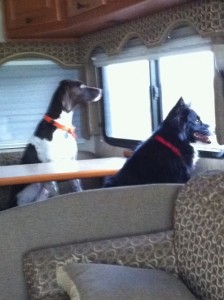 It's a wonderful thing to have an I-phone on a road trip. At all times I can find the nearest Starbucks. I can also find charming restaurants. This was one of them yesterday.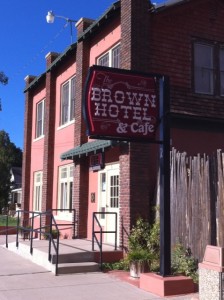 Keith got a big old plate of beef enchiladas, New Mexico style, with red chili gravy that made your eyes water. I had a hamburger steak because Kimberly, our darling young waitress, said it was good. I had a hard time overlooking the sandwiches because the menu said all of them were made with homemade bread but I'd had enough sandwiches in the RV to let that dream go. As God would bless me, my hamburger steak came with a side of "Texas Toast" (thank you again, Texas!) that was, you guessed it, made out of HOMEMADE BREAD. It was two inches thick and grilled on both sides in butter. I could bawl about it but, of course, I've had only about six hours of sleep in two days. I'm telling you it was the Texas toast of my life right there in New Mexico. As we paid out, our waitress said, "Ma'am, can I ask you a question. Is there any chance your name is Beth?" Turns out her Daddy is the pastor of the First Baptist Church in that town. It was a delightful encounter and we thanked God for it.
We made it to our second destination about 9:00 PM last night and will be here one more night.  I have on a jacket and I nearly froze to death last night. All my Houston home-girls hate me right this minute.
I'll catch back up with you in the next day or two but I'll leave you with the most surreal sight of the trip thus far. We purposely chose the scenic highways that looked like long ropes through ranch lands as broad as tongue could tell. Texas, New Mexico, and Colorado are all famous for those. We saw beautiful horses and tons of cattle and that was just in Texas. Once we crossed the first border, we hit New Mexico where the deer and the antelope play. And seldom is heard a discouraging word and the skies are not cloudy all day. Home, home on the… Sorry, Siestas. I'm just overtired. To get back to my story, before we left Texas, we passed by a typical wide-open pasture with horses frolicking and manes flowing in the wind. Nothing unusual about that except that these were all miniature horses. The kind that would stand about as tall as my waist. No, not Shetlands. Miniatures. Like stuffed animals. In herds. I have never seen anything like it. We weren't at a place where we could pull of the road with our big Daddy or I would have taken you a picture. It was the weirdest thing you've ever seen because everything else about the scene was absolutely normal. It was like the horses didn't even know they were supposed to be taller than three feet. Suddenly, I pictured a remake of The Wizard of Oz set in Texas instead of Kansas. Pitch those red slippers, my little pretty! Put on some hot pink ropers and follow that yellow brick road, Girlfriend. You're about to have the ride of your life.
These are the things that amuse me.
I've enjoyed saying hi to you, Siestas! My man just got up and, from the look of things, I better put on another pot of coffee. We love you. More than anything, we love loving Jesus with you. I am asking Him to refresh our souls and grant us some sweet revelation while we're on this trip. I pray the same for you, Darling Things, whatever you may be doing right now. He can meet with us as easily while we fold clothes and wash dishes. It's all about whether or not we ask Him for eyes to see.
I'll talk to you soon!