Hi ladies! This week's most frequently asked question has been whether we will make a DVD available of Beth's teaching from the So Long Insecurity Simulcast. I finally have an answer for you!
There will be a DVD and the planned release date is July 1.
We have also been asked about The Promise of Security, which is a 40-page booklet of Scriptures that pairs nicely with SLI. It is sold out, but I've been told that the publisher, Tyndale, expects to have more of them in early May. They will be available in many bookstores and in our online store for $1.
In other news, I finished Francine Rivers' Her Mother's Hope this week and I'm already dying for the next one! Her Daughter's Dream looks to be coming out in the fall. I just went to her web site to look for that release date and look what I came across! Ha!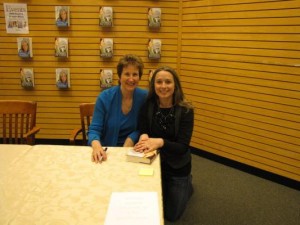 This was taken at a book signing that Mom and Mrs. Rivers did together here in Houston.
And, because this post needs yet another topic in it, I want to thank you for praying for my family since Curtis had his surgery 12 days ago. He is doing much better and life is feeling a lot more normal. Sometimes Curtis and I get bored of "normal" but I can assure you we are more grateful for it now.
Have a great weekend, Siestas!
PS – There is a little present at the top of our sidebar for everyone who has asked me how to have the blog posts emailed to them over the last three years. Woo hoo!