Three weekends ago, Mom, Melissa, Annabeth and I headed north to Dallas-Fort Worth. Our co-worker's son was getting married and we were excited to make  a girls weekend out of it. I realize the relevance of this post has now dwindled, but it's been sitting in the draft folder for a couple of weeks and I would hate to waste it.
As always, we had many "That's going on the blog!" moments, some of which I will document for you.
The first was when we passed the giant statue of Sam Houston just outside of Huntsville on I-45. If you've heard Beth tell about the night she thought she saw our Lord on the highway, you will appreciate this. At night Sam is lit up against the pitch black background of pine trees.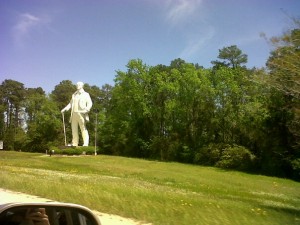 Too many hours later (Mom was behind the wheel and she drives like a granny), we finally arrived in the Metroplex. We went through Irving and got one last look at Texas Stadium. It was already very stripped down in preparation for Sunday morning's implosion.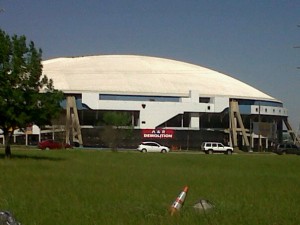 After a much needed stop at Starbucks, we stayed the course of our long journey until we arrived at the perfect Moore Girls Weekend destination – a hotel at Southlake Town Square. Praise the Lord and amen.
In this spot, please imagine a picture of Melissa and me unloading our overpacked bags and toddler paraphernalia out of the car while Mom visited with two really cute ladies who seemed a little surprised to be seeing her.
Right here, please imagine a picture of my mom's face when they told her that their church was hosting a women's retreat at that very hotel and – you'll never believe this – Mom was the retreat speaker! Yes, you read that right. They were using the Revelation DVD's for their women's retreat. Isn't that ironic/hilarious/crazy?
We didn't waste much time unpacking. There was eating and shopping to do before bedtime!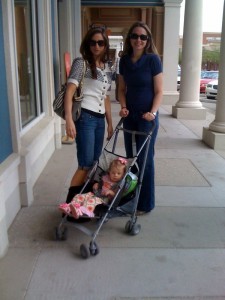 We had a great time exploring Southlake and just being together. We met lots of really neat ladies and even a few Siestas!
Our time flew by and before we knew it, it was time for the Mattingly/Simpson wedding. We all got dressed up. Mom wore the gold dress that she's worn to almost every wedding in the last 8 years. I wore a "new again" black dress that hadn't fit since Annabeth was born. I also wore a brand new pair of heels that quickly became my nemesis. Melissa took a fashion risk and wore something less conventional. Halfway through the night, she saw a picture of herself and suddenly there was no convincing her that she didn't look exactly like the wedding cake in her voluminous, tiered white blouse. She said she feared people would begin approaching her with their cake plates. I believe this was Melissa's first time to experience fashion remorse. Unfortunately, all pictures of it have been destroyed. (I thought she looked beautiful!) Annabeth wore a sweet little dress that had pink tulips on it. Unfortunately, a toddler really limits one's participation in a wedding celebration. Annabeth and I just walked up and down the halls of the church during the ceremony. Our time at the reception ended up being short and sweet, seeing as how my daughter was two hours past her bedtime and nothing could make her happy. At least she was cute!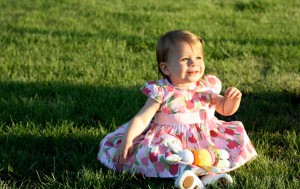 The Lord allowed us to have a couple of unexpected moments with Adam and Laura, the beautiful bride and handsome groom, on our way out.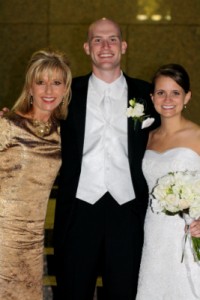 There happened to have been some red and pink tulips nearby that matched Annabeth's dress. What a great photographic opportunity, right? Annabeth did not agree.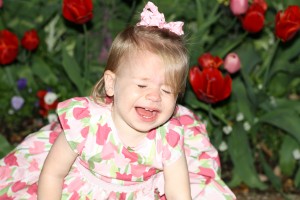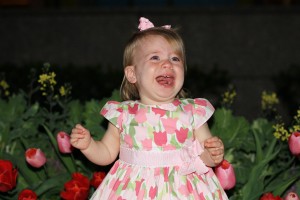 The next hour held one mishap after another. I got us terribly lost, Melissa dropped a room service tray on the floor and broke some plates, and Mom and I accidentally ate  her dinner while she was cleaning it up. (We thought it was an appetizer for all of us.) Bless her heart.
Soon we called it a night. Early the next morning I woke up to a rumbling sound. I glanced at the clock and realized it must have been the stadium coming down. You can see a video of the implosion here. People cheer at the end but I thought it was pretty sad to watch! (I used to live by this stadium and even though it was u-g-l-y, I felt sorry for it.)
We dropped Melissa off at DFW airport so that she could fly home to Atlanta. Then Mom, Annabeth and I made our way toward the stadium so we could see the pile of rubble. It was so freaky! It looked like there had been an earthquake. I tried to imagine how horrifying Port Au Prince must be with most of the buildings looking like that. Awful.
A highlight on the way home was stopping for lunch at the Collin Street Bakery in Corsicana. One word – YUM! There was a big field of bluebonnets (our celebrated state flower) next to the parking lot, so we did what every self-respecting mother and grandmother in Texas would do. We plopped ourselves and our baby down in the middle of it and took some pictures!  Ideally, these would not have been taken with an iPhone and Annabeth would have been wearing a cute summer dress. We also had to hurry because we could tell the church crowd was about to arrive at the restaurant.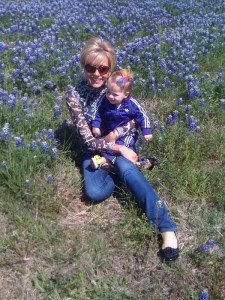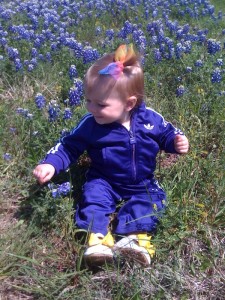 And this concludes the semi-annual Moore Girls Weekend recap.  Our DFW trip was a great success. Thank you, Adam and Laura Mattingly for getting married and giving us a great reason to get away. We love you guys!