Three years ago today, I came the closest I've ever come to having a full-throttle panic attack. Melissa was in the passenger seat of my car while I was at the wheel and she started frantically turning every air conditioner vent on the dash straight toward my face. "Breathe, Mom. It's going to be fine!" I'd worked like a crazy woman for three days packing up our house for this move so it shouldn't have caught me off guard but suddenly the reality of that huge moving van right in front of us with 27 years of our lives stuffed into it nearly did me in. I wanted to pull up beside it, roll down my window, and yell, "I changed my mind!"
I'd raised my babies in that house, stood at that mailbox and waited for the school bus with them, buried three beloved dogs in that backyard, danced with my man on that linoleum kitchen floor, fought with him in that den, fallen head over heels with the Scriptures in that tiny dining room, pulled trashcans forty million times to that curb, cried as many tears and thrown my head back with as many laughs…all in that one house. We'd bought it at a foreclosure price and still struggled to pay the mortgage but not one day did we take it for granted. Our very best friends helped us move into that house. Our oldest kids were 5 and our youngest 2. Our kids played together in that house too many times to count. We were inseparable in those days.
I loved it so much. I declared over and over that I'd never leave that house. But I did.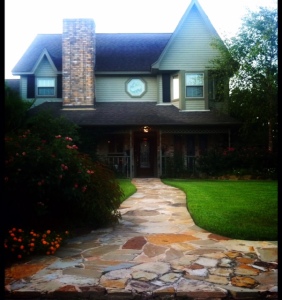 Three years ago today, we followed that moving van down a highway on the outskirts of Houston then down one bumpy dirt road then another that my man had cleared himself in order to move us in. He'd had to dig a water well, have telephone lines and electric lines put in, and bulldoze enough trees out of the way to tuck in two houses: his parents' and ours. They'd lived in town beside us. We wouldn't have moved without them. Most of my neighbors at my house of 27 years had lived there for decades, too. We loved those people and they loved us. Our preschoolers had played together then graduated from high school together. We could holler at one another across the fence. We had a new fence now and new neighbors who, as you can see, were set in their ways. They only had one word to say to us when we got here. "Mooooooooooooove."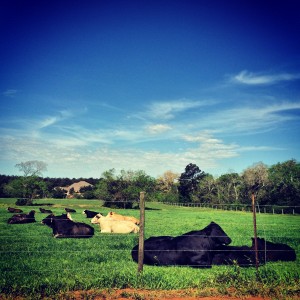 We also had snakes.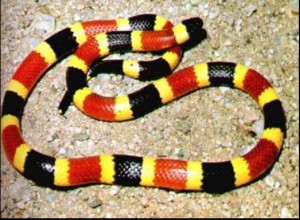 Several different kinds.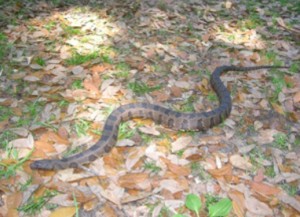 So this became our fashionable footwear.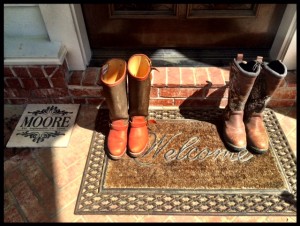 Big Pops and Memmaw soon got a rooster and chickens. It took us a while to get used to them and them a while to get used to us. Big Pops and Memmaw enjoy the eggs but I just can't eat them. Something about eating eggs from a chicken I know personally doesn't sit well on my stomach.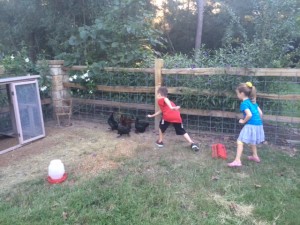 We've had a few unexpected visitors drop in.  Some of them were particularly delightful.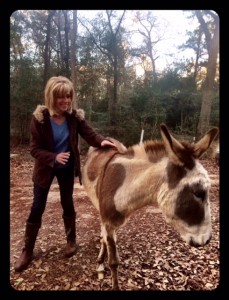 It helped that our kids started liking it out here. The Jones live in the suburbs about 20 minutes from here and we knew they'd adapt well because their kids were at the perfect age for tadpoles and hoot owls but our city girl, Melissa, lives smack downtown in Houston, Texas almost an hour away. She was the least enthused about our move. Some might even say slightly pouty. One day a few months after we moved, she succumbed to a sudden bout of sentimentality and went back to our old neighborhood to go for a walk there like we'd done thousands of times. She'd even planned to shed a few tears. She called me on her cell phone when she got back in the car and said, "I don't like it here anymore. Y'all aren't here." And that very moment, her heart shifted to the country. These days she makes the trek constantly. She's fallen in love with these woods and these neighbors: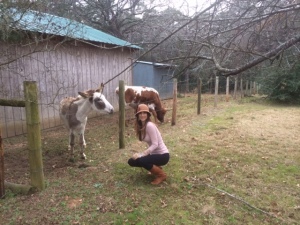 Living next door to Big Pops and Memmaw means that we have ample time with all four generations. When Jackson is grown, he probably won't remember that we ever lived anywhere else. Not even that house where we raised his mommy.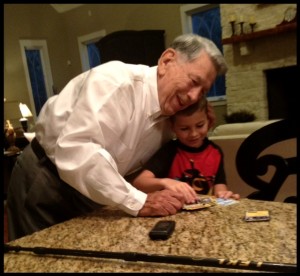 Needless to say, I've spent a lot of time with Big Pops myself. Here on the gator. This is only one of three John Deeres on the property. Big Pops planted his behind on a tractor the second we moved in.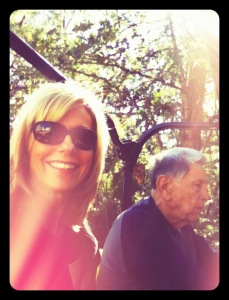 We've put a lot of miles on this thing in three years. Here with my two girls and our good friend, Crista.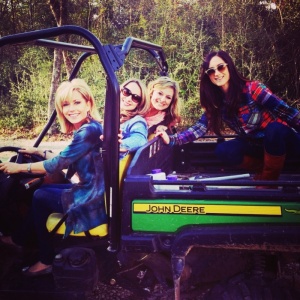 The idea came to me for Bibby's Secret Closet here at this new house. The kids never know what surprise Bibby's gonna pull from it.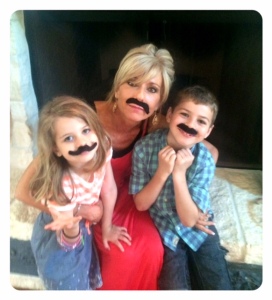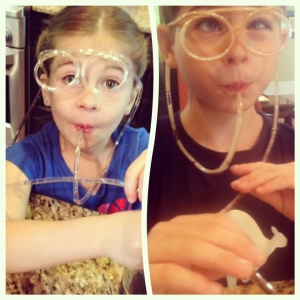 We often have our pastor and his wife over for dinner. We make it our goal to be their favorite church members.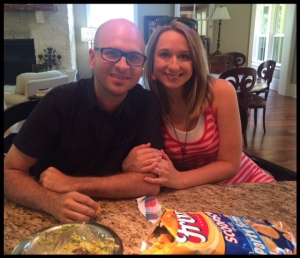 It's amazing how much he looks like my son-in-law.
Annabeth loves having her birthday here. She says she's always going to have it here. We'll see. But we'll take it for now.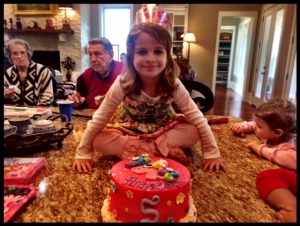 We have a tiny little sliver of water not far from us that you could call a creek if you were in a particularly generous mood. It's got some sand by it that the kids really like. Be blessed that this is not a scratch and sniff picture because the creek doesn't always smell all that good, especially if it hasn't rained in a while. But if your nose is slightly stuffy, it can be pretty fun.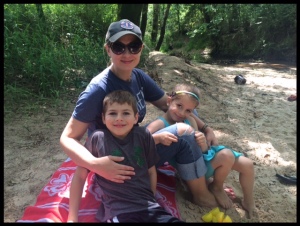 Don't think there's not plenty of excitement in the country. Keith was Superman to this baby hawk with a broken leg that we found on this branch down from our house one day. Flies were already all over it when Keith rescued it and took it in a box to the only vet clinic in Houston that takes this sort of patient. Keith kept tabs on him with the vet and, sure enough, he made it.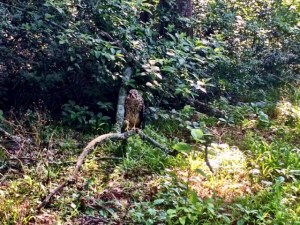 Several months later a hawk swooped down and ate one of Memmaw's chickens. I couldn't help but think, "Seriously?? After we saved one of your very brethren???" But not long after that, Queen Esther helped herself to a chicken and Geli (our birddog) followed suit and has thus far made a picnic lunch out of two. Well. Maybe three.
Geli begs to eat out. She likes her food to be organic. Here she had a bad hankering for a double-meat rabbit burger. Cut the bun.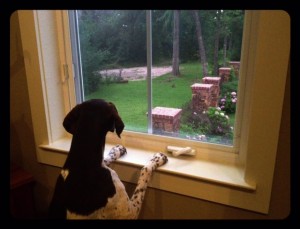 We find all sorts of critters in our backyard. We host raccoons and rabbits constantly but we also have possums. I used to hate possums because of their pointy little teeth and the way they hiss but somehow, now that we live out here, I feel like I can't hate them as much. I feel compelled to be a good possum steward. This was our favorite backyard drop-by of all. We got up one recent Sunday morning to this sight and nearly died.  Two more were just on the other side of the iron fence.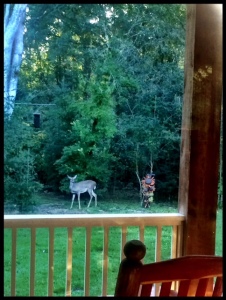 Three years is long enough to have lived through some losses. Remember those beloved dogs I told you we'd buried in the backyard of our house of 27 years? We've been forced to start a pet cemetery here in these woods now and we are not anxious to populate it. With many tears we recently laid the Jones's faithful, dearly-loved golden retriever, Beckham, to rest.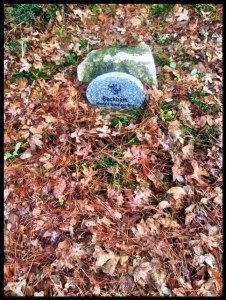 He was, without a doubt, the happiest dog in the whole USA.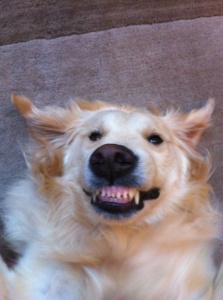 My man and I are coming up on 36 years of marriage in a few weeks. You can't live together that long and not have a lot of ups and downs. Well, maybe some people can but they are not us. Not by a long shot. We've ridden a roller coaster together, my man and me. But we are so glad we stuck it out. We've had the happiest season of our lives out in these woods. We loved our home in town so much but, heck, sometimes you just need to move somewhere new. This was from Thanksgiving a few weeks ago. Keith put a fireplace on our back porch and, if it's lit, our family doesn't get three feet from it. South Texas has the kind of climate where you could spend the whole winter on your back porch as long as you had a little firewood.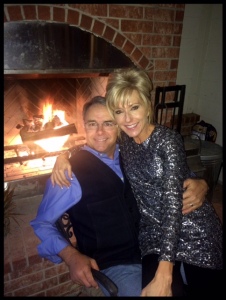 Just last week our long-since adopted family member, Travis (Cottrell), was out in the country with us and he snapped this picture right before he left. He loves Keith Moore and Keith Moore loves him. I'm mad now that Trav wasn't in the picture.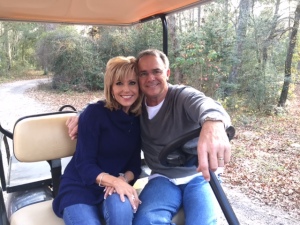 So, three years to the day later, we're making it out in these modest woods. These acres would not be beautiful to everybody but they're beautiful to us. Life has been brand new out here. I won't kid you. It's been an adjustment. A lot less eating out. A lot more cooking. A lot more driving to work. The cars stay filthy. The raccoons won't stay out of the trash. Fed Ex never can find us. But we don't mind. Because it was time to make a move. For us, it was out where the dawn breaks to the crow of a rooster.
My heart is filled with gratitude to God as I glance over my shoulder at the last several years. He knew this was just where we Moores needed to be. Out here in the sticks.
It turned out to be the season for moving in the tightest part of our social circle. Our very best friends of 34 years bought a new house, too. I don't think they'd mind me showing you a picture. You know, they're the ones I told you about earlier. We raised our kids together. They love their new house.
We love it, too.