CONGRATULATIONS WINNERS!
Watch for an email today from Living Proof so that we can arrange shipping of your gift! Happy Monday!
1.    #714-Nicole T
2.    #1042-Jennifer Winner
3.    #1326-Patty Dalton
4.    #873-Kathy Isaacson
5.    #1150-Jennifer Nelson
6.    #542-Emily Stokes
7.    #695-Dea Windsor
8.    #39-Vicky D
9.    #247-Janet from FL
10.    #17-Natashajk
11.    #646-Janet Worthy
12.    #1209-Patti Byrd
13.    #982-Tina Ritter
14.    #391-Tona Hawkins
15.    #340-Karina Allen
————————————–
Hi Everybody! Sabrina here! (waving)
Just in case you are wondering something like, "wow, I can't remember ever hearing from Sabrina", you are so very right!  I have never been on the blog before today.  So why now??? Well, I am pretty jazzed about something and want so much to share the excitement with you all.  LPM has a new resource that is on the printing press at this very moment.
With all glory to God, have a look at Breath.
Y'all, Breath has been new life to me. Here is the deal: a few co-workers and myself do several reviews for editing and design – so we watch it a lot (smile). Every edit review was a fresh breath from God. Actually, I would get so wrapped up in the teaching that I would forget I was editing (laughing).
This lecture study is on the Holy Spirit, "The Life of God In Us".  The companion booklet includes Beth's listening guides, along with 6 written lessons by Melissa Moore. These articles give deeper insight into Beth's lectures with expanding applications but they also offer an opportunity to glean from the fresh research of an amazing young teacher. Beth's six sessions were filmed live with our local Houston Bible study group.
Thank you for praising God with us about this series and believing God to meet each person who seeks Him through this teaching.
We expect shipment in about 1 week, however if you are too excited to wait until the DVD sets arrive, the digital downloads are available now.
Breath is one of several items on my Christmas shopping list (definitely a perk to have a store at your workplace).  So I thought it would be fun to share those with you as well. I've listed them below but, truly, what better way to share than a Blog Giveaway?!
SO, your comment to this post will be your entry to the drawing.  We are so excited to share five copies of each new resource item shown below, so there will be 15 winners!
This is a 366-day compilation devotional. For those of you familiar with the Personal Reflection Series (90-day devotional journal drawn from the lives of Jesus, David, John, and Paul), this unites them all into one beautiful book.
LPM's DVD set "The Great Escape"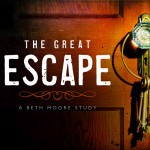 The Great Escape was recorded at a Living Proof Live event in Bossier City, LA.
You can preview The Great Escape here.
LPM's DVD set "Breath"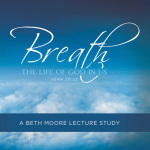 You can preview Breath here.
Since it is the season of giving, if your name is selected in the random drawing and you prefer to ship your gift directly to someone on your gift list, please know it would be our joy.  This post will remain open until 4:30 CST on Friday, December 5th.  Winners' names will be posted first thing Monday morning, the 8th. If your name is drawn, watch for an update to this post. We will also notify you by email to get the mailing information for yourself or your recipient.
Of course we are glad to help with any of your gift needs. You can browse in our online store here.  Please note LPM's last day to ship is 12/17.
With much love and many Christmas blessings to you!
Sabrina