OK, everybody! Here are the results of our random drawing for our book giveaways! I wish so much we could send one to each of you who entered. I so badly wanted some of the men to win! Bless them for posting on our blog today!
Carole Hunt
Addison Rothrock
Brandy Tucker
Gina Myers
McKenzie
Julie Meador
Kristin Funston
Allie Field
Sarah Bryant
Betsy Martin
Mykael Story
Stephanie Bandy
Cami Lang
Amy Harris
Patricia Hoskins
Brenda Prose
Heather Briggs
Robin Lamp
Jill Roberts
Amy Wilch
Dawn Reeves
Angie Osborne
Alison Vaughan
Please email LPM as soon as you can at [email protected] with the street address (no P.O. boxes please) where you want the personalized book sent and we will get right on it! Thank you! We are so blessed to serve you! Tons of love to you all.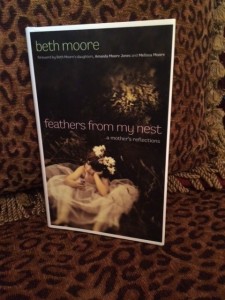 Hey, Everybody! We would just love to do a drawing to give away 23 personalized copies of Feathers From My Nest for Mother's Day. It's the only official "Mom" book I've ever done. I wrote it with wet affection right after my youngest daughter went to college and it is still dear to me. The idea to do a random drawing for a giveaway occurred to me right at closing yesterday so I asked KMac and Evangeline to do a quick perusal and tell me how many copies we have on hand at the ministry. They looked on our resource shelf then around several tables and came up with exactly 23 copies. That's the reason for the random number. If we find any more around the ministry, we'll add those into the drawing and give them away, too! I wish I'd thought of it sooner and we would have placed an order for more but we'll have fun with this many. I so hope some moms will enjoy it.
If you're interested in winning one, here's what you do: Leave a comment to this post with your own first and last name and then the first name of the person you want to receive it for Mother's Day so that I can personalize it. 
We're going to do a really fast turn-around because we want to get them into the mail in time for Mother's Day. That means we need to close the post at 11:30 AM this morning. We will then post the 23 winners at 12 noon today in a second post and ask them to jot us a brief email as soon as possible to supply us with a mailing address for the book.
Sound easy enough? Let's do it!
So much love to you guys today!