I know most of you can relate when I say there are times you look back on a year and see how God has been so faithful in the little things. For different reasons here and there, I'll just go ahead and admit that 2013 has not been my favorite year. It has certainly had its rough patches and that's okay. Not every year is a pep rally. Sometimes there are certain years that are amazing and you treasure those and keep doing life, then there are those that are just plain hard and still you keep doing life. The key is to keep moving forward with Jesus not matter what. Because one thing we can know is that each and every day is the day He has made, and we WILL rejoice and be glad in it, even if it involves tears, heartache, confusion and disappointment.
Two months ago you might remember that I blogged about my brief trip to Colorado to celebrate my Grandpa's 86th birthday and my grandparent's 60th wedding anniversary. Before that, my grandparents spent Memorial Day weekend in Houston with us and before that, I spent Christmas in Colorado with my entire family. Only the Lord could have ordained all of that time together because last week, we said goodbye to my sweet Grandpa. He was diagnosed with pancreatic cancer right around Labor Day, and three weeks later, on September 26th, he met Jesus. It was fast and furious, but knowing how incredibly sick and in pain he was, we're all so grateful he's no longer suffering.
I realized recently that not everyone gets to experience the blessing of grandparent's like I have. Distance didn't mean a thing to my grandparent's. They were so faithful and never missed a beat or a birthday in our lives. Always involved, always healthy and thriving, which is what made the last month so hard. I've been quiet about all of it, but mainly because I can't talk about it without a big lump in my throat or crocodile tears on my face.
We celebrated his life together last week in Colorado with hundreds of family and friends gathered and honored his long and very blessed life that ended with a 21-gun salute to his service in the military, and the flag presentation to my grandma, which is incredibly moving.
(Can I just pause and say a big THANK YOU to those of you that sacrifice your husbands, fathers, brothers, uncles, grandpas, mothers, sisters, wives, aunts and so on and so forth to the military? Thank you is lame, I know, but I mean it. It is no small feat, and no small sacrifice. We appreciate them more than we can say. I hope you know that and feel that today if you are in that situation.)
My Grandpa is so deeply missed by all of us, but now I can brag about what blessing he was to literally everyone that knew him. Every morning last week I woke up at my grandparent's house expecting to be greeted by his huge grin, kiss on the cheek and a, "Good morning my Lindselpie! What do you want this morning?" and then he'd list off every breakfast option imaginable.
I don't know if it's possible, but I fell in love with my family all over again last week. We got to do so many things Grandpa loved to do, like work on the puzzle he had been working on during his last weeks, laugh at thousands (and I do mean thousands) of pictures, re-tell his old (and sometimes inappropriate) jokes, take a visit to the mountains to visit the old cabin he built and they used to live in and eat his favorite foods, among many other things.
Sad? Yes. Despairing? No. We know we will see him again one day. Hard? Absolutely. But blessed in the midst of it all? Without a doubt.
So, if the blog has seemed a bit quiet, you're not imagining things. In the middle of tweeting, blogging, facebook, Instagram, snapchat, and all things social media, real life happens. To all of us. I've learned that when real life happens, sometimes nothing is the right thing to say, and other times when real life you happens, you just have nothing to say. If you're in the thick of it right now, and if you feel like you're barely keeping your head above water today, I pray you feel God's nearness. I know many of you are in storms that are unbearable. For that, know that every tear that falls on your pillow (and we all know those pillow tears, don't we?) I have a deep compassion for you. But when we know God is near and in control, it makes life a little more bearable. Amen?
But just like I was reminded last week, it's much more exciting to live life as opposed to making up things to write or tweet about. Can I get an amen? And my Grandpa lived life to the fullest. I could go on and on about him, but I won't, lest I bore each of you to death. Let's live a little life this week, in the midst of chaos, blessing, sadness, and joyful occasions, let us express our hope in Jesus and live. Because where there is hope, there is life.
I thought about not sharing any pictures with you all, but that just felt wrong. So, I'll share a few of my favorites pictures and memories from this last week that we got to smile over.
One thing I want you to notice is my Grandpa's pocket protector in each picture. He OWNED that pocket protector and wore it literally my entire life. Can you say fashionista? Laughing.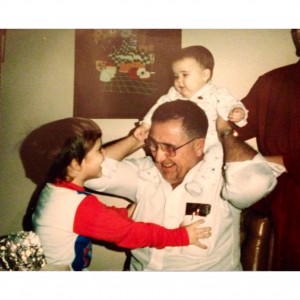 I can honestly tell you that Grandpa never withheld one ounce of love. He loved so well.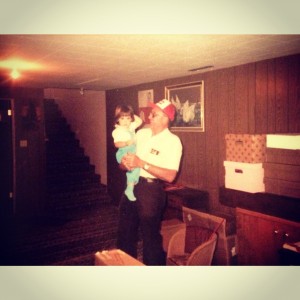 I just thought this was fun. We were looking through some books and found this picture of Grandpa during the Korean war. "Nothing like an early morning shave with cold water out in the open." (That is something I cannot relate to. Grin.)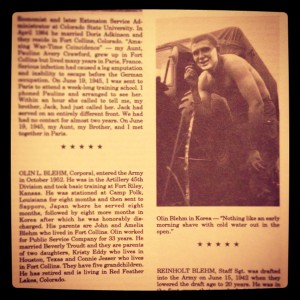 This was just two months ago celebrating my grandparent's 60th anniversary. Such a treasure right here in this picture.
Me and Grandpa and couple of years ago. Again, notice the pocket protector and pens. I hope it makes you smile as much as me. (Side note: He wrote EVERYTHING down, everyday. From sun-up to sun-down. That was fun to look back on.)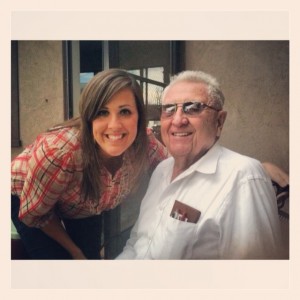 I am sure this sight is familiar to many of you. To you, I say thank you so, so much and I am so,so sorry. But what better way to honor our military troops and veterans? So moving. So incredibly special.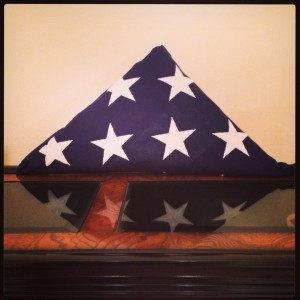 In his free time, my Grandpa worked on puzzles of all kinds. Jigsaw puzzles, crossword puzzles and just plain old puzzles. This is the last one he was working on and this was as far as he got. We used to work on them with him, so you better believe we picked up where he left off and in all our might, tried to finish this one, but alas, did not. Too little time and WAY too hard. But it was a good memory to relive despite his absence.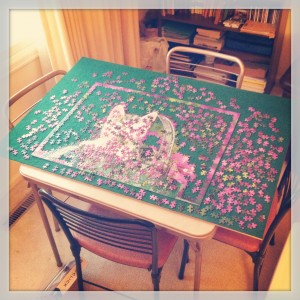 We got one day last week to just be, so we headed up the mountain to visit my grandparents' old cabin where they used to live. Right next to this lake where we used to fish all the time. (My Grandpa was the fisherman of fisherman.) Three of us may or may not have been wearing some of Grandpa's old coats as we were not prepared for the cold weather. (Another side note: My Grandpa built every house he lived in, except the last two.)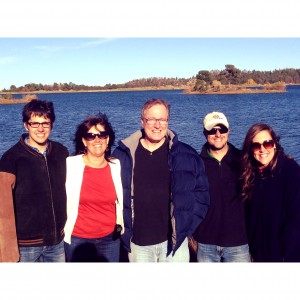 The view right outside their cabin. A little Autumn snow had just fallen. It was chilly, crisp, breezy and beautiful.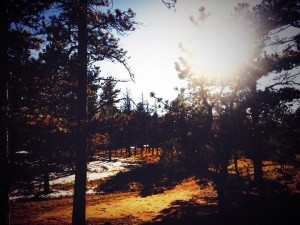 I came home Sunday evening to this stunning sunset. We were driving out of the airport when my dad pulled over so I could get out of the car and take this pictures. It took my breath away. This was THE best welcome home banner ever. All I kept saying was, "Jesus loves me, this I know."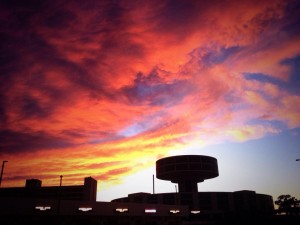 After that sunset, we kept driving and then this happened. As if the first sight wasn't enough. THIS? Unreal, y'all. And we watched plane after plane take off into that sunset. To say I was obsessed is a slight understatement. My dad didn't pull over so I could take this, but apparently that didn't matter. A moving car couldn't even ruin this picture.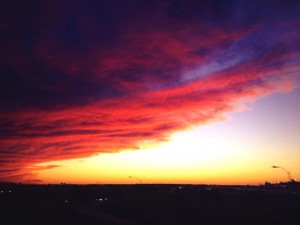 I don't know about you, but it's little things like that, a welcome home sunset, that remind me how faithful God is. That He sees. He cares. And He goes before you and me. I needed that. And maybe you do, too. He is so worthy of our faith and our trust.
And all the people said amen.