Friday greetings, y'all!
On a whim I decided to jump on here and share a bit of the randomness in my head. It's called five minute Friday. It's not new. It's not original. But it's sometimes fun and a lot of other bloggers do it, so why not jump on the bandwagon this morning?
So, I'm setting my timer for five minutes, literally, and at the end of this post, I suppose we'll all see where my finger tapping took me. Beware, none of it will have anything to do with each other. Okay? Okay.
Ready…set…type!
– I'm learning more and more that it's always better to give more grace than you feel like giving. Whoa. That's hard. But where would we be if the Lord only gave us grace dependent on how He was feeling that day? Oh no. We'd be a puddle.
– I'm also learning, probably the hard way, that sometimes it's better to keep your mouth shut. If you have nothing kind to say, don't say anything at all.
– I've had to administer drugs to myself in the form of NyQuil all week long. I can't decide if the scratchy throat and stuffy head is due to allergies or sinuses, but either way, I'm ready for the junk to move along.
– Fall is sloooooowly creeping into Houston. And by slow I mean the high is 84 degrees today. What?
– I am currently wearing a t-shirt that says, "Y'all". That's all. I kind of love it. I recently got it from an antique shop called Junk Gypsy in Round Top, Texas and it makes me so happy. As Kinky Friedman once said, "Y'all is singular. All y'all is plural. All y'all's is plural possessive." And all the Texans said amen.
Yup, I just took a selfie. It's five minute Friday, y'all. What more could you expect? Plus, I really wanted y'all to see the cuteness that is this t-shirt, you know, since I don't typically wear t-shirts. Smile.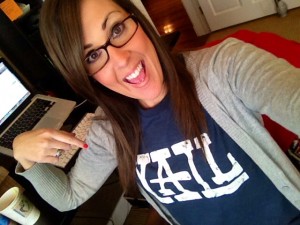 – When one's throat is sore, chocolate milk for the win. (I don't want to hear if it's bad for me, I just want you to know that it feels good.)
– Yesterday we had some visitors at LPM. Jefferson Bethke and his wife Alyssa. If you've not heard of Jefferson, he recently (this week) released a book called Jesus > Religion and also, Jefferson is very gifted in the way he brings the Word to people. He brings it through a poetic stance that we sometimes label as spoken word. If you're looking for something to do today, go look him up on YouTube. You will not be disappointed. They were so genuine, so easy, so fun and so clearly love Jesus. The kind of people you just see yourself being best friends with. (Side note: Beth and I both only knew Jefferson through Twitter. That is what is so fun about social networking, one day you're Twitter friends, and the next day you're real life friends. Or, like many of you have experienced, one day you're blog friends and the next day you're real life friends. So crazy, y'all.)
Beth, Alyssa, and Jefferson.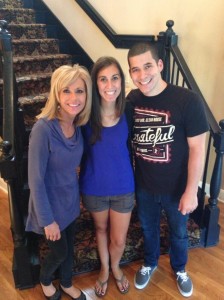 And then I hopped in the picture. So fun.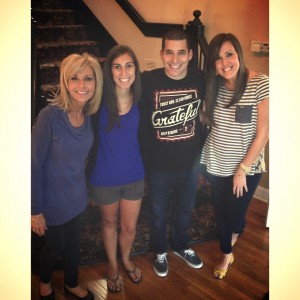 – Oh, I wanted to tell you all (y'all) thank you so much for your sweet words about my Grandpa. I read every last word. And thank you for sharing your struggles and losses, too. Your authenticity and vulnerability encouraged me. Life is hard. But how fun that we have this neat community to encourage each other and lift each other's heads up? I'm so grateful.
– I was reading through an old journal very recently, (some old journals make me want to sob and some I want to shred and throw away, can you relate?) and anyway, I ran across this sentence I wrote and it was a fresh wind to my soul. While faith is the doorway, grace is where we stand, but hope is our fuel. 
– This I know, if we're not being fueled by the hope of Jesus Christ, we're looking to something else to keep our weary engines rolling, and sister, this I know, it will come up dry. Every time. The hope of Jesus Christ is our fuel. Hope in Him today. He's got you. He's carrying you.
Welp! My timer just went off. I'm going to cheat now and add one picture.
Your turn! But to keep the comments slightly bearable, let's make it one minute Friday. I promise you, one minute will FLY by.
That was fun! I hope you all have a wonderful weekend. I love y'all so very much.