Hey y'all! (I almost said ladies instead of y'all, but I've been up north all weekend and just needed to get back to my roots. Grin.) I feel like it's been a while since we've talked, so I thought I'd pop in, say hello and share a little bit about my weekend, if that's okay with you. Grin. Last week was busy to say the least, leading up to a very fast and furious trip to Colorado this past weekend. There are pros and cons to extended family living thousands of miles from you. While my brothers and I didn't grow up with any of my grandparents or cousins within a short distance of us, the beauty is that we get to visit Colorado fairly often. (When I say our entire extended family lives in Colorado, I mean every last one of them. Both my mom and dad's side.) Of course, we don't get to go as often as we used to when we were younger (thanks to getting older and becoming responsible adults), but if I am "forced" to visit anywhere, Colorado isn't too shabby. Especially when the weather is a bit unusual in July leaving us with 60-degree temps in the evenings, with highs reaching only the mid-seventies during the day. It was glorious.
And now I sound like a weatherman. Laughing.
The reason for this particular weekend trip was to celebrate my grandparent's 60th wedding anniversary! Can we all just have a moment of silence? 60 years! That deserves more than a few exclamation marks! I think we can all agree that 60 years is a rare reality for most couples. Of course, my grandpa being the hopeless romantic that he is (do you sense my snarkiness?), after I asked him what the secret to being married for 60 years to the same woman was, said, "Well, for starters, from the beginning I let her be the boss." This was especially rich coming from him because my grandma might be the least bossy person I know, but there you have it. True love. He's a funny man.
We ended up cramming in so much throughout the weekend that I'm pretty sure I came home needing a vacation, but we had the most fun, hilarious time. Maybe one of my favorite visits.
Besides sitting on my grandparent's back porch for breakfast each morning (I'm drooling thinking about it right now), I'll share a few highlights from, what I have labeled as, the fastest Colorado trip ever.
Estes Park:
We flew in really late Thursday night due to a delay, but that didn't keep us from hitting the ground running Friday morning to make it up to Estes Park for the day. I'm convinced not one inch of Colorado is ugly, but there's something majestic about being surrounded by the mountains on every side of you. Estes Park lends itself to that kind of view. We ended up on the lake this go around after renting a paddle boat and pontoon boat and it was so much fun! I literally laughed the entire time. Who knew that paddle boating was such a workout? Of course, the minute we got on the lake it started raining, but I'm not sure it would have been as fun had it not have rained. Afternoon rain showers in the mountains are nearly unavoidable. But there went my straight hair!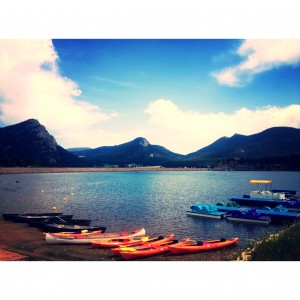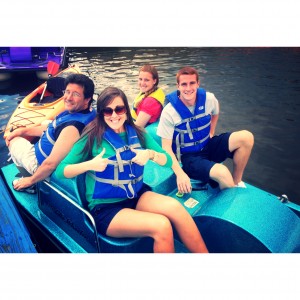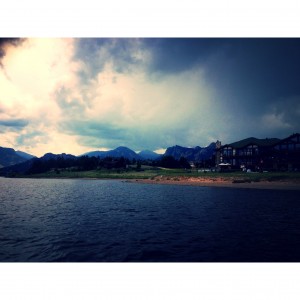 Our view while paddle boating. Rough, right? Also, the rest of our family is on that pontoon boat. Who in the family is smarter? Laughing.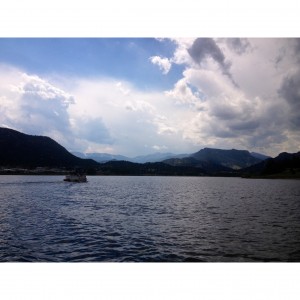 After that we walked around downtown Estes for a bit before driving home. It was such a fun day!
The Celebration:
When my Grandma and Grandpa celebrated their 50th anniversary, we threw a big party for them! It was like a second reception. However, neither of them are really keen on parties, so for this anniversary, we just had a small family "linner". You know, Grandpa can't eat too late lest it mess up his stomach. We are rarely ALL together as an extended family, so this was a treat. We had a private room at a neat steakhouse there in town and we all left stuffed to the brim. I've said this at least a thousand times, but I'm truly so blessed to have been able to witness their marriage up until now. Far from perfect or easy, but they've been so faithful to each other. They have loved so well, the best they humanly can.
Lovebirds for 60 years!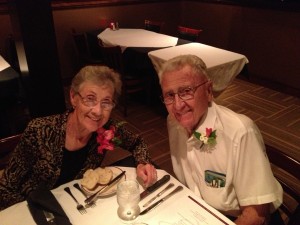 Thing One and Thing Two:
If you're familiar with Dr. Seuss, then you might get that reference, but if not, I am betting right now you are terribly confused. Allow me to explain: We (the grandchildren) had some funny shirts made that numbered our birth order. (Thing 1, Thing 2, Thing 3, etc.) These "Things" in the Dr. Seuss book, The Cat in the Hat, are apparently the cause of much mischief. We figured this was appropriate since we've brought much mischief to their life as grandchildren. This also helps them keep us in order. It may be incredibly cheesy, but we got a good laugh out of it, as did Grandma and Grandpa. Take a look for yourself:
You would think with as many pictures as we took we'd have a least ONE where we're all smiling and our eyes are open. Nope. Not one. It's so unfortunate. This is the best I could do. But you get the point.
Also, you might find it humorous that while we desperately wanted a picture with Grandpa and Grandma, Grandpa was actually sacked out in his chair while we were being photographed. But it's his party and he can sleep if he wants to!
Cousins!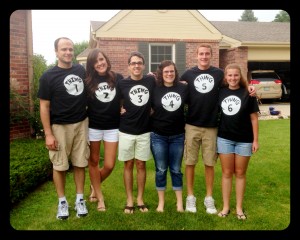 My brothers. 🙂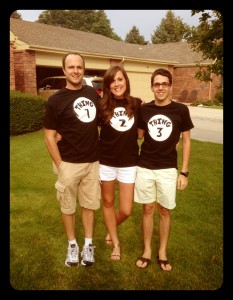 Fort Fun:
Because what else do you do in Fort Collins? Grin. Saturday evening after all of our celebration festivities, the cousins loaded up for a bit of fun at Fort Fun. It threw me back to 8th grade when my friends and I used to frequent Mountasia. It's just a fun little place where you can ride go-karts, play laser tag, putt putt golf along with all the arcade games in the world. We ended up just playing putt putt in which we confirmed that I am the world's worst putt putt golfer. It's a sad reality, really. That, or I just need some more putt putt practice. We also rode a giant slide that also brought out the inner ten-year old in me. Fun times.
I mean, y'all. My sweet cousin may have been terrified. I just laughed the entire way down. Also, right before we took off she grabbed my hand. I obliged!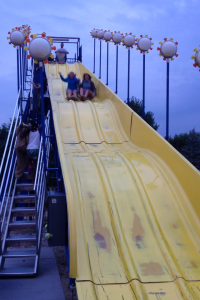 The static!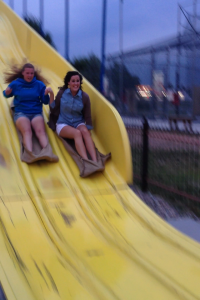 By the end she was laughing. And this picture pretty much sums up my trip. Fast, furious, blurry and hilarious!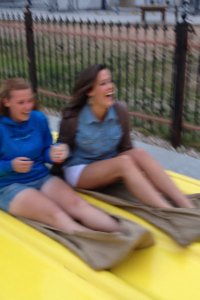 Fort fun ended our weekend adventure, because sadly, yesterday afternoon I hopped on plane with my big brother and we headed back to Houston where we were greeted by the lovely Houston humidity the minute I stepped on the jetway. Lovely.
I'm so thankful for a small weekend getaway and all it meant. I will treasure this weekend forever!
Anything exciting happen on your end? You know, like putt putt golf?