Hi Friends! It feels like a century since I last talked to y'all. I realize it's only been two weeks, but it's been two weeks too long.
Christmas day I hopped on a plane at IAH headed to Colorado to trade the stormy weather in for some more wintry weather. It was heavenly. And well, needless to say, very cold. This wimpy Houston girl went from 70 degrees to ZERO degrees in one day and my body was in shock. However, when enduring zero degree weather among snow, it makes it much more enjoyable and endurable.
Although we spent the greater half of our day traveling, we had a lovely Christmas. Unrelated detail, for a couple of reasons I had to fly a different airline and flight from the rest of my family and landed about an hour ahead of them, so while I was waiting I grabbed a bottle of water and some peanut M&M's (Christmas meal of champions, mind you) and after purchasing said snackage, I told the lady Merry Christmas and she lit up. It was early afternoon, but you would have thought I was the first person who told her Merry Christmas all day. Made me think of not only of everyone who had to work that day for whatever reason, but also how easy it is to make someone's day by saying one simple, kind word. Let's commit to looking for ways to be kind in 2013. Deal?
Once the rest of my people arrived in Denver and gathered all of the belongings, we made the trek to my grandparent's house where we were greeted with warm hugs and smiles. It's not every year that we get to enjoy a holiday with our extended family, so it's always a gift when we do get that opportunity.
We were also greeted by this breathtaking scene.
And this one.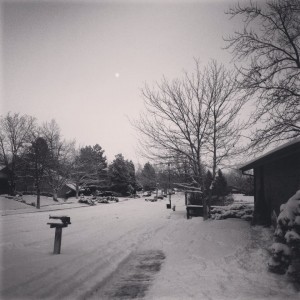 No dreaming of a White Christmas for yours truly, I was living in a White Christmas.
For the next six days we soaked up every minute with our family possible, watched movies, made taffy from scratch, baked everything imaginable, shopped, enjoyed a bit of sledding, ate a TON and just did what you do on vacation, rested. One might assume we hit the slopes to ski, because a family that skis together stays together, but truth be told, we are sadly not a skiing family.
Oh, but cousins that sled together stay together. Here's some proof: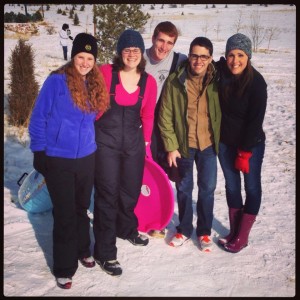 Sometimes you just have to photo-bomb your little brother. Laughing.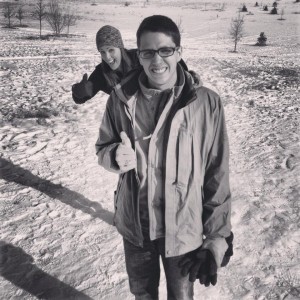 I was in my happy place.
I left the blankets of snow a day earlier than the rest of my family to head to the big Atlanta for Passion 2013. I was pumped and could not wait to be there!
If you were there, you might be able to help me sum up what the Lord can do in a week with a dome full of hungry college students, but I'm here to testify that what happens in the Dome is supernatural, anointed and favored by God.
Yesterday at lunch I was telling some co-workers that I was searching through the archives of this blog a couple of days ago trying to find something, and I read a post our Beth had written about Passion 2011. She mentioned that a gathering of 20,000 college students is undeniably a work of God, and it dawned on me that just two years later, 60,000 college students gathered to hear a Word from the Lord, worship Him, and fight to set some captives free from slavery. Y'all, the word huge just doesn't do it justice. But that's HUGE! I don't know about you, but I WANT our college students to get it, to hear it, to DO THE THING. And lest you think that generation is lazy, you need to get yourself to Passion. It's rejuvenating, refreshing, energizing and so much more. When you leave you feel like you've been near God. And the nearness of God IS our good!
Because words fail me when it comes to wrapping up what the Lord did at Passion and all He spoke over us, Louie Giglio's gift of pulling it all together with a pretty bow never ceases to amaze me as he brings a strong Word for the last session every year.
It would be safe to say that a major theme at Passion this year was to believe God for "immeasurably more" (Ephesians 3:20) in 2013, so when Louie pulled out Isaiah 61 that last morning to "proclaim the year of the Lord's favor", he challenged us by asking the question, "If it's the year of the Lord's favor, what would you like? What would you ask for?" At that point, my mind was spinning a thousand different directions. The dreams and desires in my heart are often times hard to articulate (and it would make this blog even longer than it already is, bless my heart), but I'm believing God to give me not only a vision, but also the words to articulate it and make it happen.
As my pastor (Curtis Jones) said on Sunday morning, fired up after also being at Passion, 2013 is the year for getting things done, why? Because He is able, you are able according to the Spirit and He gets the glory. Amen.
Just a little peak inside the Dome. (Please forgive the quality, as these were all snapped with my iPhone.)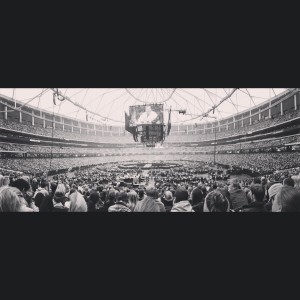 I'll never tire of getting to worship under Christy Nockels. What a gift she is.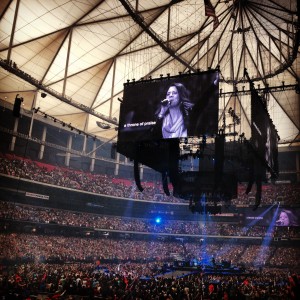 Our Beth teaching.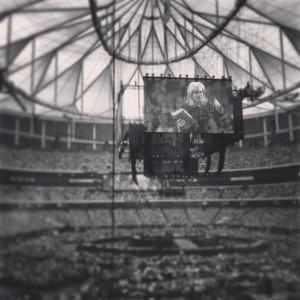 The table.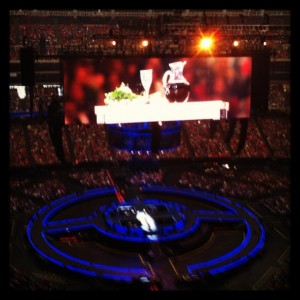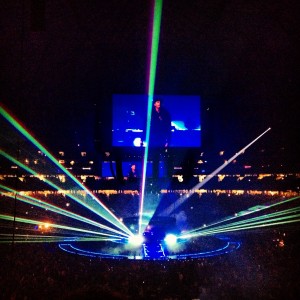 Getting to meet with the 2,000 girls LPM sponsored. Definitely a highlight.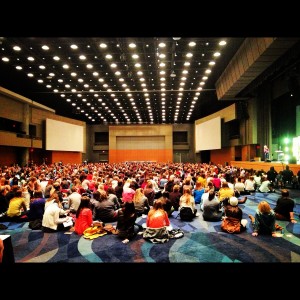 Each of the girls repeating a commissioning to one another.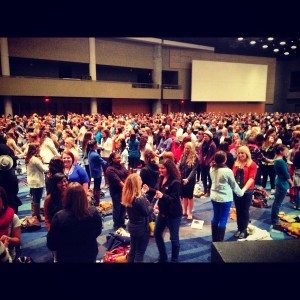 A few brave girls got to share their story with us and why they wanted to come to Passion. Can you say courageous?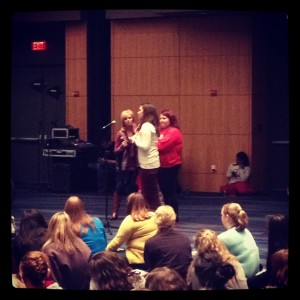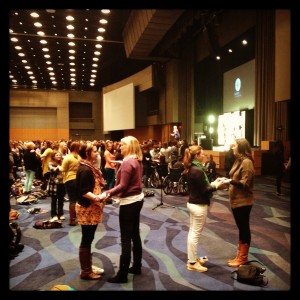 This is truly the one time at Passion we all get to serve together. Isn't that so bizarre? I love them.
A sweet girl we had the privilege of sponsoring, Shaci, happened to be on the plane ride home with us.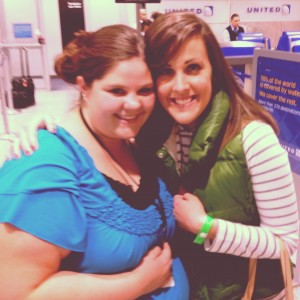 You know we had to snap a few pictures. Bless her heart, she still had two more flights to go once we landed in Houston!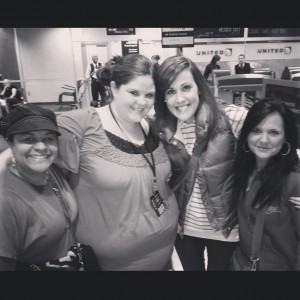 So, let me as you the question, if this is the year of the Lord's favor, what are you going to ask for? What is going to bear fruit? In 100 years, our fruit will be what matters.
It's going to be a GOOD year, girls.