Hey, Girls!
I'm sitting on the back porch on a lovely Sunday afternoon. Queen Esther is a few feet from me hugging a yellow tennis ball with her front paws and huffing and puffing with a wide, toothy grin in the afterglow of about 30 good cross-yard throws. I use one of these thing…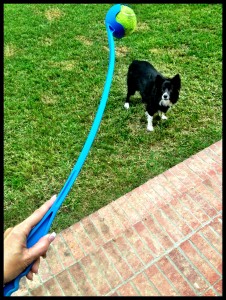 …for two really good reasons:
1) I wear out long before Star does and I don't mind saying I don't wear out all that easy. She never gets enough ball time. Never. I'm no math wizard but hurling that thing twice as far means I only have to throw it half as often.
2) In a word: dog spit. Well, that's two words. Or let's just make it a hyphenated word: dog-spit. She may be the Queen but spit is still spitty. I don't care how lovely the original Queen Esther was, Xerxes wouldn't have given her a second look with spit all over her chin. It's just not ladylike. The whole story could have slipped and fallen on it.
Anyway, what I'm trying to get at is that I've gotten to have a few days mostly to myself. I hate to even mention those words to you moms of young children but it will happen for you someday, too, and sometimes you'll be glad it did and other times you'll pine for those babies like every fine day of your life is long behind you even though you know better than that. That's when it's a really good idea to have grandbabies but, unfortunately, it doesn't always get to be your idea.
My man almost always heads to the ranch Thanksgiving afternoon after the meal.  It was the deer lease before he got some hunting acreage of his own.  I don't pout about it because I don't mind and it wouldn't do much good anyway and it's simply the way we're accustomed to doing life. We were laughing at the table a few days ago when he admitted that, in the early years, he'd go to a little extra trouble to be a handful this time of year so that, the second he mentioned heading to the deer camp, I'd yell, "Gooooooo!" and kiss him goodbye in an anxious fury. Anyway, Keith's idea of closeness has never been clinginess. Sometimes, if he's been cooped up too long around here, he'll retreat a tad into his own world like a lot of men do but 30 minutes after his truck tires hit I-10 West (or at least by the first Buccee's) he's often calling me and telling me why he ever fell in love with me in the first place. It makes me smile every time.
My man and I do better on this schedule: a lot of time together, a little time apart, a lot of time together, a little time apart, a lot of time together, a little time apart… And that's how we've made it 34 years this coming December 30th.
Instead of getting my nose out of joint when he's gone (it wouldn't be a pretty sight anyway), I play like I own the place. I get up a bit later, read a little more, have longer quiet times, come and go as I please, and get with friends (and family, of course, but family is something we do on a regular basis anyway), walk in the woods all by myself (with Star) and I watch movies he'd probably hate.
Yesterday I decided to spend most of the day by myself doing this and that and, lo and behold, I got in the Christmas spirit. I tried to find where our Christmas decorations got stored in this new house last year when we made our monumental move to the country but, for the life of me, I couldn't find a single box. I don't know how to navigate the attics yet so I'm sure they're up there. If they're not, believe you me, you'll hear about it. There will be heck to pay by somebody, especially if the stockings I handmade and tediously beaded from a kit for Keith, Amanda, Melissa and myself back in 1982 don't show up. It was my last act of seamstressness and, without it, there is not the least whiff that I ever walked in craftiness. I'll not have it.
But I did indeed know exactly where my Christmas dishes were. They were a gift from my "Other." You know. We girls have a mother then many of us who live in a wide enough circle of women also have an "Other." I mean, who really gets enough nurturing in this life from one older woman? Spread the love around. She doesn't take the place of the one who raised you but sometimes you can tell her things you can't exactly tell your M-Other. That was Miss Mary Helen to me. I have many things from her and most are beyond a retail price but these dishes are the most beautiful ones I've ever owned and I have 12 whole place settings. I bet a number of you have this same Spode pattern or one similar. It was the ultimate in Christmas dinnerware to our mothers and grandmothers and, to traditionalists, it can hardly be outdone.
It's too big a waste to set them aside only for Christmas Eve or Day so I try to get them out nice and early and put some of them on this stand Miss Mary Helen gave me so we'll use them everyday through the season. It's a happiness to me.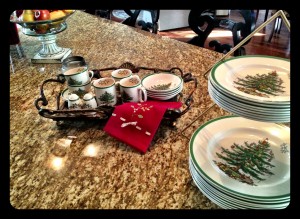 And that's all it took. Next thing I knew, I'd downloaded a new Christmas album on my iPhone. I don't like it yet but I will before long. You know how we are about Christmas music. It's the memories that surround them that make them our favorites but I'm ripe for some new memories anyway. Bring them on!
Actually, I got on here today just to say that I'd love to hear about one of your favorite moments from your Thanksgiving holiday weekend. Any of the four days will do. It doesn't have to be life altering. Our community here also appreciates a snippet of simplicity. Just capture something you keep picturing from the weekend. An expression. A taste. A conversation. A sight. Write us up a little snapshot of it so that we can picture it through your words and through your beautiful eyes. Not too long, remember. We bloggers are notorious for ADD, myself included. It's rare that we really read a long one. I'm so mindful when I write a long post that, by the end of it, I've lost most people. Sometimes it's worth it because I'm working something through but, most of the time, I'd have been the wiser to have been the briefer.
Oh, Amanda snapped this picture of her Daddy and me on Thanksgiving afternoon so I might as well throw it in, too. He's wheels are heading East and I'll be mighty glad to see that handsome face. We Moores love you guys. Christmas will be here in exactly one month whether we're ready for it or not. You may as well not fight it. Tie that house of yours up in red and green and slam the door on your Scrooginess. Don't be a fossil. Make some wassail. Tis the season, Sweet Thing. Let's celebrate us some Jesus.