Hey, Darling Things!
I am packing up an overseas suitcase to board a long flight to Sydney tomorrow evening and I just want you to know where your blog mama will be all this time. I'll be in Australia for two weeks and that is substantially longer than I'm ordinarily away so I thought you might need a heads up. I have the privilege of serving alongside my beloved Priscilla Shirer at the Hillsong Colour Conference for two weekends in a row. (The conference repeats a second weekend for another group of women.) It feels so good to put my head together and plan messages and themes with Priscilla again. We got in that habit with the Deeper Still events and I've missed it! Not only does she inspire me. She also gets me tickled. We will also serve with a panel of other speakers that I've not had the privilege to meet yet. Priscilla has been several times so she's a veteran and will teach me the ropes. I am looking so forward to Colour and to gazing upon all those gorgeous faces, alight with the Spirit of Christ. I can hardly believe the trip is finally upon us. Amanda is going with me and we ferociously wanted Melissa to go, too, but she was unable to swing a week of it and was afraid the one week she had would be almost wasted amid the long flights and jet lag. We will miss her like nobody's business.
Here's a picture of the brochure and also the Queen who is staring at me 24/7 because she's caught onto the fact that I'm about to skip town. I would give anything to take her. We have never been apart this long. Don't you think they'd be blessed by my darling little Dingo?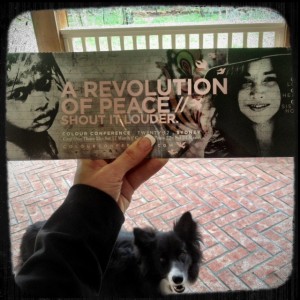 I still hope to check in with you here and there in a couple of brief posts over the next two weeks but the best way I can probably keep up with you is on Twitter. For those of you who haven't joined us there yet, our Twitter address is @Siestaville and we have tons of fun on there at times like these when a blog post is harder to make happen. You'll hear from our Lindsee a number of times in the next two weeks (watch for some fun giveaways!) and Gay's final supplement will also appear on the blog while I'm gone. I know you'll be rocked by that. Her contributions over these last couple of months have been priceless.
I will miss you so much but will try to keep up. I am serious when I say that I think of you every single day and you are always on my heart. Hold tight to Jesus and stay in the Word. Please pray us there and pray us home and pray safety and joy and lack of negative drama (I love positive drama) on our family members as we all scatter for two weeks. Curtis will head to Missouri with the children to see his family for Spring Break while we're gone. He's a brave man indeed! And please, please pray for the Lord Jesus Christ to fall with enormous power and fiery affection on us at the Colour conferences. We want Him so badly.
When I get back, we'll start planning Siesta Summer Bible Study. Oh, yes, ma'am, we are having it. We have active blog days ahead! You are so loved here, ladies. So very loved here.
Keep walking the thing out. Jesus is worthy of it.