Hey, Sweet Things!
You know what I think would be such a blast? Let's share ideas for gift giving! Reasonably priced. (Or the deal of the century???) Creative maybe. Or QUICK, definitely! Perhaps you could share your best "everybody/anybody" gift. In other words, have you stumbled on something this year (a CD, a book, a keepsake, etc.) that you're giving lots of people on your list? Then, share the wealth! We could use some ideas around here. The thing I keep hearing from women is that they have a long list of loved ones and no earthly idea what to get them. I'm in that same boat with about a third of my list. Let's get those creative juices flowing in Siestaville and help each other out over the next few weeks.
Let me give a little disclaimer as we get started. I'm not as up on all the Free Trade discussions and debates circling right now so I'll need your mercy there and other Siestas might need it, too. Let's trust each other's hearts around here and assume that, if we suggest an item or a product that has a link to an unethical practice, we didn't realize it. My thought this time around was just to give you an opportunity to share…
B.A.R.G.A.I.N.S!!!!!
Girl, I do LOVE me some bargains. If I had more time, I'd honestly wear the stores out for the ultimate sale but, as it is, I just have to happen on it when I can. When I score a great buy, I leave the store as giddy as a bandit.
I'll get us started with a bargain and I could almost get too tickled to type because I got it for my own self. Sometimes when I'm Christmas shopping, I am at a total loss what to get that person I'm browsing for. I'll happen on something and think to myself, "I wonder if _______________ would like that?" And I'll ponder it and ponder it and turn it this way and turn it that way. Then, I'll answer my own self with, "I have no idea whether she'd like it or not but I know who would! Me!" I know. It's terrible. Superficial. Almost unforgivable. I only do it about every five or six gifts though.
My most recent bout was about ten days ago at Burlington Coat Factory (where I did actually find a few real, live gifts that I'm giving to someone beside me). I snagged a pair of these: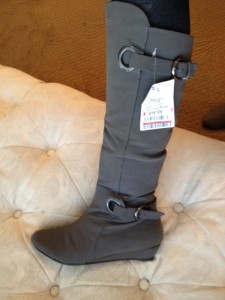 Price tag? (Drum roll please)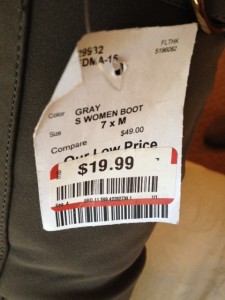 And I've already worn them, let's see, about 6 times and I'm not exaggerating. Before they tear up, they'll be out of style so I call that a DEAL, Girlfriend. I call that a deal!
Okay, Siestas, tell us what you're finding out there. And for decent prices! Remember, we have every age group represented here so maybe it's the ultimate children's gift or something great for in-laws. Maybe it's food like a snack of some kind you can put in a cute Christmas tin. If someone's told you, "Hey, that's a great idea!" then we want to know about it! Help some Siestas out!
You're so much fun to do community with, you guys. I can't wait to look at your ideas! This will be a really fun one I think.
I love you like a mad woman.