READY? AIM! FIRE!
Happy New Year, my dear sisters in Jesus! Last night I wrote a letter to the Lord Jesus right before I went to sleep and recalled His faithfulness through a tumultuous year. Right before I turned out the light, I opened up Daily Light for the last Scripture reading for the year and it offered this verse:
The Lord your God carried you, as a man carries his son, in all the way you went until you came to this place. Deut. 1:31
I could have cried. Yes, He surely did. And He carried you, too. Tightly in His faithful arms.
Only God knows what this particular year has in store for us. He alone sees how the path will wind, and climb, and fall, and rise again. We do not have control over the future as we glance ahead to 2011 but make no mistake. He does and we, His lavishly loved daughters, can indeed prepare to live what He thoughtfully brings our way victoriously. On this first day of the new year, we are not victims. We are called to live as victors, holding up the Shield of Faith in one hand and the Sword of the Spirit in the other.We need BOTH.
It's finally time to post your first memory verse of 24 in 2011! If you haven't already read the instructions thoroughly, please look at the post on December 26th titled "Siesta Scripture Memory Instructions." It will tell you everything you need to know. Just a quick refresher: Your comments will almost entirely consist of these entries:
First name, city, verse, reference, and version.
Please keep it limited to these facts so that the verses stand out prominently for us to behold. You can occasionally say something as brief as "I'm excited!" Or "I need prayer!" but nothing longer than that please. Let's let the Scriptures themselves rise like we're looking at them with our 3-D glasses on.
Here's my first Scripture entry of 24 in 2011:
Beth, Houston: All generous giving and every perfect gift is from above, coming down from the Father of lights, with whom there is no variation or the slightest hint of change. James 1:17 The NET Bible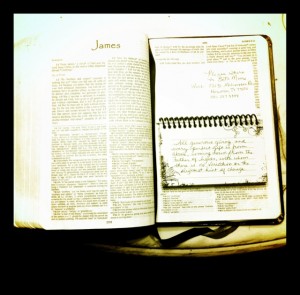 Be sure and hand write your verse in your spiral to help engrave it on your sweet mind. Also consider writing your contact information on the inside cover in case you leave it somewhere and God causes someone gracious to find it.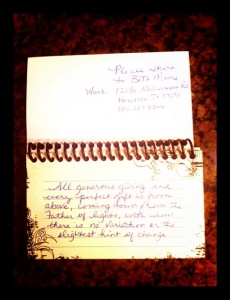 I love to claim Psalm 65:11 on the first day of the new year:
You crown the year with Your good blessings, and You leave abundance in Your wake. The NET Bible
Lord, I want an abundance of Your Holy Spirit! (See Luke 11:13!) Abba, go before us this year and leave the fragrance of Your very presence in Your wake!
OK, Siestas! Hit it! I've prayed for you and can't wait to pursue the Lord Jesus Christ with you this year. If some of you don't know which verse to use this time around, consider Psalm 65:11. It's a great first round.
Remember to wait 24 hours from the time you post your comment until you assume it got lost and enter it again. So many comments come in at once on these Scripture memory posts that the server bogs down, causing it to take extra time.
I love you, Sisters! Through the power of the Holy Spirit, we can do this! Remember, KEEP IT SIMPLE AND MEANINGFUL!