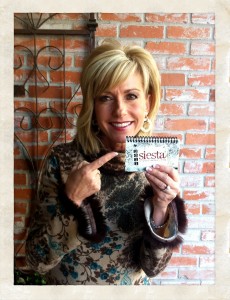 Hey, Sweet Things! Do some of you remember me telling you that I had a little surprise for you in the works? THIS IS IT!!!!! Our very own Siesta Scripture Memory Team SPIRAL!!!! Inside are 30 blank index cards just begging to be filled with your choice of memory verses. I'm almost having to stand up to type because I am so pumped. For those of you who are new to our community, one of the things we prioritize and love to do around here is memorize Scripture. It is a huge part of calling the mind captive to Christ (2 Cor. 10:3-5) and most of us know from experience that our battles are won or lost in our MINDS. I have been actively memorizing Scripture as a primary Spiritual discipline since my early 30's. I am thoroughly convinced that God used it to bring immeasurable healing to my mind, my memories, and my thought life. I tend toward obsessive thoughts and fears and unrelenting replays of bad memories and, when I fall away from actively hiding God's Word in my heart, they come back with a vengeance. Anybody else? There are no words big enough to express the difference Scripture memory has made in my life. God also showed me along the way how much accountability and partnership can enhance the success of the discipline. Two years ago I was trying to decide who I should ask to be my accountability partner for that year and God brought the idea to my mind to make it the whole willing blog community and to offer accountability to them in return. The result was one of the neatest experiences we've ever had on this blog. I honestly have never felt the pleasure of God more fully over anything we've done here.
We created "The Siesta Scripture Memory Team" and each made it our goal to memorize 24 verses, two a month for that calendar year. We signed in on the first and fifteenth of each month with the present verse God was placing on our hearts. (We didn't memorize the same one together. It works best if we each get to memorize the verses that most apply to our present lives and circumstances. However, I always offered my verse in case someone else was drawing a blank or felt that it also resonated with them. In those cases, some of us memorized the same thing.) We logged in twice a month with our first names, cities, verses, and translations and held each other accountable to get them hidden in our hearts for keeps. We worked hard and saw victory after victory over the flesh and the kingdom of darkness. We topped off the year with a free event in Houston for those who kept their commitment. The only ticket in was a well-used spiral. We had a BLAST. As long as I live, I'll never forget what all of you looked like in pairs, saying half of your verses to one another.
Well, the SSMT (Siesta Scripture Memory Team) is BACK BY POPULAR DEMAND! We will begin January 1st. Look for very specific instructions next week on how to participate. (Hold off on as many questions as possible until that time because the post will answer so many.) Everyone is welcome! Even those who have never visited our blog before. Anyone who wants some accountability in memorizing Scripture is invited. Let me also quickly say that no one is pressured to participate. You won't be an outcast here. We still do many other things on this blog. It's just an offer made in much love to those who would benefit from it in their walk with Christ. Living Proof Ministries exists to encourage women to love the Lord Jesus Christ and walk with Him in His Word. This is one way we hope to accomplish our ongoing goal to the great glory of God.
Again, I will get you all the details within the next week BUT I needed to let you know NOW about our brand new, you-inspired SSMT spirals! Let me tell you a couple of things about them in advance:
*You are by no means required to have one to participate! These are strictly for those of you who want one! It is very easy to go to your neighborhood Walgreen's, CVS or Target and grab a spiral of index cards. That's what I've done every year up until now. (But, admit it, aren't these the cutest things ever?? I.LOVE.IT. I am so thankful for Sabrina who jumped on the vision the moment I expressed it to her and for Cheryl Casey who listened carefully to the concept then created this design for it and for our beloved Cathy at Copy Doctor who sped ahead and got them printed. As we always say around here, it takes a village.)
*You are welcome to order one even if you don't wish to participate in the SSMT. Many of us may not want the added pressure of 2 verses a month but we still like to keep a Scripture memory spiral. By all means! There is no legalism where these are concerned. If you want one, you can have one. If you don't, you're free!
*We very much wanted to serve you with this spiral and not attempt to make any profit off of it. We are offering it to you only at our cost plus shipping and handling. This is NOT a way for the ministry to make money. You'll see that it is $3 plus S/H. Sabrina got the cost as low as possible. I was thrilled with this outcome.
*Now, listen to this part carefully. Once you place your order, we will turn them around as quickly as humanly possible. Please keep in mind that our staff is small but very willing to serve! We also have Christmas holidays to celebrate so the ministry will be closed part of the time. Many of you who order right away may have your spirals by January 1st but if we end up with several thousand orders (we have no idea what to expect), yours may not get to you until the second week or so of the new year. Please know that we're going to get them to you as fast as we are physically able. Just write your first couple of verses on temporary index cards until you receive your order then write them again permanently in your spiral when you receive it. Sound good?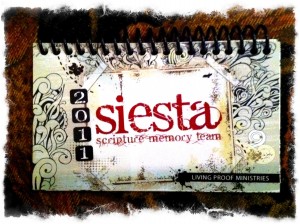 And, because I know someone's going to demand to know now: yes, we are going to have another SSMT celebration (in mid-January 2012) for those who keep their commitments in 2011 but no one – let me say that again – NO ONE will be scorned for not showing up with this cool spiral. I mean that. I am also laughing out loud at the ridiculousness of it. I am acting like a nine year old.
OK, if you want one, here's what you do. Copy and paste this link into your browser and it will take you straight to the order page:
http://www.lproof.org/store/product.asp?itemid=2011SMTspiral
Listen, even if you don't care one iota about a spiral of blank index cards, please know that we at Living Proof Ministries so desire to serve you and cheer you on in your walk with Christ Jesus. He is everything to us around here. May He be thrilled to spend 2011 with us!
I love you,
Beth