My man and I decided last night that we'd opt out of sleeping late like a holiday morning woos you to do and, instead, head about 30 minutes from our house to the country and watch the sun come up. Usually anything we do our dogs do with us but this time we decided to leave them at home, long-faced and dejected. Sometimes you just need to be alone and hear yourself think. Or take a long pause to see if you can remember why you liked each other. We made us some coffee on the way out the door and poured it in a small thermos. We grabbed a couple of lawn chairs and dragged them out to our favorite spot and sat without saying a single word. When you've been married as long as Keith and I, you come to expect that you're going to have on seasons and off seasons and that, unless something's going haywire, they're neither one there to stay. My way of dealing with an off season is to talk it out and gnaw it like a bone into a toothpick till we're back on or claim we are. Keith's way is to run for his life and find the nearest dead zone for his cell phone. Both approaches have served us well enough. After all, we have raised two children to adulthood together and fallen head over heels in love with two grandbabies and have no plan at the present to see a lawyer. This time we just decided to do something new. Keith didn't run and I didn't talk.  We just sat side by side in a pair of lawn chairs and listened to the woods.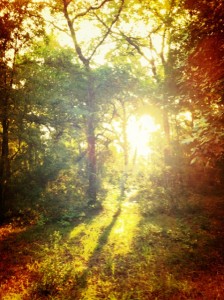 I heard a lizard scurry over some dead leaves. Birds sang morning songs. Frogs croaked. The trees creaked and stretched like we woke them out of a dead slumber. A squirrel darted from branch to branch looking for breakfast to go. It reminded me of myself after about three cups of strong coffee. Everything else was moving slow and easy. Tiptoeing really. It was so quiet that I heard an oak leaf detach from a limb way over my head and I watched it fall to the ground in no big hurry at all. The morning sun glistened on the nocturnal masterpiece of a long-legged writing spider.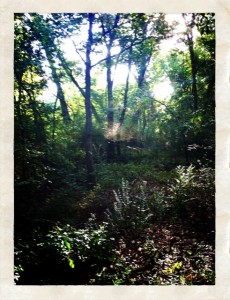 Wild lemons weighed down the branches of a small tree and just looking at one made the glands in my mouth squirt. It was too early for lemons, wild or otherwise.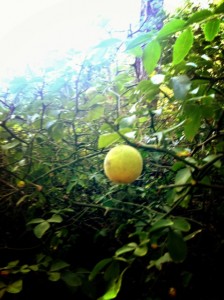 Keith and I go to the country sometimes just to remind ourselves of things we have in common. So many of our likes and tastes aren't only different. They scare the other half to death. They'd never take each other to lunch and, when we go, we have to go without them. We are reminded all the time that we met accidentally, naturally speaking, and married impulsively. But we both dearly love to be outside and to take really long walks and talk about almost nothing. This is one of our favorite spots on this particular country trail. It's a clear little lazy creek that smiles in the sunshine but grows fangs in a storm, pulling trees from their roots. Maybe that's Keith and me, too.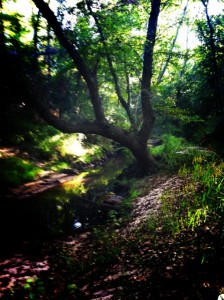 But, 31 years later, I still usually follow right after him. On level ground, he always takes the lead, especially on this country trail where the person in front has to swipe one spider web after another or wear them home. On mountain hikes, I take the lead because…well, because, that's where I'm a beast. He claims it's the altitude and that I can breathe thin air better than he. I choose to think I'm a hiking fiend…with a bad knee and a herniated disk. Right after this picture, I heard leaves cracking right at my feet as we stepped over an old rotted log. I glanced down expecting to see a big lizard and caught a solid, eye-popping stare at what my man claims to be the biggest copperhead he's ever seen in his life. May it rest in peace. Lord, have mercy. I do not know why Keith Moore and I can't seem to do life apart from snakes. It took about 15 minutes for my blood pressure to go back to normal.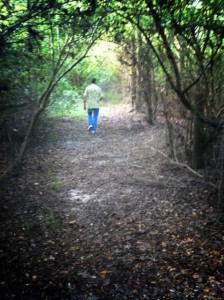 When we got to this spot, Keith said, "Sit down over there, Liz'beth, and I'll take your picture." Dutiful wife that I am, I did. He's just learning how to take a decent pic with my I-phone. He doesn't really have fingertips and that's what an I-phone takes. The ends of Keith's fingers are more like manly stumps. He's really cute when he's trying though. Keith looks out of place with mini things. It's not that he's so big. He's about 6 feet, 210 pounds. It's just that his outside is upsized by his insides. Anyway, here's his wife. She really doesn't love early morning country humid hair but blogs are for the honest. Not for the proud.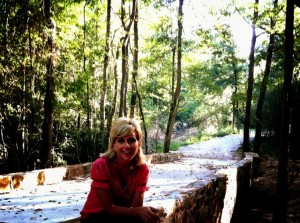 One of our favorite things on this piece of Texas countryside is this old, broken down deer blind that marks the spot where one couple years ago commemorated their heavy crush with a can of spray paint. I don't doubt it doubled as a kissing blind about that same time. About this time on our walk, my man and I were feeling a little less off. Sometimes all it takes to find some fresh affection is a willing recollection. Like B + K.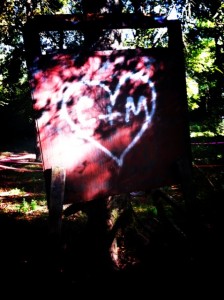 Well, thanks for taking a stroll with me, Sister. Don't make anything serious out of this harmless chatter. When you've been married as long as we have and you have Moore feelings than normal, life is one big, wonderful, gnarly twisted knot of off and on again. But make no mistake. It's a knot.