Hey, Sweet Things!
I have had the best time reading your three wishes! They were just as insightful or amusing as I hoped they'd be. I told Melissa that about 500 of you stirred up wishes in me that I'd overlooked. I kept going, "Me, too! That's what I'd do, too!"  I do not know exactly what the Kingdom of Christ will be like but I do know that it will exceed our wildest expectations and be all-glorious and everything we were originally fashioned for in the image of our Creator.  Truly home for the first time, we will experience fullness of effervescent life without our frustrating restraints and we will know as we've been known. Best of all, we will see Jesus' face…and in that very moment, every hardship will be worth it and Romans 8:18 will be our reality.
It's time to announce our winners for Melissa's biography drawing. I decided to throw in five addition spots because there were so many entries. That gives us a total of 15 prizes. Below are the blogger names and times they entered. If you see your first name with no last name, double check the comments to confirm whether or not it was you. If it was, jot an email to [email protected] with your name, mailing address and which of the two biographies (Bonhoeffer or Amy Carmichael) you choose as your prize.
Sharoni Humphreys on August 31 at 12:30 PM.
Corrie on August 31 at 1:17 PM.
Warm in Alaska on August 31 at 2:27 PM.
Karen Twombly on August 31 at 2:51 PM.
Mary Yep on August 31 at 5:24 PM
Denise on August 31 at 7:39 PM.
Ryan Zwicky on September 1 at 8:21 AM.
Suzy on September 1 at 9:14 AM.
Wonder Woman (I love that one) on September 1 at 10:00 AM.
Pamela Sheldon on September 1 at 1:51 PM.
Lisa on September 1 at 5:14 PM.
Becky on September 1 at 7:52 PM.
Kate on September 1 at 9:26 PM.
Katie Todd on September 2 at 8:48 AM.
Erika on September 2 at 10:53 AM.
Happy reading, Dear Sisters! While we're on the wonderful subject of books, I'll share with you a couple that I have received in the mail in the last 48 hours from their publishers or agents. One of the upsides of publishing a book is that you can end up in a loop where you receive other authors' books automatically in the mail. It's always a delightful surprise and often, for me, not pearls before swine. These came in the mail to me back to back and as wonderfully different as night and day.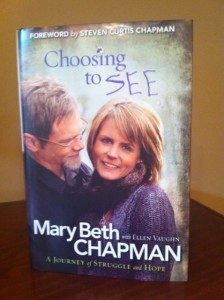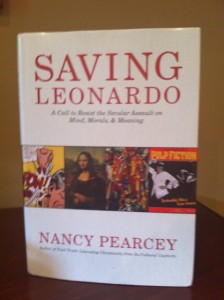 I'm exhilarated over both of them. Mary Beth Chapman is a personal friend of mine and I am ecstatic to see God glorified and the devil mortified after all her family has been through. She is as down to earth as you can get. If you are tempted to give up or just tempted to give in, consider her story. And, as for Nancy Pearcey, she's who I'd want to be when I grow up…if I weren't older. (I think. Maybe I just feel older. I can't tell how old she is from her picture. Anyway, I think it's clear at this point that I'm probably not going to turn into her. I'd have made it one of my three wishes if I thought it would help.) Nancy's previous book Total Truth should be required reading on every Christian university campus and in the library of every Christian home on the planet. My copy is marked up from the first page to the last. I have already skimmed through the new one and I expect it to have equal impact on my thinking and, Lord, let it be, on my faith. It has the best title ever, don't you think? The subtitle should tell us something big is at stake: A Call to Resist the Secular Assault on Mind, Morals, and Meaning.
I am amazed by a God who raises and equips all sorts of servants across the entire spectrum of gifts, interests, and personalities in His hot pursuit of this fallen world. We are blessed beyond measure to receive from the heavy investments of these two women in the kingdom of Christ.
Speaking of books, I've got a stack of commentaries waiting for me. Day light's a burnin', as my grandmother would say. Those books are not going to study themselves.
I'll try to touch base at some point over the holiday weekend! Have a blessed one indeed!
Much love to each of you.