Good Tuesday morning, Dear Siestas!
I pray your week is off to a great start! Mine started with a powerful sermon by my pastor, Gregg Matte, and an equally fabulous worship service on Sunday next to some of the people I love most in the world. Like numbers of you, I've been in the same congregation for many years and have deep investments in relationships there. Within six or seven rows of where we usually sit, I have dear friends from kindergarten to their seventies (yes, in our contemporary service). I've known many of the adolescents all their lives and have watched some of the young couples grow up, fall in love and get married. In fact, I stood with a few of them. My church is a wealth to me. I had the privilege of praying with one of my close 8 year-old friends at the altar on Sunday whose granddaddy is in the hospital and has her scared half to death. There's just no way I can tell you what those moments mean to me.
I'm an early riser by habit but I was dead to the world Sunday morning and way overslept the clock. I got up rubbing my eyes and said to Keith, "Blast it, I'm up too late to get ready for church." He very uncharacteristically said, "You can make it!" and I got ready in a record 45 minutes. (Keith does not have a churchy background and is not very churchy by routine. He is often very amused if I play hooky then act guilty about it all day. He'll think of things to bait me then laugh his head off when I fall for them.) I told him never to expect me to get ready that quickly again but I was so glad we went. It was a truly great service.
My man is one of the most unique people I've ever known. He'll say absolutely ANYTHING which means he's been known to hurt my feelings on (frequent) occasion…but then he sends me a text while I'm out of town with just one sentence: Come home to me. And I do. I love him so much. He also does really unique things. When I got home Saturday night, I saw this pile on the kitchen counter: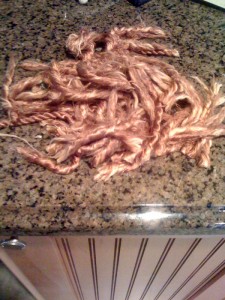 He saw me staring and said, "Oh, I cut the fringe off that fancy pillow on the couch."
I'm sitting here speechless just as I was that night. But I am bent over laughing. That's my man. He thinks an ounce of pretension is worth a pound of manure.
OK, my other random thing is that I have a new travel case for my Bible and computer. I AM SO HAPPY! Perhaps you are not a traveler and do not understand the great importance of your carry on. It is your best friend on the road. It's under pressure to meet all manner of requirement like fitting in the overhead and going under the seat and rolling down an Express Jet aisle. It also has to be cooperative in the security line when you're trying to pull your laptop in and out and put it on the conveyor belt. These are not small matters. It also has to fit the large box of Hot Tamales one of the guys from the production team gives me as a reward at the end of most conferences.
To tell you how challenging it is to find exactly the right bag, I have carried the same one for some 12 – shoot fire, maybe 14 – years. The handle is almost impossible to get up and down any more and it's beat nearly to oblivion. I love it so much though. It's been good to me. Loyal. I even feel a little guilty about the rest of this story.
Sabrina, my coworker, has tried so hard to get me a new one through the years but I always have a reason for rejecting this one or that one. About a month ago, Hawk and I were at the airport on the way to a conference when we spied a woman with the cutest powder blue bag I'd ever seen. It had never hit me that my bag could be useful AND darling. What was I thinking??? Anyway, we attacked her, got the information on the brand, and ORDERED THAT BABY. Rich and Ron from the LPL team have helped me haul that one black carry-on all over the United States for years. They were so shocked to see the new one, they were too frozen to even lift it in the car. "Whose is this??"
It's mine! I just love it! And so far, through two trips, it's passing all my flying tests. It's a bit too wide for my taste but its cuteness is giving it the advantage at this point and is making it worth the trouble to turn side-ways down the aisle. I may get annoyed with that after a while. We'll see how it goes.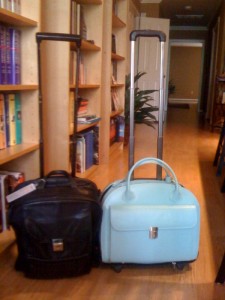 My small group and I are loving our Ruth study so far! Like some of you, we are meeting each week with one another and every other week with the Siestas at large. The first week of homework is fantastic. Don't you love it? If you're doing a different study this summer, tell us what it is!
I cannot say enough about our St Louis group. They were absolutely incredible. God was so gracious to grant us a strong sense of His Presence. He is all we have to offer. All we have of value. So many Siestas were there! We tried hard to get the Siestas together at the end of it for a clandestine group picture but most of them didn't see the slide we'd been slipping up on the screen during break times. I didn't get to meet Sister Lynn and I was so ticked! I did, however, see her beautiful face out there. I also got to meet five of our other regulars who were so darling that I could hardly stand it.
Well, Siestas, I better get off of here and down stairs at LPM for lunch. We're eating in today. You are on my mind every day. Just wanted to say hello!