Hi, Siestas! AJ, our trusty Siestaville Blogmaster, is sitting right next to me in my office at LPM and she is tutoring me on how to add images into my posts. As you might recall (if you have admirable taste), I rocked at it when we were on Blogger but I've stunk it up on WordPress. Hence, Heaven alone knows all you've missed. In order to practice my new skills, I am going to take you through a random backlog of pictures I've taken with my iPhone during this season of blog-blackness. Knowing in advance that these are pictures taken with a cell phone should tell you what level of quality to expect. I know. I can't wait either so let's get right to it!
This is a picture I took of AB when I moved into AJ's with the kids while she moved into the hospital with CJ. In order to give Jackson a bath by himself and let him be a fish for 20 solid minutes until he wrinkles up like a prune, I had to put AB in the Pack and Play. This is her cutest "Bibby, get me out of here before this gets ugly" look.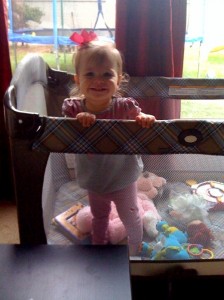 This is Jackson being Jackson. No, it's not a clear picture but it is clear Jackson. He is my best friend in the whole world. Never has there EVER been a Bibby who loved a boy more.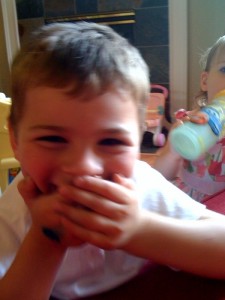 This is Trav and me. After every few LPL's when we get to hang around with the team and all act silly, one of us holds up our iPhone in front of our own face and says, "Hurry, jump in!" We have noticed over time that if he is holding the camera, oddly, he is the main one in the picture. If I am holding the camera, of all things, I'm the main one in the picture. Such a mystery. We have a ton of these. I bet you can guess who is holding the camera on this one. No, I have not been drinking. My eyelashes were just getting heavy.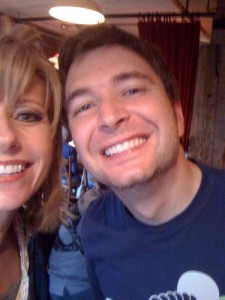 My in-laws (Meems and Big Pops, who live right next to us) recently put in a vegetable garden and the four of us (them, my man and me) are completely obsessed with it. Sometimes the four of us just sit there in folding chairs and stare at the veggies like we could watch them grow. That's Meems. (Short for Memaw) You can see the tiniest glimpse of Big Pops in the corner. Per Travis, one might wonder if Meems was the one taking the picture. It would have required a really long rubber arm, however.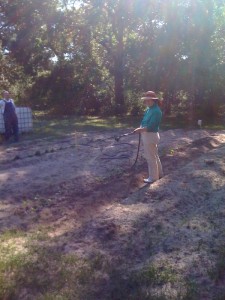 This is Big Pops showcasing our first tomato. As soon as it ripens, we four have agreed to quarter it as our firstfruit and eat it together with hilarity and thanksgiving. Now that we have a vegetable garden, we like to say, "We grow our own food."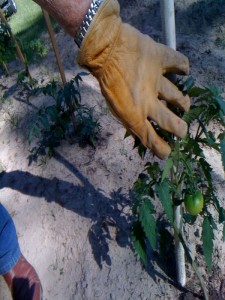 This is a very good friend of mine's recent 1-year token from AA. My pitiful photography here is a crying shame because, if you could really wrap your mind around this, you'd know it was worthy of a screaming shout of praise. Yahoo, God! I love You, I love You, I love You, I LOVE YOU!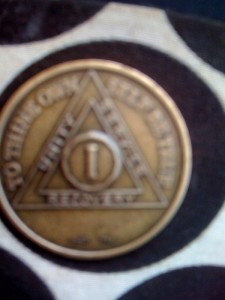 The next four comprise a series. Recently, while Hawk and I were waiting at the gate for a flight back to Houston, a small herd of people walked right in front of us and one of them dropped the equivalent of a Sonic Route 44 Dr. Pepper. It hit the floor with a boom and exploded. The mother of said spiller promptly began dabbing at the edges of the broken dam with something the size of cocktail napkins while Hawk and I looked at one another like, "Somebody do something!" All the sudden, almost like a ray of light from Heaven broke through the ceiling and shone upon it, I looked up and saw this on the wall directly in front of us.
Does that say SPILL CENTER????? Could my eyes be deceiving me??? Let's take a closer look!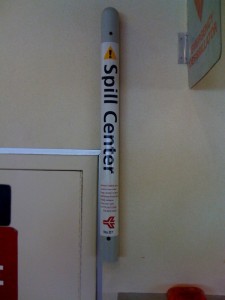 I was like Clark Kent spying a telephone booth just in the nick of time. "Hawk, look!" said I! "A Spill Center!" I leapt over to it in a single bound and, knowing not what it was, perceived that I should reach into the bottom of the cylinder and pull. To my great surprise, this was no super absorbent giant towelette! It was the greater blessing! BEHOLD!!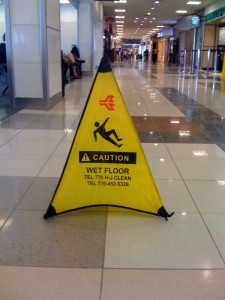 I set it down right over said spill and some might say I saved the day. I felt empowered! Like any minute official airport personnel were going to wheel up on a golf car, saying "Scuse cart!" through the herd and deputize me. I was red-faced with humility.
While I waited, I felt a demonstration was in order. Here is what could happen to a person if caution is not quickly heeded. Or if Clark Kent can't find a phone booth.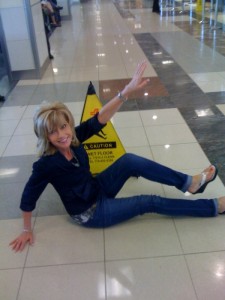 Whew. Even recounting it to you is thrilling. My heart rate is elevated.
Thank you, AJ!! If not for your excellent tutorial, all of Siestaville would have missed this profoundly important visual experience.
Lastly, with further thanks to AJ, I now have a picture with my blogger name when I comment. When it came Gravatar-time in our tutorial session, my brain was already at maximum absorption so I made AJ do it for me while I iced my forehead. She felt, then, that it was only fair that she get to choose the picture. You'll understand when you see it. It goes to prove what I've long since believed. Every kid wants her parents to love each other.  They can survive without it – many of us are proof of that. But, they want it still.
I love you guys!