Some very exciting items are beginning to accumulate in my dining room. There are travel hair appliances, a travel bag, a neck pillow, a name tag, luggage tags, and an itinerary.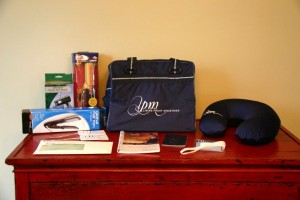 Did you spy the LPM logo? Our whole LPM crew and lots of our volunteers are taking a journey together in a couple of weeks. Wanna guess where we're going?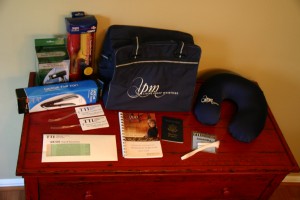 The Holy Land!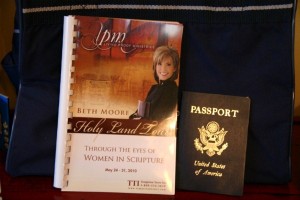 My passport's a little rusty, but it still works!
When I was 17 years old I had the amazing blessing of going to Israel with my mom. I found that old photo album this morning. Pardon the unfortunate quality of these pictures. I don't have a scanner and rather than drag my babies up to the office to use theirs, I just took pictures of my pictures. I'm a skilled blogger, y'all!  Melissa and I are going to blog from Israel and I don't want to steal our future thunder, so these will be pretty random.
Here I am in the airport with my friend Debbie.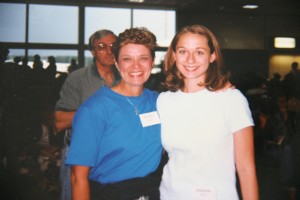 Here's Mom in a funny hat on our 12 hour layover in London. I fell in love with England that day.
This is Mom with Mary Helen Davis, whom our resource center is named after. We love her so much.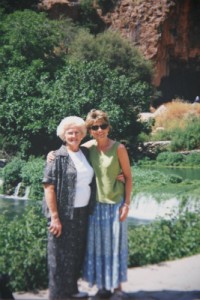 This is something that will never happen again as long as I live – a mother-daughter overalls picture. Wrong…very, very wrong.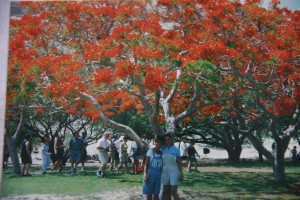 Here's the wonderful Nancy Mattingly in the airport on our way home. I'm sure she was calling her family to say she would see them soon. Her youngest, Sara, would have been 5 years old at the time. Sara is now my kids' babysitter and her graduation announcement is sitting on my counter. Time? It is a'flyin'!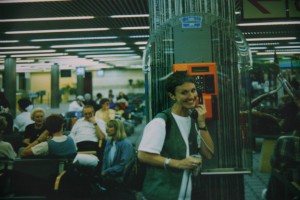 Have you ever been to the Holy Land? If so, what is one of your favorite memories of being there? If you've never made the pilgrimage but hope to one day, what do you look forward to experiencing?