Hi Siestas!
I pray that each of you have great delight in your memory work!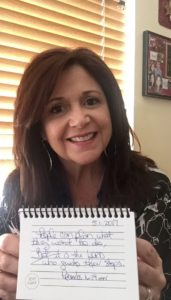 I am pretty much positive I am not the only "planner" in this SSMT group. right? My life is busy in every direction, I need a plan. But also I do dearly love a plan. I like a plan for my family, for myself, and of course for a team project, which all my co-workers would be quick to smile and confirm – actually I like a plan for doing nothing. But, I bet like many of you, my plans don't always land as expected. Truly, there have been occasions when I leave my house with my nice neat plan for the day and by the time I make my very short drive to the office, my plan has morphed into a totally different direction. Then I come face to face with the choice of believing: failure (of my plans) or faith (in His plans).
This simple verse has engulfed my soul! God is faithful to us in the details of life, the steps we take and He has the perfect plan.
Sabrina Moore from Houston, Texas:
"People can plan what they want to do, but it is the LORD who guides their steps."
Proverbs 16:9 (ERV)
As I looked up a ton of different translations I loved the revealing truth about "my plans." What looks like a direction or an action item, actually begins with my heart, my thoughts, my needs.
This I know, I need Him!
This I pray, Lord, You lead.
Praying His faithful guiding steps bless you and your days!
Love, Sabrina