If you are one of the Siestas who asked for an SSMT app, we are so happy to announce it is launching today! Yay!   Although it has broader features that connect to the LPM website, today we will focus on the SSMT features of this app.   It is completely optional, but here's how to get it, and what it does:
1.  DOWNLOAD THE APP: Whether you are on an Apple, Android, or Windows device, go to where you download apps and search for "SSMT 2015", developed by Subsplash.  Once downloaded, this is the home screen you will see: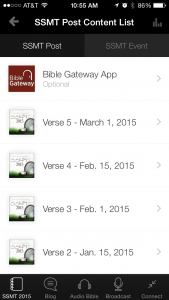 Notice the bottom icon tray that we are on the "SSMT 2015" portion, and the top 2 related tabs are: SSMT Post & SSMT Event.  SSMT Event is information about our Celebration on 1/16/16. (More details to come.)
2.  OPTIONAL:
* Bible Gateway.com – optional resource for searching scripture in many different translations.
* Save verses to the Notes section on Bible Gateway. [Many of your devices have a "Notes" app to which you also can save your verses.]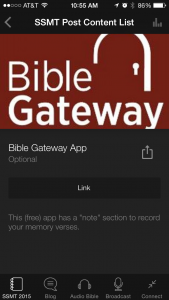 3.  SUBMIT YOUR VERSE FROM THE APP TO THE LPM BLOG:
* Select date. (Verse 4 in the example below)
* Select "Link". (Links you to the Blog.)
* Scroll to the very bottom of the page where you submit your verse in a comment.
"Watch" – to view video
"Notes" – to just read the post
4. SUBMIT VERSE FROM APP TO FACEBOOK:
* Select "Connect" from the bottom icon tray
* Select "Facebook" and leave your comment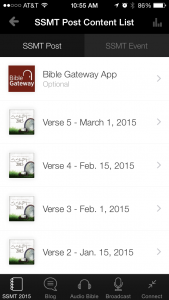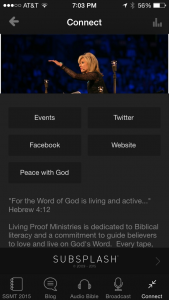 That's it!  Feel free to click around and see other fun features on the app.  Enjoy!