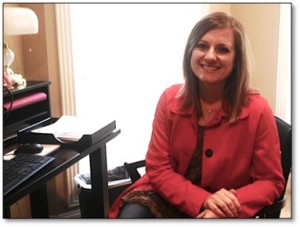 Hi Siestas! It is such a joy to be able to talk to you! My name is Sherry McClure and I just love this community so very much. I live in the suburbs of Houston, Texas, and I work here at Living Proof Ministries. One of my responsibilities right now at LPM is to help moderate your comments and it brings me such delight. Thank you for letting me be a part of your life in that way. All of you have so much to offer and I love getting to know you through your comments here! I also have the joy of tending to many of you through Facebook and I love y'all so incredibly much.
A little bit about me: I have been here at LPM for just over 11 years and have had the opportunity to do many things here! I started working at LPM when I had only been married for 2 years and we didn't have children at the time. As I have grown and changed, my responsibilities at LPM have changed as well. I have been married for 13 years to David and we have two boys –Sam (9) and Jacob (7). We have a lot of fun together, but life with boys is loud, fast, and sometimes messy.   I also have the privilege of serving my home church in our women's ministry. Life is full and fun! Some of the things that I enjoy most in this life are playing with my kids, being outside, shopping, cooking, and most of all, studying God's word. His Word is the absolute thrill of my life. The Lord has recently breathed a new passion for His word into my soul and it is what I wake up for everyday…to see the Lord in His Word.   He is the love of my life.
1 Samuel 12:24 (ESV)
"Only fear the Lord and serve him faithfully with all your heart. For consider what great things he has done for you."
This is one of the verses that the Lord has given me to focus on throughout the entire year. He broke it down for me like this:
Only fear the Lord: I am not to fear failure. I am not to fear what someone may think. I am not to fear the enemy. I am not to fear people I think are my enemies. I am not to fear things I imagine. I am not to fear man. My only fear should be of the Lord. There is safety in fearing Him.
Serve him faithfully: I am to be faithful in the ways that He has given me to serve. I am to work in excellence and do everything unto Him.
With all your heart: I am to give my all to the things that I am serving in. No settling for mediocrity. No half-accomplishing things. No "it's fine." No "this will do." I am to give my whole heart.
Consider what great things He has done for you: I want to be living in a constant state of gratitude before the Lord. I want to be mindful that He rescued me from the dominion of darkness and transferred me to the kingdom of light (Colossians 1:13). He indeed has done great things for us!
So, my dear sisters, I pray that you will only fear the Lord. I pray that you will serve Him with all of your heart. I pray that you will remember the great things He has done for you. He is everything and I pray you experience Him through His word as it sinks into your souls!
I love you all so much,
Sherry