Dear Dr. Rainer, Trustees, Employees, and retired LifeWay President, Dr. Jimmy Draper,
Today I will board a plane, God willing, with my dearest loves – my husband of 36 years, our two adult daughters, our son-in-law, and our two grandchildren – to head to Nashville to commemorate and celebrate God's inconceivable kindness to us in 20 years of Bible studies with you. I will have the chance to express some of my heart to you face-to-face while I am there but I'm unsure of being able to convey all I'd like to say without crying. And what if it spun into serious tears which, while sweet and sentimental, can prove to be embarrassing and awkward in a public address? And what if, on the way home, I had to get furious with myself for not being able to say what I'd flown to Nashville to say? Thus, with your patience, this letter.
Exactly 20 years ago, my husband, Keith, made a few phone calls behind my back to find out when the very first Bible study – A Woman's Heart: God's Dwelling Place – would be placed on a shelf at one of your stores in Houston. I was too green a new author to even ask you guys about a release date. I had no idea how the whole thing worked or, for crying out loud, if it would work at all. Keith, however, has never been one for holding back questions. He took me out to dinner without saying a single word about the Bible study then told me that he needed to run an errand on the way home. He pulled up in front of the store, opened my car door, took me by the hand, and walked me into the store. He marched me down an aisle like he knew just where he was going then stood me right in front of the ugliest cover I would ever love.
And we both cried.
As you who were around at that time know, there were never any promises from your side or expectations from ours about a second Bible study or, with the second, a third.
What began as a publishing relationship turned headlong and heart-long into a ministry partnership.
We who have worked together on the curriculum team have marveled over and over again that God would risk anything at all on such a flawed concoction of people. Early on we came to the conclusion that God either has a lot of grace or very poor taste.
His grace was not in vain. I want to boast in Christ for the caliber of people that I've had the privilege to labor alongside at LifeWay for 20 years. From Day 1 to this day, every single man and woman I've gotten to know (young, old, or middle aged, from customer care to graphic design to editorial to management and so on) has had a heart to love and serve Jesus Christ and an authentic desire to see people come to faith and be discipled in God's Word.
Every person. Without exception. I mention it because I just don't think that's normal. I think that's the Holy Spirit.
Every single time I had a conference call to run a concept for a new study past the discipleship team, it wrapped up in earnest prayer, placing it before God, asking Him to do with it what He would. Never did you enter into it lightly. Never did you pressure me to write on a particular concept. You always gave me the room to seek God for what He'd stir in my heart in the pages of Scripture for the next Bible study.
20 years is more than enough time to get cynical, to lose respect, and to shift into automatic and just shell out material that doesn't have an ounce of the Holy Spirit on it.
Because of the unfathomable grace and sustaining power of God through our Lord Jesus Christ, I will board that plane today free of cynicism and full of respect for you. I don't have a sick feeling in my stomach like I sold my soul to the devil or have been a part of playing people or putting on a big act.
I have had the privilege to do the one thing on earth I feel most called to do.
And I've had the privilege to do that one thing with you.
Thank you.
That's what I'm writing this open letter to say.
Thank you so much for your patience with me through 20 years of growing and changing and going through all sorts of highs and lows and crises and losses and some excruciating learning experiences. Thank you for dealing with the drama. Thank you for standing with me, believing God with me, dreaming with me, serving with me, and for fighting for me. 20 years is time enough to see someone at her best and her worst. We are long past the point where we don't really know each other. And here we are. Still together. We didn't have to always see everything the same way for me to be so deeply thankful we'd seen it together. I would not trade a minute of it.
A dyed in the wool sanguine, God used another little element to make this thing work for 20 years. I have laughed my head off with some of you. You've got some men and women on your payroll that are among my favorite people on the planet. I have been to the other side of the world and back numerous times with a merry band of your employees, made enough memories for 10 lifetimes, and laughed till I cried. I have eaten pizza on the Mount of Olives with them and walked with them through a foot of sheep manure in fields outside of Bethlehem. The privilege of working with people that you just flat-out like is no small  thing and it is not wasted on me.
I could write for hours and still not convey all that is stirring in my heart toward you but just this one time, I'm going to accept what my editor has tried to tell me for years: Beth, less is more.
So I will end with this and then bid us onward to the future:
Today I set this stack before our glorious and faithful God in His honor alone as a stone of remembrance. As an occasion to look back over our collective shoulders, reflect and say our God has been so gracious to us. For He alone can establish the work of human hands. May this makeshift stone of remembrance made of pages and ink serve as living proof to somebody reading today that, if He could be willing to use someone like me, He is willing to use absolutely anyone.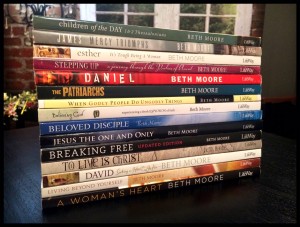 With so much love for all of you at LifeWay, for those recently retired, and for an unstoppable visionary in a wheelchair who now stands strong and complete in the presence of Jesus,
Beth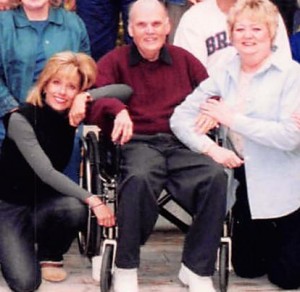 In 2002 with Lee and Myrna Sizemore
Jesus, You and I alone know the miracle You have accomplished. We alone know the depths from which You pulled me. Your boundless grace saved me, not just from the enemy, but from myself. The patience with which You have taught me, disciplined me, helped me, refocused me, restored me, redirected me and constantly revived me is astonishing. You just don't give up on Your own, do You? You, Jesus, are my Prince. You are the single greatest joy of my life. Thank You for the cross.