Hey, you guys!
I can't even put into words how you've flooded my mind as LifeWay and I commemorated the graciousness of our God in 20 years of Bible study partnership. Without you sitting on the other side of that page and that screen, the first study would have become a hideous purple and yellow dust collector at your neighborhood LifeWay Store and the second study wouldn't exist. For every minute of those 20 years, God has used you to drive me to a blank word-document and type in the words Week One: Day One. Picturing us both – two women (you younger, older, married, single, Black or White, on your 1st study or 15th) trying to live this faith thing out in the harsh world – with an open Bible between us, studying, seeking, praying, page-turning, thinking, discussing, maybe not even always agreeing, laughing, and crying together with one preeminent goal: to love Jesus more when we closed the workbook than when we opened it – this is what God has used to keep me at it.
To share the Scriptures with you. To pursue Christ with you. To run the race with you. To hear Jesus speak through His Word with you. THAT has been ministry to me. I am a girl in the Scriptures who wants to see girls in the Scriptures. That's it in a nutshell.
I have no vocabulary poetic enough, no font large enough, no volume loud enough to say thank you the way I want to convey it. My heart is nearly sore from all the emotion that I have felt in the last several days as I have glanced back over my shoulder with my beloved man, my two daughters, my son-in-law, and my ridiculously adorable grandchildren. God's grace has been poured out in scandalous proportions to me because of the cross of Christ. God got us through. And He is getting us through. And He will continue to get us through.
I got on here to show you something else which I'll get to in just a moment but bringing up my grandchildren makes me think of the picture that Amanda clicked of the kids and me when we were all leaving the hotel for the LifeWay Bible study team celebration dinner Tuesday night.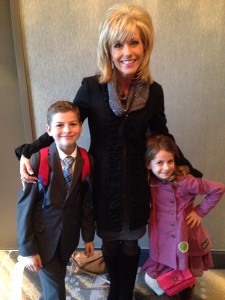 Come on, now. Jackson was so handsome in his suit that I could hardly stand it and don't get me started on Annabeth and her purse that her Aunt Melissa gave her for Christmas. Y'all please forgive my hair. I'd already anticipated that the team was going to have terribly embarrassing pictures of 20 years of my huge hair at the celebration dinner and, lo and behold, if it was not as big that night as it had ever been. Poetic justice.
But here's what I'm trying to tell you about. At the LifeWay chapel service on Wednesday morning, Dr. Thom Rainer (LifeWay president) took a drape off of a breathtakingly beautiful picture (so much prettier than it appears from a distance)…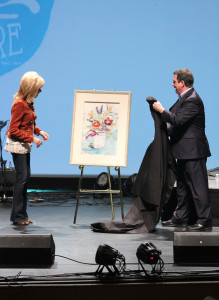 …then told the audience and me the story behind it. The creative image is comprised of bits and pieces of all the covers of the Bible studies throughout the 20 years plus some cuttings from various pages within the workbooks. I was floored. It will hang in my home for the rest of my days as one of the dearest keepsakes I own. To this former pit-dweller, it is fluid grace stuffed into a frame.
Which brings me to the catalyst for this post. At lunch today I told my staff about the picture and showed them some photographs of it on my cell phone so that they could grasp the idea. They'll see it in a few days when it arrives but I knew they'd love hearing the backstory Dr. Rainer told the audience. My staff here at LPM also knows that the gift was even more significant and fitting because, throughout the years, I've hung a picture in my office to represent each of the studies. For instance, this depiction of Moses hangs on my wall to represent the tabernacle study, A Woman's Heart: God's Dwelling Place.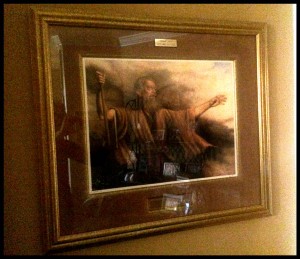 And this one depicting Peter and John running to the empty tomb represents Beloved Disciple.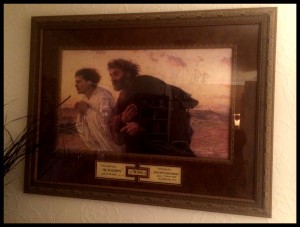 This one of Daniel in the lion's den is one of my very favorites.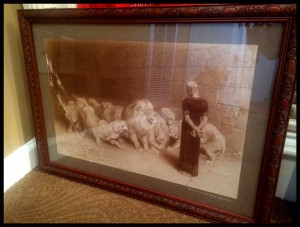 You get the idea. So, nothing on earth LifeWay could have given me to represent 20 years of Bible study partnership would have thrilled me more completely than a gorgeous conglomeration of them all.
I got back from lunch and walked into my office and pushed the button on my new coffee maker. While I waited impatiently for it to fill up the cup, I checked Twitter. I could not believe it when I saw that the place of business LifeWay commissioned to create the picture had tweeted me with a link to a blog post about how they did it. I read it, slack-jawed.
Some of you are so creative that I thought you'd get a charge out of seeing how it was done. They took great pictures of the process and you'll also see the end result. If you like this kind of thing, here is the link.
I could write for hours, telling you how much it meant to me to commemorate these 20 years with my beloved family. They've given so much to it. The grace God has shown me through Keith, Amanda, and Melissa for 30 years of ministry and 20 years of publishing  is staggering. My heart has been wrecked with love and gratefulness to them in these days of looking back. Rich, our LPL photographer, was there this week at the celebration and, as soon as I get some pictures from him, I'll do a picture post instead of overloading you with words. I'm trying to accept that most people don't read long blog posts anymore.
I love you guys. The honor of having served you and presently serving you is a privilege that I can hardly wrap my mind around. I do not take it for granted. You are noticed here and loved here. I'll be in touch soon. AND, we have our SSMT post coming up in just a few days!
Hold tight to Jesus, Girls. He is everything.