I cannot thank you enough for the privilege to serve you at our Living Proof Live 2014 Simulcast. I do not take it lightly. I will think of you for many months to come and will remember this day for years. My deepest hope and prayer is that Christ broke through every distraction and any works of flesh and blood and revealed Himself profoundly, personally, and permanently to you. Forward, Sister. No going back. Your life faces forward from here on out and what you're doing on this planet means something. Get to it, gifted woman of God, with unwavering confidence in Christ. I pray that every single word He has sown into you will take root and bring forth a harvest. Above all, I pray that God moved upon you and opened your female heart to RESPOND. Not just receive. RESPOND. Do not wait a single moment to take your first responding steps. Move immediately and obediently into what He's shown you. Blessed is she who believed.
As promised, here are three writings from the simulcast for anyone who wants a copy:
First, the Identity Declaration: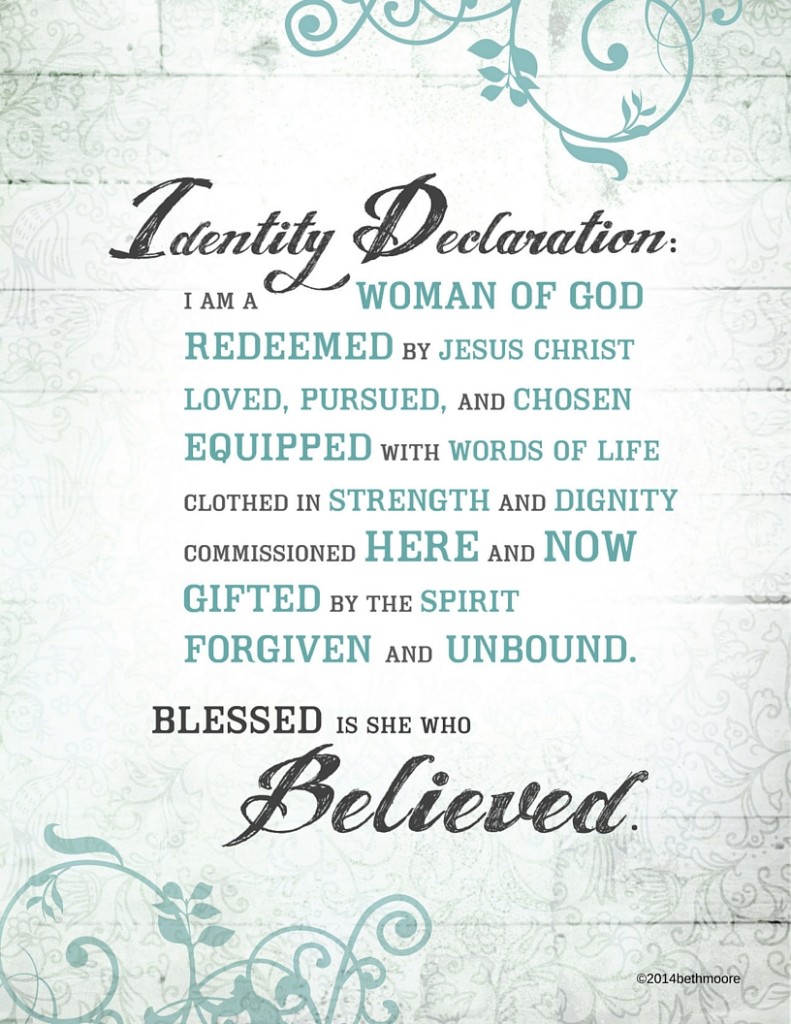 (Click on the picture to enlarge and save.)
Second, the writing called "What does a woman of God look like?" It's silly, really, and way too wordy but if it broadens our concept, it is worth putting out there. I originally set out to write it as prose on Wednesday before the simulcast as it started turning in my head that morning, but as I fooled with it that day, I just couldn't resist the rhyme.  (Click on the link to pull up in a separate window.)
What does a Woman of God Look Like
Third, the commissioning we spoke over one another at the conclusion.
LPL Simulcast 2014 Final Commissioning:
My Beloved Sister,
Jesus drew you to this day
To call you to respond.
What will you do
With what He has said?
God chose you and gifted you
For this very generation.
You are the exact woman
Jesus came looking for today.
Stop telling yourself
This is about someone else
You are the one He wants.
You're not too young.
You're not too old.
You haven't strayed too far
Or waited too long.
Let Jesus step fully into your story
And write a narrative for your life
That does the world good
And gives God glory.
People out there need what you have to offer.
Quit listening to your fears and insecurities.
Stand up and step out and meet some needs.
You are my sister.
I'll cheer you on.
I will support you and love you
I'll stop competing and comparing.
I want to be a woman women can trust.
Let's do this thing side by side.
We're so much stronger together.
Sister, stay in His Word
Fight for love and keep your faith.
Follow hard after Jesus
All the rest of your days.
He will never do you wrong.
He will never reject or betray you.
He will make something beautiful
Out of all your pain.
In every loss
He will be your gain.
A lost world is waiting out there.
The darkness is aching for light.
Get out there and serve with all your might.
Because, my beloved sister.
You
Are
A woman
Of God.
Go show somebody what she looks like.
Sister, thank you so much. Your time is so valuable. Money is scarce. You could have done many other things with the precious resources you have. You chose to join us for this simulcast. May God take every word He's entrusted to you this day and cause it to yield a 100-fold harvest. (Luke 8:8)
Stick together out there, Sisters. We are a mighty army in the Kingdom of God. Stay close. Be kind. And be danged courageous.
I love you,
Beth