* P.S. I have some fun news! If you're wondering why the LPM blog looks a little different, it's because we got a makeover and it went live today! Don't you love it? We sure do! Sometimes we all just need a little makeover to change our attitude, agreed? I feel like the blog did just that today! Woohoo! Thank you so much to our friends at AdWhite for all your help and expertise! We're so grateful!
Good Monday morning to you, ladies! I don't know about you, but I had a whirlwind of a weekend. When my alarm went off this morning the only coherent thought I had was, I think I can, I think I can, I think I can…get out of bed. Not only did my eyes struggle to see the morning hour, but I was so warm that the thought of peeking my toes outside of my covers with the chill in the air made me want to cry. But I did it! I had no choice; becauase after all, being an adult requires responsibility and well, work. And I hope to keep my job. Grin.
Anyway, I made it here and happy and now I'm even happier to announce our Stocking Stuffer Giveaway Winners!
I've never desired to leave you guys in such suspense, but part of my weekend excitement was that my little brother graduated from Texas A&M (Gig 'Em!) and by the time I got home late Friday night, I had no brain power left to even look at my computer. (In fact, I felt slightly inadequate to keep writing anything after reading through the dissertation titles of the PHD students graduating. Whoa. I'm still thinking about how smart some people are and how I'll never understand certain sentences or words.) Mind you, that was all AFTER our LPM Christmas party on Thursday that sucks every ounce of energy out of every staff member. So, here we are! Hey, the longer the wait the sweeter the gift, right?
Without further ado here are our lucky 12 (and random) winners thanks to random.org…
Stocking Winners
1) Michele
2) Melissa Holgate
3) Barbara Mackey-Zeigler
4) Sharon
5) Kim Morgan
6) Carol Comey
7) Sarah Tolson
8) Beverly Toney
9) Ginger Golembiewski
10) Courtney Beth Burnside
Cookbook Winners
1) Christiana Billingsly
2) Tiffany Fling
3) Toni Rahm
Congrats, ladies! You should be receiving an email from me (Lindsee) ASAP so I can retrieve your mailing address!
And just for fun, I'll leave you with this one special picture from our Volunteer Brunch on Thursday morning. Needless to say, we had a few laughs. (For the record, sometimes you let a picture speak for itself, which is exactly what I'm going to to do here.)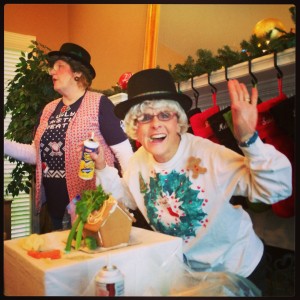 Oh, and here is Sabrina and Beth, they happened to be matchy-matchy at our Christmas party and it was cute! We attempted a staff picture, but as Melissa put it so kindly, it will die with us.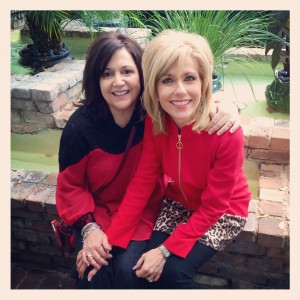 We love y'all so much! Be expecting some super fun things on the blog this week. Hopefully as soon as tomorrow (Tuesday), but for sure Wednesday!