Girls, WE ARE ALMOST THERE!!! In fact, if you set your sights on our celebration in January and you've memorized all your verses so far, you have everything you need to qualify. HOWEVER, don't quit now! If you can memorize 20 verses, you can memorize 24!
I think Lindsee told you in the previous post that I did a video blog for you guys on Tuesday as soon as I came into work after my LPL trip and that thing took until Wednesday night to download. I had missed y'all so much and was so in the mood to spend time with you in the Scriptures. At that point, however, we felt like it should wait until Monday since we had our SSMT post coming up right away. In between, we were ecstatic to extend to you a guest post from a dear sister in the faith, Crista Merrell, who leads women at Bayou City Fellowship where Lindsee and I serve. I hope it blessed you.
I will love Crista forever because she is one of the best friends my daughter Amanda has in the entire world. Pastors' wives desperately need girlfriends that are trustworthy. And girlfriends that are fun. Crista is both. Crista is also a mighty woman of God. A warrior. She is a servant to the bone and has one of the neatest, most colorful families I've ever had the privilege to know. Jesus is gorgeous on them.
OK! On to our task! I've not memorized out of the HCSB before but it's the version LifeWay (my Bible study publisher) asks its authors to use in our curriculum so I spend a great deal of time in it when I'm writing a study. I really love it. I just got in the habit of memorizing out of the ESV or NET. I came upon this verse today as I was cross referencing something for Children of the Day and I adored the translation. I'll let the pictures do the talking.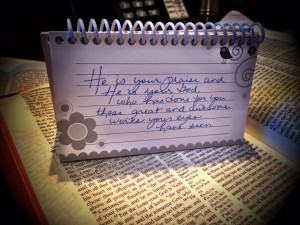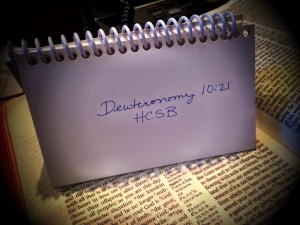 You better believe He is. In case my scribbling is too hard to read, it's Deuteronomy 10:21 HCSB.
Ok, Sisters, I'm ready to hear yours! I love you so much. If you can carve out about 23 minutes toward the first of next week, we'll get into the Scriptures together in the Monday post.
Tags: Scripture Memory 2013