WINNERS: Girls, are you ready to see who won our 20 copies?! So exciting! If the winners could email me (Lindsee) as soon as you get a chance at [email protected] I will get your book to you as fast as possible. Go ahead and send me your name and mailing address! We can't wait for you to have this book in your hands!
Thanks to random.org, the winners are… (the number by your name is your comment number, which is on the right hand side of your comment. So, be sure and check that your name lines up with that comment number!)
#4 – Amy Park
#12 – Danielle
#17 – Katie Frogge
#51 – Karalee Littleton
#53 – Madeline Noll
#66 – Corinne Jordan
#84 – Anna Phillips
#90 – Marleigh Jones
#114 – Halona Luna
#124 – Madison Dowling
#138 – Emma Madonna
#149 – Kelli Swisher
#179 – Lindsey Fair
#192 – Rebekah Vallejo
#194 – Emily Erwin
#203 – Maci Daves
#204 – Larissa Hilstad
#210 – Alexa Alexander
#219 – Laura Tidwell
#222 – Molly Swartz
Congrats, girls! I'll be checking my inbox to hear from you. Have a great weekend!
*Update: Good Friday morning, girls! And happy belated 4th of July! Just wanted to let you all know that comments are now closed, but winners should be up by days end. And just a friendly reminder, it's one book per winner! See you in bit!
Hey, Everybody! Beth just got something so fun in today's mail!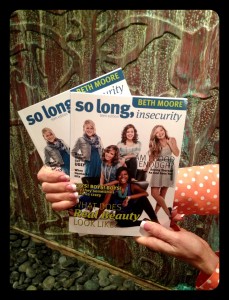 Last summer I took a group of high school girls through Beth's book, So Long, Insecurity. Many of you have also read and not only benefited, but also been changed by the book. I have no doubt these young girls took away truths that all of us wish we would have learned at their age. They loved it! What many may not realize is that the book also has a workbook companion, and it is equally as wonderful and organized.
In fact, nearly everyone that reads it has said something to the effect of, "I just wish I would have read this as a teenager!"
Well, your prayers and wishes came true!
On August 1st, Tyndale will release So Long, Insecurity, Teen Edition! Can I get an amen?
I get asked three questions nearly once a week. 1) Is there a teen edition for So Long, Insecurity? 2) Will Living Proof ever create or publish materials for high school girls? 3) Where can I find good, solid, biblical material for teens?
I don't know the answer to number two, I always just tell them that we're doing the best we can to serve these young girls, but since this is so new at Living Proof, only the Lord can know such a thing. The beauty is, I do have places and resources I can point folks to for resources that are helpful and biblical for high school girls, but as you can imagine, it's just a really small pool to choose from!
So, I think you well know that we're just as excited as you that Tyndale saw the need for this book and met it!
As I mentioned before, it doesn't officially release until August 1st, but we wanted to do a giveaway! (You know we LOVE a reason to host a giveaway around here!) We also wanted to point you in some other social media directions for the book release and how you can own it if in fact you've been searching for this very thing.
So, for right now, we have 20 books to giveaway! Eeeek! All you have to do to qualify for the giveaway is to be just the right age  for it (13-19!) and simply enter your name (first and last are preferable) in the comment section.
For more information you can can visit:
Sample the first chapter online
Purchase So Long, Insecurity Teen Edition here
What a wealth!
Let's hear from you!