I don't know about you, but I'm a list maker. A lot of days I miss actually putting pen to paper and writing out a list, but with technology these days, that just isn't necessary. With that said, it will come as no shock to you that the "Notes" app on my iPhone might be my favorite app ever. The lists are endless. And they're not going anywhere.
Sometimes when I'm at a loss for what to write, a list helps me organize my thoughts, so today I'm bringing you a list. Because yes, today I'm at a loss for what to write.
A list of what, you might be wondering? A list of things you may not know about me. If I knew how long the list was going to be, I'd tell you, but alas, this is all off the top of my head, so by the end of this post, we'll both know how long the list is. I don't know whether to apologize or say you're welcome, but humor me today, will you? I'm laughing. I really do love y'all so much.
1. I have not gone to bed once without washing my face since about the 6th grade. Should I also mention that my morning routine is the exact same every morning? This may or may not label me OCD. And I admit, I have a few OCD tendencies. But don't we all?
2. I am an inappropriate laugher. It's very unfortunate. For instance, a couple years ago at our Christmas Eve service, my pastor had us place all of our lit candles into a sandbox. You know where this is going, the sandbox caught fire. I could hardly pull myself together. And there are plenty more where that came from!
3. Contrary to popular belief because of my tall stature, I didn't play one sport growing up. However, I was asked by both the basketball coach and volleyball coach every year in high school to join the team. I graciously declined. I had more fear of the ball than I cared to admit. Also, I'm just physically challenged.
4. You know how folks like to say they're having a good hair day vs. a bad hair day? Well, I like to say I'm having a good eyelash day vs. a bad eyelash day. Because of my naturally long eyelashes (I'm not complaining), they have a mind of their own. Some days they are one with the mascara, other days we battle clumpiness.
5. My hair is naturally wavy/curly.
6. I have a 36 inch inseam for my pants. Yes, I am all legs.
7. I was the first of my family born in Texas to a California dad, and a Colorado mom. 
I am so proud. Yes, you could say I love Texas.
8. My claim to fame was singing at the Super Bowl with Josh Groban along with some other alumni from Houston Children's Chorus when it was in Houston, back in 2004. We sang the ever so popular, "You Raise Me Up." One of my very favorite memories by far. And indeed, a huge privilege.
9. Although I don't travel near enough, I do love to travel. Italy is one of my favorite places I've visited. I'd love to go back! I think Florence was my favorite.
10. To put myself to sleep, or when I am really tired, I rub my feet together unintentionally. 
I remind myself of a cricket.
11. Colorado is one of my favorite places to be. (Because of the people and the gorgeous scenery!)
12. I majored in Early Childhood Education when I was in college and graduated a certified teacher in the state of Texas. However, I haven't taught school a day in my life, unless you label student teaching as such.
13. I was the kid that grew up in church, but didn't make my faith my own until my Senior year of high school. Praise God for His faithfulness and graciousness towards us.
14. I'm not a collector of many items, but I've collected and own a ridiculous amount of scarves. I'm not sure if I should be proud or embarrassed since I live in one of the hottest cities in America.
15. My favorite food? Well, it's a toss up between Mexican and Chinese. Leaning more towards the Mexican. I'm very hungry right now.
16. This is a new fact, but to help me memorize my scriptures, I've been putting my scripture as my wallpaper on my phone home screen. Just an idea for any of you visual learners as well! (See visual below. Grin.)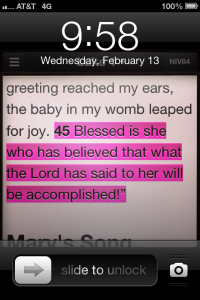 Your turn! What's one thing we may not know about you? See, these things are fun. Everyday we get to learn more and more about each other. I love it.