Oh, Sisters, I longed for you to see these 1000 darling women that God allowed us the privilege to host at Passion 2012. Meeting with them was a huge highlight for our staff. We greeted them, heard from several of them regarding how we could pray for them, had a very brief Q&A, then prayed over them. Oh, and then I hugged as many as time would allow and I am not kidding when I say that it was at least a hundred. I wish so much I could have gotten my arms around all 1000. I hope some of them will find their way to this post and leave a comment to let us know specifically how God revealed Himself to them and what major truth they took home with them. Please don't stop praying for them. By now, they have already been tremendously challenged by their worlds and by the enemy of their souls. Pray for them to stand firm. Let's be good big sisters to them.
Behold the fruit of your prayers: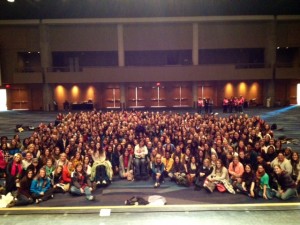 This is a quick picture from the very opening of Passion Monday night. My heart felt like it was beating as loud as the dozen drums on that stage. I didn't take many pictures during the sessions because I didn't want to be distracted and miss God. I wanted to worship and to receive a word myself! I know you get that.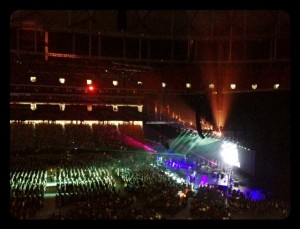 Last one in case you're totally over it. Grin. This is my first encounter with Christine Caine (from Australia, look into her organization "A21."). She was so hilarious and so full of life as we met and chatted together back in the Green Room. I liked her instantly. She told me that she bought this hat for $10 at the airport because her hair was dirty. Yep. I loved her.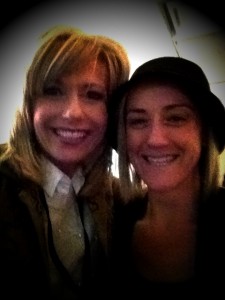 Then her session just about blew a hole through my chest. She called all of us to DO SOMETHING NOW about the biggest epidemic of slavery to ever hit the globe: 27 million slaves around the world right this minute. And many of our cities are housing them. Mine included, God help and forgive us.  It's deplorable and as Passion 2012 voiced over and over again: indifference is not an option. Those kids raised over 3 million dollars to fight this epidemic. Astounding. CNN even told the story. Google it and watch it. The Name of Jesus comes up blatantly in it. If you get the chance, also watch Christine's session on the official Passion 2012 website as soon as they're airing it.
I was so ruined by the session that I already have a meeting set in stone, God willing, so that I can see what God would have me do here in Houston. Not coincidentally, on January 1st of this year (prior to the Passion event or ever meeting Christine or hearing about these shocking statistics) God gave me Micah 6:8 to claim for 2012 through that morning's sermon at my church. I even wrote it on the very front of my journal (all still before I ever got to Passion) and instead of it writing it word-for-word as it is stated in my Bible, I personalized it on the front of my journal like this:
"He has told you, Beth, what is good; and what does the Lord require of you but to do justice and to love kindness (or mercy in many of your translations) and to walk humbly with your God?"
When I was so stricken by the statistics and then the session, I got out my new journal in my hotel room to start asking God in ink what He wanted me to do. And there I saw the verse I'd written on the front of it. I was taken aback. I knew it was no accident. SO, I am open to His leadership and, as I know more, I will share more. One thing is for sure. I'm not going to sit back and do nothing.
I took all of you with me to Passion 2012 on my heart. Louie announced before closing the event that it will be back in the Georgia Dome next January. PASSION 2013!!!!! Look for us to start talking about it again mid-Fall of this year.
After asking for so much involvement from you, I didn't want to leave you without an update! Thank you so much for all your prayers and for such support. Here's the last thing I have to say. Anybody who thinks that the horizon looks terribly bleak for the church has not been to Passion. I do not know what the future holds for our nations and our governments but, even out of ashes, God can raise up a gorgeous Bride. She looked stunning on the faces of 44,000 young people this week.
I love you.