Update: THAT WAS SUCH A BLAST, SIESTAS!!!! YOU ARE THE MOST FUN!!! After we went off line, I ran downstairs into Sabrina's office and we watched you guys chat with one another for the next little while. We laughed and laughed. God made you the biggest blessing to us today! We will do it again very soon and will let you know a little bit earlier. Next time we're going to do an emphasis on our prayer lives and some approaches to intercession that maybe we'll find helpful as we start this new year. Lindsee snapped this picture a few minutes ago of us watching you. YOU ARE SO LOVED HERE!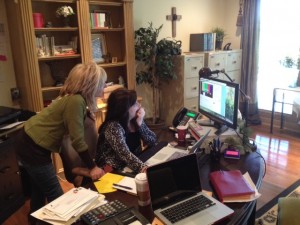 The following is the original message which is obsolete now but at least you'll know how it went down. Join us next time!!!
I woke up with you guys on my mind this morning and was so in the mood to talk to you. At first I thought I'd just get to work and write a post then it occurred to me that we've been working on a MUCH better way to communicate. I shot Sabrina a quick text saying something like, "Any chance we could give that live stream a test run this afternoon?" She responded with a big fat YES and we were on like Donkey Kong.
SO, how about it? I know it's a work day and that many of you will be unable to drop what you're doing and climb on with us but at 2:00 Central Standard Time this afternoon, I'm going to hop on live stream for about a half an hour max and talk to any of you who can participate. I don't have some imperative announcement to make or profound lesson to give. Just an impromptu (real time) hello. The kind that I hope we'll be able to do fairly frequently in the months to come.This is for anybody. No one's left out. Except boys. Laughing. It won't be all centered on the SSMT celebration coming up. It's just a general shout out to all of you Siestas.
Here's all you do! It's so easy. A few minutes before 2:00 CST, just click this link
(You will see that the live stream link gives the Eastern Standard Time – 3:00 PM. That is 2:00 CST.)
Participation is free of charge and the instructions on the link will tell you how to get on and chat if you want to. You don't have to chat in order to view it, of course. Now, mind you, I'm not sure how much actual chatting is possible in those few minutes when you consider the fairly large population of Siestaville but at least we'll be together in real time! AND I would get to know that many of you were on and participating!
I can't wait! If anything breaks down and we're unable to do it, I'll let you know immediately on Twitter and as soon as possible here on the blog. I know a lot of us are reluctant to add one more form of social media to our over-extended lives but, if you can stand it, the best way to keep up with Siestaville (when we want to connect but can't get to a blog post) is on Twitter @Siestaville. We have so much fun on there and we don't have to keep explaining over and over again why we refer to one another as Siestas. Grin.
You girls are a priority around here. I'm so thankful for you! I love all of you and will talk to some of you at 2:00. Meet with us, Jesus!